Need to recruit on-the-go? Then an app may just be the answer.
With smartphones and tablets now ubiquitous, mobile recruiting has become par for the course when it comes to filling job vacancies. Fortunately for recruiters, there are a whole host of apps available to make things a little easier. 
Read on to learn about our top five apps and software for mobile recruitment.
What is a mobile recruitment app?
Before we delve into our list, let's quickly talk about what we mean by a mobile recruitment app.
If you're not interested in this bit, scroll down to see our five best apps!
An app is a piece of software designed specifically for a phone or tablet. These can be native (produced for Android and / or Apple) or web-based (something you access from a browser).
In recruitment, apps can be used to help recruiters work remotely and may offer functions such as candidate searching, CV screening or interview scheduling.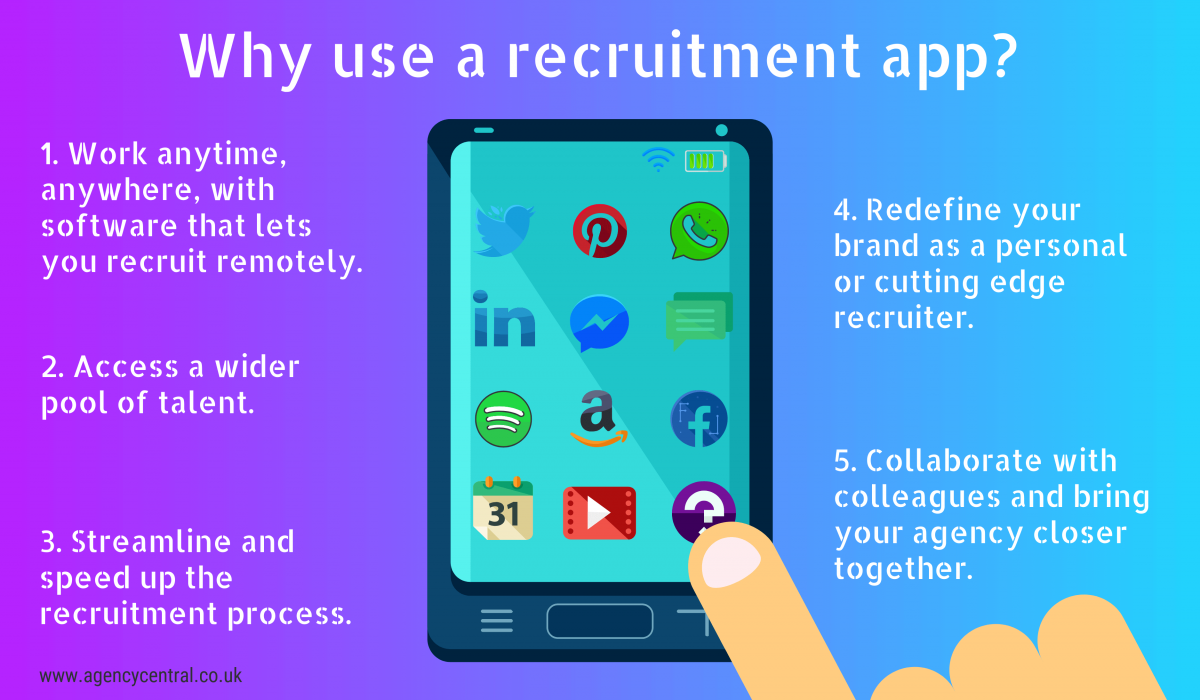 Amelia Sordell, Marketing Manager at Finlay James, told us that recruitment apps can bring real value to an agency, providing you find the right ones.
She said: "There are some tools that Finlay James believe can truly benefit a recruiter or recruitment agency, many of which can streamline or automate an otherwise manually-completed task. There are a couple of obvious applications that spring to mind, such as LinkedIn, Reddit, Slack and Glassdoor.
Overall, there are some tools that are greatly beneficial to recruiters and agencies in particular, but there are some dud ones out there. We have certainly paid for applications that have provided little to no return on investment and swiftly returned to our go-tos".
So what apps should be your go-tos? Here are five of the best.
Top apps for recruiters
Bullhorn
Bullhorn is a giant of the recruitment software game and was one of the first to bring a mobile platform to market back in 2011.
Seeing the rise in mobile recruitment, Bullhorn recognised an opportunity to adapt their software for the 'on-the-go' recruiter. This means that users are able to manage candidates and clients away from the office.
In a nutshell, Bullhorn mobile combines customer relationship management (CRM) with an applicant tracking system (ATS).
It allows recruiters to:
Search and track candidates.
View and edit job listings.
Browse CVs.
Manage contacts.
Display client maps (and even get directions).
Create notes.
So where can you get it?
While the software is available for both Apple and Android, you can't download it from the respective stores. It's a web-based app that's only available from Bullhorn and comes as part of their CRM and ATS packages.
Debut
With talent shortages in everything from engineering to healthcare, employers are increasingly looking for graduates to fill skill gaps.
Debut, which claims to be 'the world's first mobile app dedicated to helping students and graduates find the careers they love', aims to tackle this problem by putting university leavers into work.
But how does it help employers and recruiters?
While graduates will find the app to be an excellent source of opportunities, recruiters will gain access to an extensive pool of up-and-coming talent.
Additionally, unlike other recruitment methods, Debut sees the employer 'court' the candidate. In other words, the employer does all the chasing.
This is made easier thanks to the Talent Spot feature, which enables employers to search for graduates with specific skills, ranging from numeracy to reasoning (there are in-app games that score these).
The company has experienced significant growth and boasts an impressive list of associated employers – Barclays, BT and Microsoft to name a few.
Debut's also driven the Fight for Feedback campaign, which aims to make it a requirement for employers to give interview feedback to candidates.
HireVue
Is time and space proving to be a barrier to interviewing candidates? Try HireVue.
HireVue is an online platform that supports video interviews.
Used by big names, such as Unilever and Vodafone, it enables recruiters and employers to screen candidates remotely.
The OnDemand feature enables candidates to complete video interviews in their own time. This works by recruiters sending questions in advance, which candidates can respond to when convenient. These can then be viewed, rated and shared by the hiring team.
Alternatively, there's HireVue Live, which does exactly as it says on the tin. This live streaming capability works like Skype or Facetime, but includes features such as real-time rating, chat and multi-panels for interviewers.
This way of interviewing means that candidates don't have to travel in, busy stakeholders don't have to be in the room and some of that small-talk awkwardness can be avoided.
Hunted
If you're looking for an alternative to the traditional Rec2Rec model, then Hunted may just be the answer.
The London based firm, made up of recruitment experts and tech aficionados, understands the challenges of hiring talented recruiters.
This is where their app comes in, which aims to bring recruiters and agencies together – essentially, building one big network.
The process is straightforward.
An agency posts a vacancy … and a recruiter applies. It's really as simple as that.
Of course, there are other in-app features, such as a chat, but it's the anonymity that really sets Hunted apart.
Full profiles are hidden until the recruiter (in this situation, the candidate) decides to reveal it. This gives the recruiter a feeling of control and also allows them to be more candid than they might otherwise be.
While the app doesn't take a fee for each hire, of which you can make an unlimited number, agencies will need to sign up to an annual plan.
Hunted also have an excellent blog, which includes the writings of recruitment's favourite blogging wolf, Ed Hunter.
Reecru
The newest of the apps on our list, Reecru, is an interesting concept that's looking to bring a 'gig economy' approach to recruitment.
Their platform, which was launched in April 2018, aims to 'disrupt the market' and 'refresh the traditional recruitment agency model'.
Sounds great, but how does it work?
Well, the app brings together employers, independent recruiters and job seekers.
It's essentially a three-part process:
Step One: Employers post an opportunity to the platform.
Step Two: An independent recruiter picks up the vacancy.
Step Three: The recruiter takes charge of the process – including screening candidates that apply through the platform.
This process offers a great deal of flexibility to the recruiter, allowing them to pick up work when they have the time to do so.
Interestingly, this app is also open to industry professionals who may not have recruited before, but have a specialist knowledge of the job role. The idea is that a financial analyst, for instance, may be better recruiting a financial analyst than a more general recruiter – which makes sense.
Final thoughts…
Mobile apps are everywhere, so it's perhaps not surprising that they've started to find a place in recruitment. The ability to work remotely is an obvious plus for recruiters, but these apps now offer so much more – meaning they're just as effective in the office as they are out. 
If you're using any apps that haven't made our list, then why not let us know?