Technology is perpetually changing the face of talent acquisition and mobile recruitment is the latest trend to impact the way that recruiters engage with clients and candidates alike. While traditional recruitment methods will never fully become obsolete, the advent of smartphones, tablets and wearable-tech has forced recruiters to adapt to 'mobile' at the risk of being out of touch with a growing market.
But what exactly is mobile recruiting and how can recruiters use this to succeed in the digital age?
What is mobile recruiting?
Mobile recruitment, though a rather ambiguous term, is a concept that describes any method of recruiting that uses smartphones, tablets or other facets of mobile technology. While your first thoughts may jump to that of candidate sourcing, mobile recruiting can be used to attract, engage and maintain relationships with both job seekers and clients.

Although it denotes any method of using mobile technology to recruit, the field is mostly dominated by social media, online web browsing, apps and text messaging (with email possibly making the cut if we broaden the definition). As with the majority of recruitment practices though, this group of mobile techniques are entirely at the whim of advances in technology, meaning that new forms of communication could be entering the fold all the time.
Why do you need to go mobile?
The power of 'mobile' has grown substantially over the past decade, as technology and access to technology have accelerated. In 2014, the global number of mobile devices exceeded the worldwide population for the very first time. This figure now sits at 7.7 billion according to the GSMA Intelligence live counter (as of April 2016), and is growing five times faster than the number of people on this floating ball of green and blue (which is 7.4 billion, for anyone interested).
The UK, of course, isn't exempt from this mobile revolution and an Ofcom report found that two-thirds of the UK now own a mobile phone – including 90% of 16-24 year olds. The capacity to connect with Generation Y is, therefore, a key byproduct of the mobile movement, but it's how this market is now accessing the internet that is changing the industry.

Figures from the Office for National Statistics (ONS), showed that as of 2015, 96% of 16-24 year olds access the internet 'on the go.' The average for adults as a whole sits at 74%, with 66% using mobile phones to do this. In fact, across all age groups, the number of people in the UK who access the internet via their mobile phone has risen greatly since the start of the decade. This demonstrates a shift in preference from desktop / PC to the more convenient handheld device.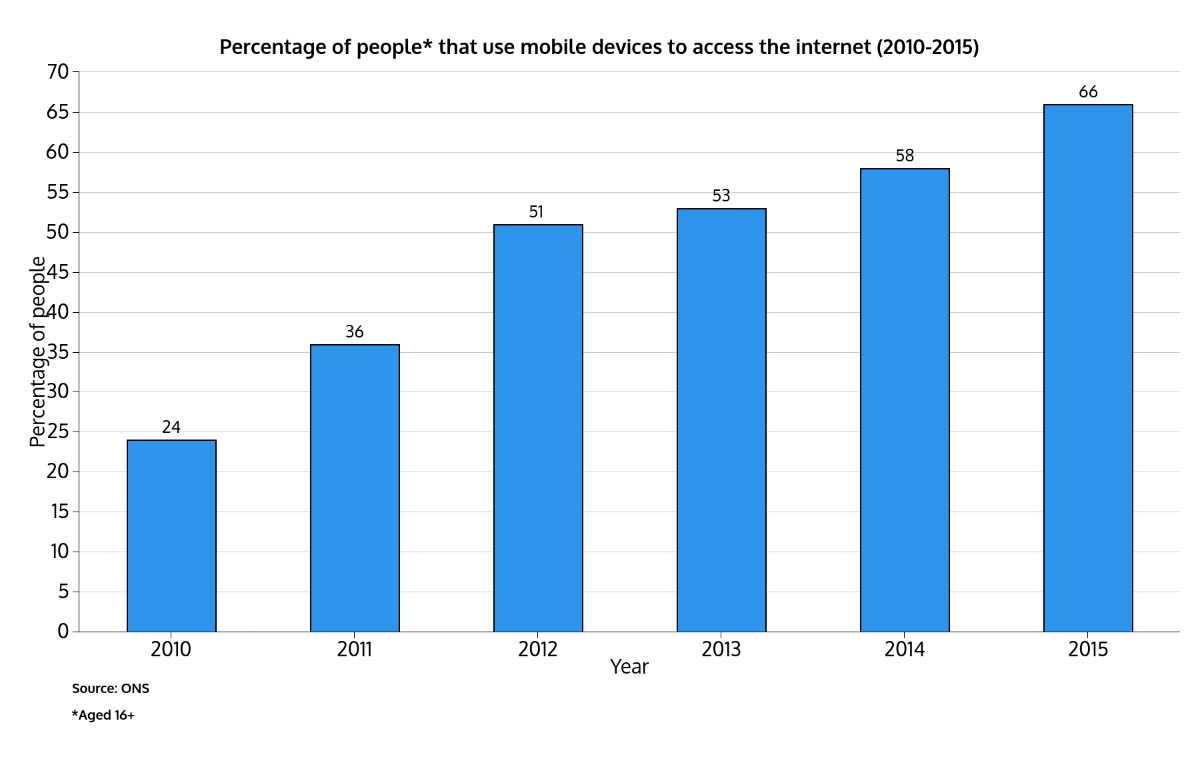 So what does this mean for recruiters? Well, with internet users starting to develop a preference for the touchscreen, recruitment practitioners are having to change their tact in order to engage with a new, and largely millennial, market.

Luke Todd, Recruitment Director at LTR Executives, said: "We want to be ahead of the game, so utilising all platforms that also use mobile was essential to reaching out to as many candidates as possible, as well as raising the company profile and brand identity."

By combining reach and relevancy, recruiters are therefore able to use mobile to increase their talent pool, as well as develop an online brand. The ability to engage with both candidates and employers, be it in a public online space or via targeted messaging, is an increasingly important avenue for shaping the image of your company. Visibility, coupled with positive engagement, is the reward of a good mobile recruitment campaign and recruiters should review their current strategy to ensure that it's reaching its full potential.
Types of mobile recruiting
Mobile recruiting is an approach that could involve one or multiple avenues, depending on your business objectives. Whether you're looking to increase your talent pool or build a brand, there are a number of different mobile strategies that can help you meet your objectives.
Mobile optimised websites
With such a high number of searches coming from touchscreens, it has become increasingly important for recruiters to optimise their websites for mobile devices. The reason for doing so, however, is two-fold.
In April 2015, Google introduced a change to its ranking algorithm that rewarded mobile friendly websites. At the time, the search engine giant estimated that around 50% of all internet searches were done on a mobile device, and Google was looking to give prime search positions to the sites that responded to this.
Of course, this means websites that failed to comply suffered in the search rankings. A report by Adobe, suggested that organic traffic to non-optimised sites dropped by 10%, while just under half experienced a drop in search position. Google therefore provides an SEO reason to optimise your website for mobile, but you shouldn't ignore the fact that your site needs to be designed with candidates and employers in mind, not just robots.
Now that clients and candidates have an infinite number of recruitment services at their fingertips, it pays to create a user experience that separates you from competitors. When clicking through sites, users are looking for a swift service that's easy to use and leads them to their next job or hire.
Mobile searching is all about simplicity coupled with a clean interface. If users are required to pinch the screen or wait for images to load a la dial up, then they may be inclined to bounce straight off. Similarly, if they know that your site is user-friendly, then they will be more inclined to re-visit whenever they have the need to.
Mobile website checklist
Users shouldn't be required to scroll left and right
Text should be clear to read without the need to zoom
Pages should load quickly
The site should be touch friendly
The mobile version of the site is compatible across all devices
Content is optimised for a small screen
Although this list is by no means exhaustive, it highlights the need for recruiters to create a website experience that's fast and easy to navigate. If you're not sure whether your site is mobile friendly, you can take the Google Mobile-Friendly Test here.
Apps
With the introduction of mainstream smartphones in 2007, came an explosion of 'apps' that were tailored made for the new mobile lifestyle. Now a global industry that's worth more than £28.4 billion, software applications have come a long way since the first Angry Birds and can be used for banking, dating and even recruiting.
Admittedly, apps are yet to completely revolutionise mobile recruitment and nobody has managed to develop an effective mobile tool that both streamlines the hiring process and creates the very best candidate-employer matches. This being said, recruitment apps can still become a valuable asset to your staffing solutions, whilst the lack of competition still leaves the door open for a budding entrepreneur to come along and become a market leader.
So, what do you need to consider before developing an app?
Well, the most effective recruitment tools improve the experience for all sides of the hiring process. You therefore need to identify the needs of others as well as your agency. This requires an awareness of how candidates typically use your service and where significant changes can be made. For example, candidates may bemoan the lack of feedback that they receive from your agency, so an instant messaging function could be appropriate.

Regardless of the functions that your app provides though, the interface and user experience is perhaps the key to a successful product. The best systems are simple, easy to navigate and get to the end result quickly. So while a concept is important, how you implement this onto a small screen is just as paramount. It's also worth remembering that your app is an extension of your business and will help shape how users view your service in its entirety. According to a report by Oracle, 55% of millennials would be put off using a service as a direct result of a poor mobile app experience, while 27% claim that it would create a negative brand image.
Despite the urge to keep things simple, it might benefit you to delve into the multimedia capabilities that mobile offers. We're all looking for the next new innovation and images, videos and audio files could potentially be used to enhance the user experience. Of course, there's no point integrating any of this for the pure sake of it, so ensure that anything you choose to include adds genuine value to the user. ALWAYS THINK OF THE USER.
Social Recruiting
Social media recruitment is perhaps the first thing that springs to mind when you consider the effects of mobile. While traditional candidate sourcing still has a place in your recruiting arsenal, social networks have completely revolutionised the way that modern day recruiters access and communicate with potential job seekers.
LinkedIn is the social network of choice for most recruitment consultants, however Facebook, Twitter, Google+ and even YouTube have all become key resources for engaging with a diverse and far reaching talent pool (and now snapchat is getting in on the act). Recruitment agencies have been quick to realise the benefits of these virtual databases and this has given rise to a culture of social recruiting.
Using social networks as a recruitment method offers three distinct benefits. Firstly, with 38 million UK users, social media provides a vast talent database that transcends demographics – something with even more value considering the UK skills shortage. It's thought that the average recruiter has more than 900 LinkedIn connections alone and makes 18.5 new connections every week.
Additionally, our own survey looking at how people find a job, showed that one-third of respondents were actively using social media to find work. This doesn't take into account passive candidates and suggests that both sides of the recruitment seesaw are keen to make social recruiting work.
Secondly, with such a wide scope of networking capabilities, online communities offer a platform for branding and building relationships. Social networking is perhaps the true modern day powerhouse behind mobile brand building, as impressions can quickly be formed by active engagers and prying eyes. These impressions can then be shared across multiple platforms, increasing your visibility to an abundance of job seekers, passive candidates and potential clients. This works both ways though, meaning that positive and negative views can equally be shared.
Finally, social recruiting is also a tool that bypasses traditional communication channels and streamlines the process for users. Lisa Bishop, Advertising Manager for the Berry Recruitment Group, agrees: "We need to make things as easy as possible for our candidates and clients to find opportunities and interact with us when it fits into their schedules. Our audience now tends to do things on the go and social media is fast becoming a large part of our candidate's journey when searching for new roles."
Although it's important not to place too much value on social recruitment, it would be remiss of recruiters to ignore the impacts that social networks now have. Luke Todd, believes that social media can't be underestimated, but that it has to complement a multifaceted recruitment strategy, rather than drive it entirely. He said: "Social media is one of the many tools needed to be a successful recruiter, but too much emphasis can be placed on it. Sourcing the candidate via social media is the easy part, but using social media to attract the candidate, sell them the position and keep them engaged would be impossible."
So while there's no doubting the benefits of social recruiting in the mobile age, modern day recruiters can't rely on it fully to help them succeed in the industry.

Text Recruitment
Though text messaging may seem old hat now, a survey by Software Advice showed that 78% of recruiters use SMS to communicate with candidates. Surprised? So were we, but it appears that a simple text may be the most effective way of conversing with job seekers.
Since the introduction of commercial mobile phones in the mid-80s, the UK has embraced the grown-up walkie talkie. 93% of adults own / use a mobile phone and this provides a direct avenue for recruiters to contact candidates. Now, while it should be acknowledged that the majority of candidates favour other methods of contact, 90% of respondents from the aforementioned survey reported that text messaging had helped their business. So what can it be used for?
Distributing job postings
With emails fast becoming the new junk mail, text messaging offers a more effective platform for recruiters trying to advertise job vacancies. Email opening rates are falling and recruitment consultants are realising the opportunities that SMS affords them. The average person in the UK checks their phone 85 times a day and reads 98% of all text messages (on average). This is significantly higher than the email read rate and means that people are far more likely to see your job posting. Wearable technology is only helping this cause and with messages now appearing on the face of a smartwatch, text campaigns potentially offer the greatest level of job advert visibility.
Candidate screening
Simplifying the candidate screening process is a real advantage of mobile recruitment and SMS has only helped push this further. Dealing with such a substantial talent pool poses as many challenges as it does solutions, however text messaging can make it easier to close the net. Quick questions ranging from enquiry of interest to relevant skills, can speed up the process of assessing potential job applicants in bulk, while cutting down on the number of emails and phone calls. Although this will never replace face to face screening, it can streamline the early stages of a recruitment campaign.
Swift communication
If you're trying to set up interviews or update a candidate on the latest goings on, a game of phone tag can become a very frustrating reality. We all know how lengthy the hiring process can be, something that isn't helped by the need to chase a reply. Text messaging can reduce the need for phone calls and voicemails, and also promises to receive a greater level of response. However, communication via text isn't an excuse to start using your phone's full range of emoticons. Despite text messaging being more personal than other methods of communication, you still need to appear professional, so avoid text talk at all costs. K?

Text messaging is considered the most personal of the communication methods and this can work both for and against you. While SMS can help develop a closer relationship with candidates and clients, messages from 'businesses' will often be seen as spam (a particular danger with job adverts), something that can negatively impact the view of your service. So recognise the communicative benefits that text messaging offers, but don't be too overzealous in your usage of it.
Thinking about going mobile?
The decision to go mobile isn't one that should be taken lightly. Mobile has the ability to completely transform how your business operates and taking that digital leap can initially be a drain on time and financial resources. Despite this, failure to move with the industry could leave you trailing competitors and missing out on the best new candidates.

Lisa Bishop agrees, saying: "Most of the world is "going mobile" and in order to compete in this market, you have to keep up with any and all advancements. Mobile recruitment is not going away any time soon and we must embrace the benefits, for both us as a company, and for our candidates and clients."

So before you start investing in a mobile recruitment strategy, ask yourself the following questions:
Is your website suitable for a smartphone, tablet or other mobile devices?
Can candidates / employers fill out forms easily on a mobile device?
Can mobile users easily apply for a job or respond to an enquiry?
Is it easy to check the progress of a recruitment campaign via mobile?
Would your candidates and clients be welcome to receiving text messages?
Is your SEO up to scratch?
What presence do you have on social media?
Are you using social media to engage with candidates or to just post jobs?
There is no one size fits all approach to mobile recruiting and different agencies and industries may require a different strategy. While it might be tempting to jump straight in, especially with free services such as social media, it's important to take a measured approach and give each foray into mobile the attention it warrants. Whether it's adapting your website or developing a Twitter presence, these aren't part-time endeavours and it might be advisable to master each area in turn, rather than having your fingers in too many pies. The phrase 'jack of all trades, master of none' springs to mind.
To Conclude
With recruitment typically at the whim of technological advancement, recruiters need to be flexible in order to adapt to changing markets. In many respects, mobile (and mobile recruitment) is still in its infancy, however its influence on the hiring process is growing to a level where recruiters can no longer afford to sit back. Mobile appears to be here to stay, and establishing a presence in the market now, will make it easier to adapt to newly emerging mobile tech in the future.