Each day, businesses around the world welcome new members of staff in the hope that they will contribute positively and meaningfully to their future.
If the new employee progresses as planned, the business will recoup these losses. However, there is also a risk that they will fail to meet the expected standard and continue to cost the business money in the longer term. This is what we consider to be a 'bad hire'.
So, exactly how much does a bad hire cost a business? As this infographic shows, the bill can run higher than you might expect …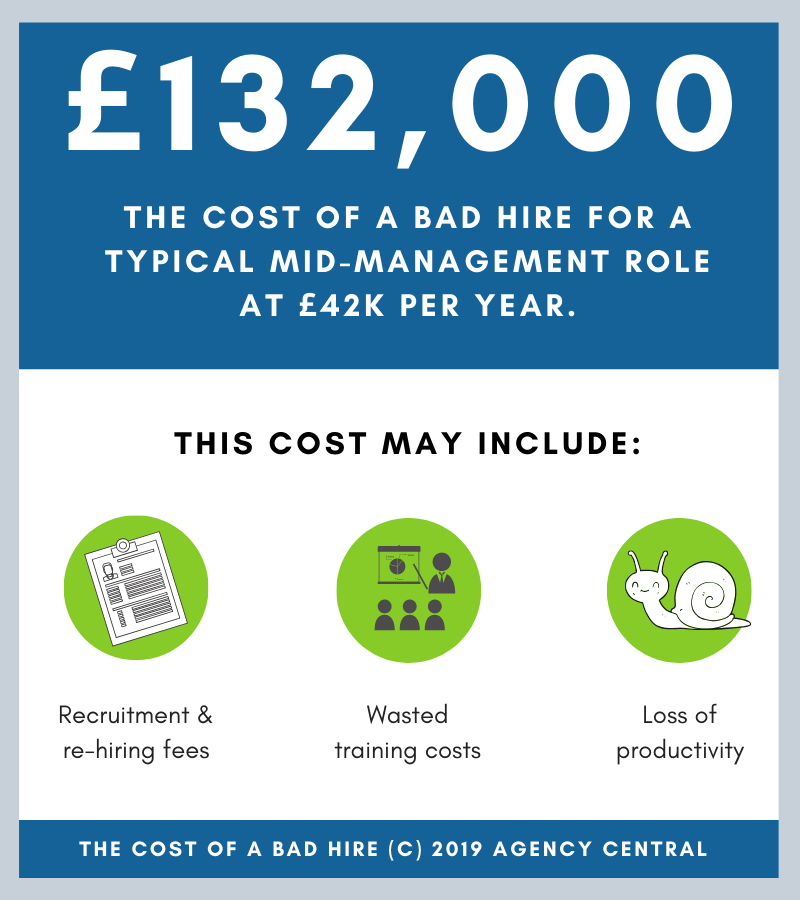 Hidden Costs and Other Consequences of Bad Hires
Of course, other 'hidden costs' may be incurred as a result of a poor hiring decision, that are not so easily quantifiable. For instance, the new starter may display toxic behaviours that hurt their colleagues' morale and wellbeing.
Or, they may simply not fit in well with the team and company culture. These are all factors that can damage a business' culture and employer brand, as well as hurting them financially.
How to Avoid Bad Hiring Decisions
What steps can you take to avoid making a bad hire? And, what are the warning signs you may already have made one?
In order to answer these questions, we will examine the recruitment process – and the cost of a successful hire against one that isn't, along with how business losses can accumulate over time as a consequence of a bad hire.
Cost per Hire Analysis
Regardless of whether they prove to be successful, every new hire comes with a base recruitment cost, before any other expenses are considered. For the sake of example, here is a breakdown of how the average recruitment cost per hire is calculated: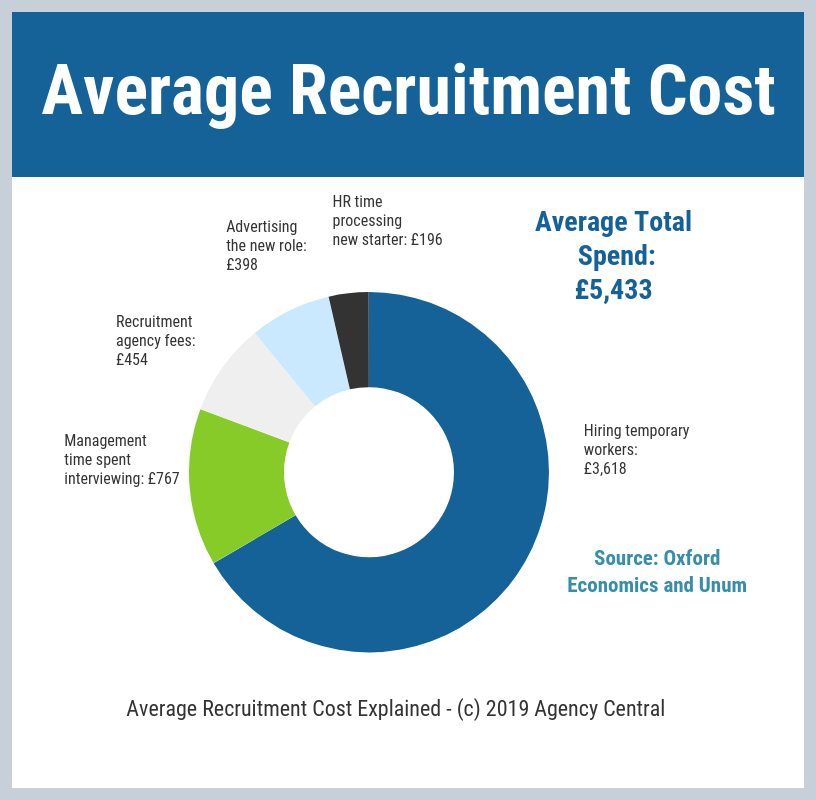 The Cost of Recruiting an Employee
The amount spent on recruitment per hire can vary significantly. Here are some of the factors which may influence the total spend:
The type and seniority level of the role.
Recruitment agencies' fees will often reflect the difficulty of the assignment. C-suite roles are costlier to recruit for than entry-level positions.
As discussed in an earlier article, the average timeframe for hiring a new employee is just shy of 28 days. However, the time taken could extend beyond this, if there were a lack of suitable candidates, or management deliberated over their hiring decision. Each additional day of the recruiting process will increase the amount spent. 
Hiring Temp Employees
If you're replacing a departing employee, it may be necessary to hire short-term help to cover their duties while you recruit their full-time successor. Although less of a financial commitment than hiring full-time, temporary contracts can be costly, especially given that a temp worker is unlikely to reach full productivity during their brief tenure!
How Bad Hires Affect Performance
No employee begins a new role at full productivity. To help them reach this level, most managers will arrange training and may also nominate another employee to support their development.
This comes at a cost to the business; the new employee is working for full pay at a lower rate of productivity and their more experienced colleague is taking time out of their schedule to support them. However, this is allowed on the understanding that the employee will improve and with time, the benefit of employing them will outweigh the cost.
If this is not the outcome, however, the wrongful hire will begin to cost the business further money through lost productivity.
How long does it take to train a new employee?
When we polled our Twitter network on how long they expected it to take for a new starter to reach the required level of performance, here's how they responded:
3-5 months (25%)
6-9 months (44%)
10-12 months (12%)
> 1 year (19%)
Cost/Benefit Analysis of Hiring an Employee
The most popular answer was 6-9 months, close to the estimate of five months, given by business consultant, William G.Bliss in his article 'The Cost of Employee Turnover':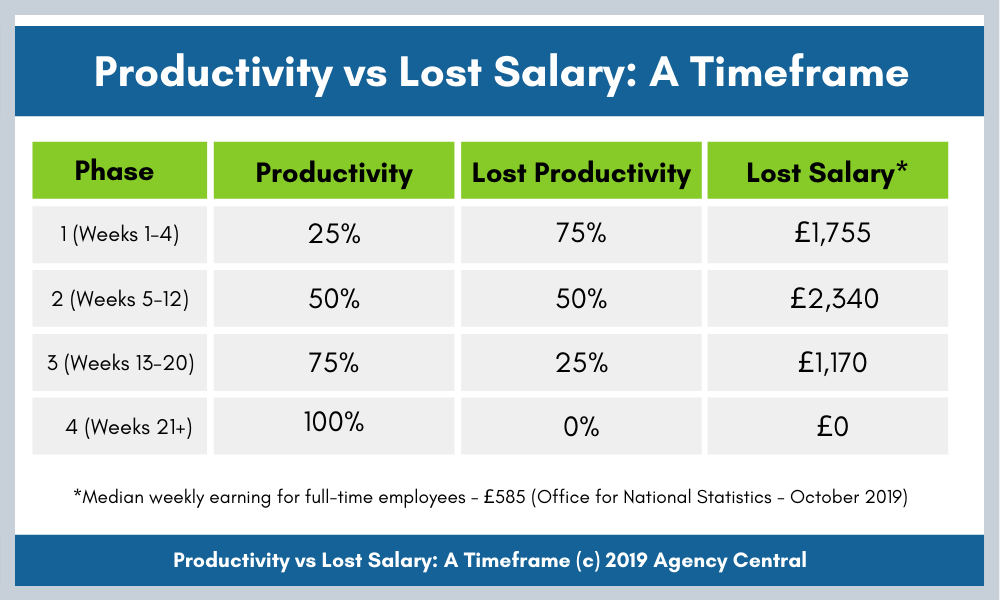 Bliss' scale incorporates three phases that new employees pass through before reaching full productivity, along with the proportion of their salary that is 'lost' by their employer at each stage.
Once an employee reaches the final phase of full productivity, the company will effectively begin to recoup the 'lost salary'. However, this is the best-case scenario for a business hiring a new employee. If it turns out the business has hired a toxic employee, the costs can be considerably steeper …
The Consequences of a Bad Hire Over Time
Most business leaders accept that it will take time for new starters to learn the ropes. However, one of the red flags associated with bad hires is low productivity.
It may take a month or two for it to become apparent that a new starter is not reaching the expected level. This may be noticed sooner in smaller businesses, but could take much longer to be flagged up with a non-senior employee in a larger enterprise.
An employer may choose to allocate additional training and resources to help a struggling employee improve. If the desired level is still not achieved, the employer must then decide whether to extend the employee's probation (whilst continuing to absorb the 'lost salary' costs), or let them go and re-advertise their position.
The latter option, of course, will incur further recruitment costs and then the replacement employee will also need to be trained up from the very beginning!
Colleagues May Spot a Bad Hire Before Managers
Managers may worry when they realise the latest addition to their team is underperforming, but the chances are, this was spotted much earlier by their colleagues.
From the moment they arrive in the office, all eyes will be on the new starter. If they're sitting back while everyone else is working flat out, this will quickly create resentment. Here's an infographic highlighting some of the ways in which bad hires can hurt company morale: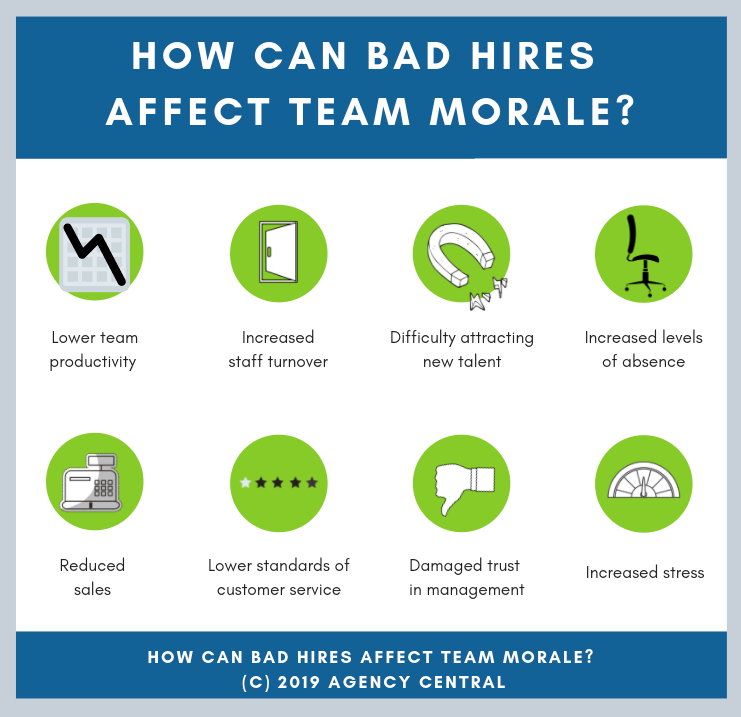 The Impact of Bad Hires on Staff Morale
According to statistics from Robert Half, supervisors spend an average of 17% of their time managing poorly performing employees, which takes away time and resources from other team members.
The increased stress felt by the team can lead to an increase in absenteeism, and in turn, higher staff turnover.
If staff are unhappy, the employer brand will be compromised, making it more difficult for the business to attract new talent.
The change in atmosphere may affect staff motivation, leading to fewer sales and a lower standard of customer service.
Teams will almost certainly place some of the blame for poor hiring decisions on management. Bad hires can damage employees' trust in managers and cause them to question their judgement.
Bad Hires at Management Level
We've established how a typical non-senior bad hire can be detrimental to a business financially – and in other ways. But, how much more severe is the penalty for hiring the wrong person for a management-level position?
A Recruitment & Employment Confederation report calculated the price for mis-hiring a mid-management professional on a salary of £42,000 at around £132,000. This figure includes recruitment, training and lost productivity.
Bad Management: Know the Signs!
A manager who is technically brilliant, but struggles to work as part of a team, resolve conflicts and has low emotional intelligence (EQ) is likely to be deemed a bad hire. Bad managers will directly impact any teams they are responsible for and may also affect others that work alongside them.
If a manager displays toxic traits and doesn't get on with most of their colleagues, this can hurt the overall wellbeing of the workforce and may also increase staff turnover.
Soft skills and emotional intelligence are more difficult to evaluate at the interview stage than practical competencies, although incorporating teamwork-based tasks into the interview process can help better determine which candidates are management material.
Why do businesses hire the wrong people?
When we polled our Twitter followers on what they thought was the biggest contributing factor to a bad hire, here's how they responded:
Unclear job descriptions (41%)
Failure to consult staff (12%)
Badly run interviews (37%)
Role poorly advertised (10%)
'Unclear job descriptions' topped the poll – and in the discussion thread, it was also highlighted that a role without a clear specification would almost certainly lead to a poor interview. The reason cited was that the panel wouldn't know what to look for in the candidates, making the odds of the right person being hired slim-to-none!
ASC Connections' Managing Director, Neil McNally explained how a lack of cohesion between interview panels can lead to poor hiring decisions:
"Employers should make sure all stakeholders are on the same page regarding what is required. As a recruitment business, we are often exposed to what I would describe as a difference of opinion between HR and Line Management, which can then manifest into mixed messages and confusion for the candidate.
The best talent will often have choice within their market sector so employers owe it to themselves to be unified in their message throughout the interview process."
How to Choose the Right Candidate
If you want to make sure the hiring process runs smoothly from start to finish, print out a copy of our Hiring Manager's Checklist and keep it at your desk at all times …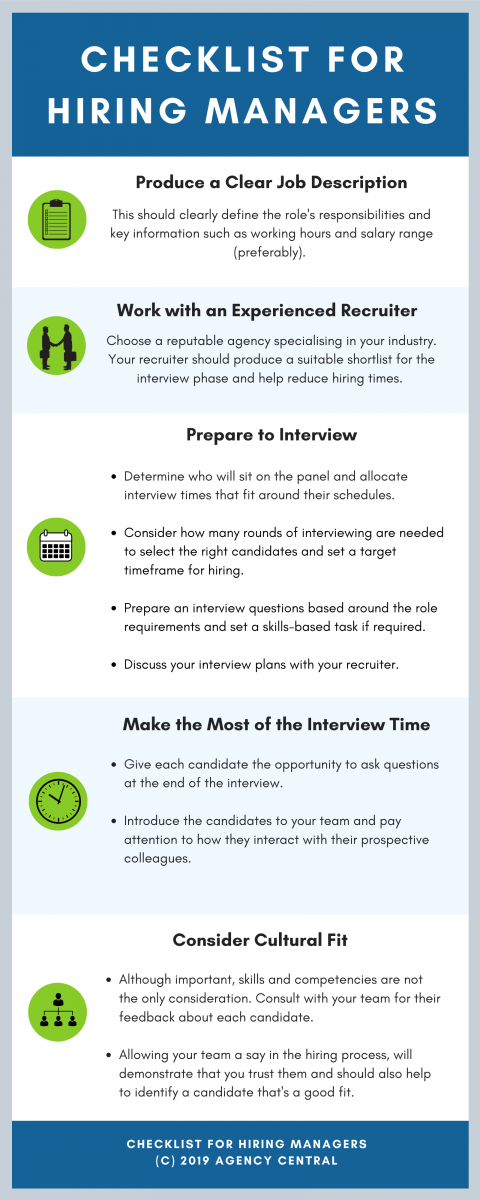 Conclusion
We hope you found our guide useful and are now feeling more confident and positive about hiring new talent. Although it isn't possible to guarantee that every new employee is a success story, taking the steps we've highlighted can help to minimise the risk of costly bad hires!
Finally, you may also consider taking a cue from the many forward-thinking employers who are turning to technology for a helping hand with their hiring decisions.
Use AI hiring tools, but trust your instincts
Employers can benefit from the latest intelligent recruiting software, which allows hiring managers or recruiters to quickly produce shortlists of qualified candidates in line with role requirements. This can help you make an informed decision, although you should also take your own instincts (and your team members') into consideration to ensure a good cultural fit.
We'll be back soon with more wisdom and insight for employers, so stay tuned to our blog.