Budgeting as a student isn't easy. The cost of rent, bills and food quickly stack up – and that's before we even think about socialising!
While a student loan might be able to take the brunt of the expense, this only goes so far and university-goers are increasingly looking for part-time work to ease the financial strain.
We take a look at how students can find part-time work and what industries might offer the best opportunities for flexible employment.
Should you get a job while at university?
With the rising cost of living, and maintenance loans falling in value, many students will struggle to make ends meet.
According to a Natwest survey, 43% of students run out of money before the end of the semester, while a third of students decide to dip into their overdraft to cover bills.
This can lead to students looking for part-time work, with between a third and two thirds (depending on the report) now in some form of employment.
The benefits of having a part-time job as a student
While the need to top-up the bank account might be seen as the primary reason for landing a job, there are multiple benefits to working while at university.
These include making new friends, networking and boosting your CV.
The biggest benefits will be reaped from bagging work within your subject area. Of course, this is easier said than done, but it could give you a massive advantage once you graduate.
Regardless of what the work is, you can guarantee that the reward will be more than just financial.
How many hours a week should a student work?
While there's no limit to the number of hours that you can work while at university, it's difficult to ignore the impact that this could have on your studies.
Oxbridge students are generally discouraged from taking on a part-time job, but for everyone else, it's recommended not to exceed 10-15 hours per week.
Despite this, it's not uncommon for students to work more, with some happily taking on more than 20 hours.
International students with a student visa are limited to 10-20 hours per week.
How to find part-time student jobs
There's no one right way to find a job and students have a range of options available to help them.
Whichever avenue you take, make sure you optimise your CV for employers. Even though it might look a little light at this stage of your career, there's a chance you'll be asked to present one – so be prepared! 
Use job boards to find part-time vacancies
When looking for a part-time job, you'll almost certainly find yourself scrolling through online job boards.
This is where you can search and apply for vacancies that employers are looking to fill.
While the mainstream job boards cover all industries and levels of role, students might be best served by industry or demographic-specific offerings.
There are several job boards designed specifically for students and these might provide the best opportunities for finding suitable work.
Get access to student jobs with recruitment agencies
Want to take the time and effort out of finding work? Then a recruitment agency might just be the answer.
If you haven't used a recruitment agency before (and you're wondering what they are), they are services that help employers find staff.
There are around 40,000 recruitment agencies in the UK and they essentially act as an intermediary between a business and a job seeker.
By registering with an agency, students can be put forward for relevant jobs that they wouldn't otherwise have access to. They may also receive CV and interview guidance to optimise their chances of getting hired.
There are recruitment agencies that specialise in different industries and locations, so it can pay to look around and find the right agency for you.
Extend your job search with social media
The likes of Facebook, Twitter and LinkedIn have changed how people find jobs – something students can use to their advantage when looking for part-time work.
94% of companies use social media to advertise vacancies and around half of candidates use it in their job search.
By using social media, students can:
Find jobs that are being advertised.
Reach out directly to employers.
Be found by recruiters.
LinkedIn is typically the most popular platform to get a job and building a profile will stand you in good stead as you look to start a career after graduation.
Although Twitter and Facebook aren't as 'professional' as LinkedIn, smaller businesses will still use them to advertise openings.
Try speculative applications
While it might be a bit daunting, contacting employers out of the blue can occasionally be the best way to get a part-time job.
This might involve an email, a phone call or even visiting in person.
This technique typically works best for jobs within small, independent businesses, as the majority of larger employers (such as retail chains) will require you to apply online or go through 'proper' channels.
If you are going to drop-by unexpectedly, it's advised to ask for the manager and politely enquire if they're looking to take on any staff.
Chances are, you'll get knocked back, but there's always the possibility that they have a temp job available or need someone as cover on a weekend.
Speak to the university careers centre
Most universities will have some kind of employment service that can support students in finding work.
Whether it's an internship, work experience or just something ad hoc, university career centres or 'job shops' can often help you find what you're looking for.
The great thing about this, is that universities tend to have good relationships with local employers and will only accept job vacancies that are suitable for students.
What are the best part-time jobs for students?
Working while at university is a great idea, but it's not always easy to find a flexible job that fits around your schedule.
Fortunately, there are some well-worn paths that students have been treading for years.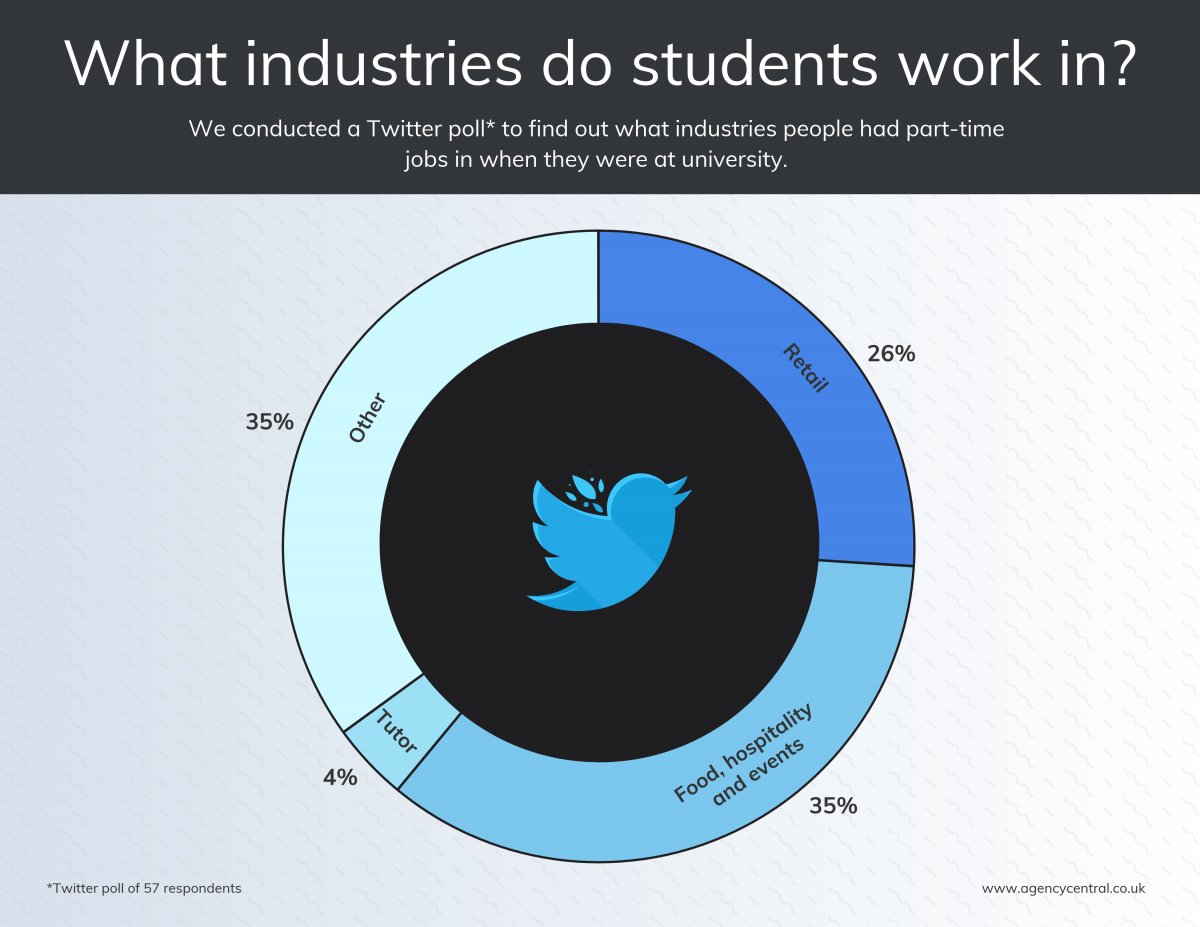 The retail and food / hospitality industries have traditionally been job goldmines for undergraduates, but there are other areas of work that you could consider moving in to.
Tutoring jobs, while not highly represented in our survey, have become popular with students. This is largely down to the flexibility and favourable pay-per-hour (£30-£40), but it also looks great on a CV. After all, what could look better to employers than a candidate who is such an expert in their subject that they're able to teach it to others?
Something else to think about is a university campus job. Whether it be working in the library, cleaning or helping out on open days, the majority of universities will have paid jobs available for students. These are usually on a casual basis, so shouldn't interfere with your studies or socialising.
In our survey, we asked people what jobs they did at university and answers also included lifeguard, animal care and writer.
What about freelance jobs and the gig economy?
If you're looking for something more flexible, or just don't want to be tied down, then freelancing might be an option for you.
No matter what you're good at, be it writing, web design or photography, freelancing offers you the opportunity to sell your skills while remaining self-employed.
You get to choose when you work, how you work and who you work for.
Sounds great, eh?
Well, being a student freelancer can be tough, especially if you're relying on it as a main source of income. You'll spend a lot of time searching for clients and you have to essentially manage yourself like a business. This includes managing things such as tax.
For students in need of a bank balance top-up, though, freelancing can be an excellent option – and it won't do your CV any harm. Who knows, you might become such a successful freelancer (or even just enjoy the freedom), that you decide to do it full-time after graduating.
Online jobs and working from home
If you're thinking about freelancing, you might be looking for online roles that allow you to work from home.
A whole range of roles can now be done remotely and typical online jobs for students include:
Software tester.
Blogger
Social media manager.
Graphic designer.
Data entry worker.
Well-paid online jobs can be hard to come by, but they could really help you out when the maintenance loan isn't stretching far enough.
But remember, there are pros and cons to remote working, so make sure you're cut out for it before committing yourself to projects. 
To end
Balancing university and part-time work can be tricky, but the financial, social and career rewards can be worth it.
Of course, the cost of living means that working isn't a choice for a large number of the student demographic – especially if the bank of mum and dad is closed.
Fortunately, if you are looking for a part-time job, there are plenty of options available that will fit around your studies and help you earn a little extra cash.