Cutting edge hiring techniques are nothing without timing and being aware of seasonal recruitment trends can make all the difference when planning your next foray into the labour market.
The peaks and troughs of the calendar year can cause a headache for employers and candidates alike, leading to a number of external factors that are worthy of consideration before embarking on any recruitment campaign.
Perhaps you're looking to hire a graduate? Expand your team? Or you're hoping to make that all important senior hire? Well your plans may just be at the whim of our earthly orbit, however having an understanding of yearly patterns can help you develop a calculated recruitment strategy.
When are the peak times for recruitment?
In order to help us determine the key months for recruitment, we analysed data from our job board to establish when in the year employer adverts are typically at their highest.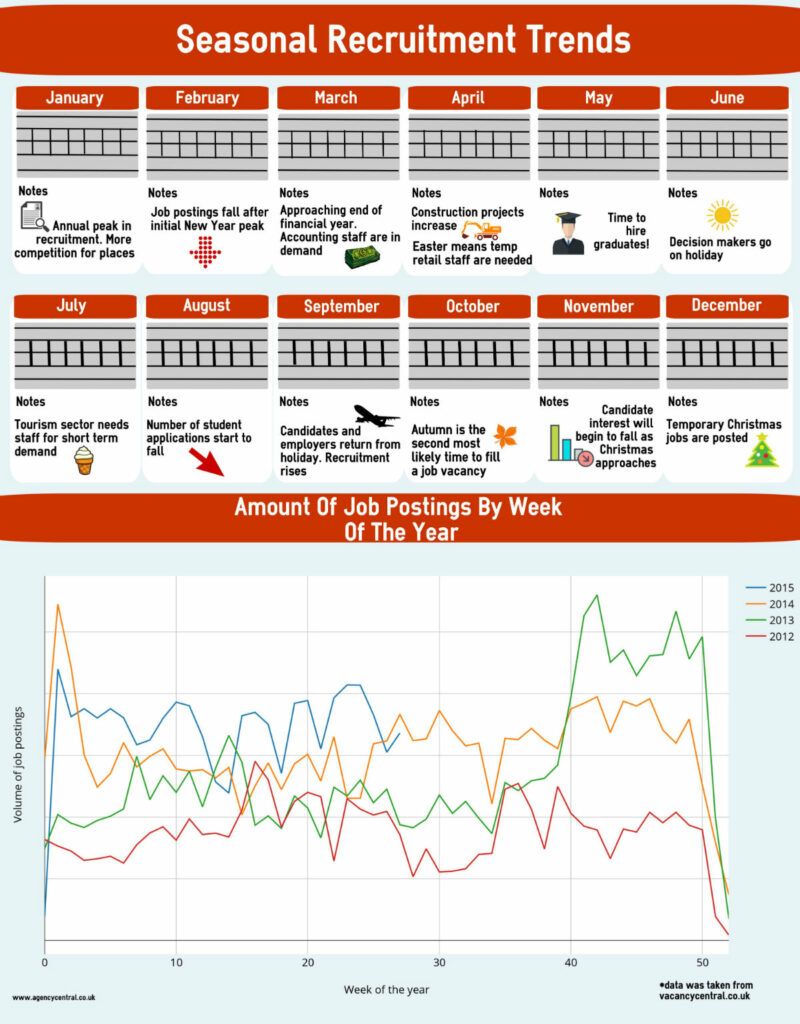 So how can these seasonal transitions be explained and which industries see the most demand for candidates at different points of the year.
First Quarter
The start to a new year typically sees a rise in recruitment as Auld Lang Syne beckons a change both on a personal and corporate level. Buoyed by this surge of motivation, the first weeks of January annually results in a job hunting peak, with candidates hoping to make good on their latest resolution.

This desire for change is just as likely to befall the currently employed as it is those between jobs, potentially leading to a hiring carousel. Leaving one job for another can start a domino effect, whereby a chain of candidates move on to fill the vacancies of their similarly moving predecessors. This results in a rise in the number of job adverts posted as employers aim to fill the void left behind by opportunistic staff who seek pastures new.
Of course, some of this change is driven by the employers themselves as Christmas provides a time to reflect on the previous year and to make plans for the next one. This can often lead to aspirations for expansion, a new perspective or a change of direction; all objectives that benefit from new hires.
The best industries for January jobs
Some industries outperform others at this time of year though and it's perhaps not surprising to see that retail, boosted by January sales and resolution inspired purchases, still sees the biggest demand for staff in the calendar's maiden month. However, as many of these roles will be on a temporary basis, businesses could find these harder to fill post-Christmas.

An ONS report showed that of the 1.6 million temporary employees in the UK (as of August 2015) only 376,000 reported not wanting a permanent job. This is 23.5% of the temporary workforce, meaning that the remaining 76.5% may use the start of the year as a springboard to find long term job security.

Accountancy jobs are also on the rise between January and Easter as the end of the financial year approaches. Accounting firms make the majority of their revenue in what is often known as 'Tax Season' and may be looking to add to their team in order to cope with this increase in demand. Again, many of these positions will be filled via a temporary staffing agency, but they can provide a stepping stone for candidates and a great opportunity to gain direct industry experience.
The downside to January recruitment
January isn't necessarily the job goldmine that it's cracked up to be, as competition for places is at its yearly high. An Angels Den study suggested that 18% of people highlight a career change as their main New Year's resolution and this means that applications can easily get lost amongst the candidate maelstrom.

Furthermore, many of the jobs at this time can be deemed reactive hires as opposed to proactive hires, with businesses looking to make swift replacements or respond to a short term demand. This often means that top jobs aren't available and there is a noticeable skill gap between applicant and the responsibilities of the role.
The high volume of applications can also make it difficult to hone in on the right hire, causing an additional headache for employers. Some of the best executive staff will be passive candidates and these are unlikely to actively compete for a position, particularly when the market is at its most competitive. Experienced professionals may be easier to attract during quieter periods and will most likely require a more tactile approach.
Why are there less hires in February?
This rise in job postings doesn't last long and a swift decline towards the end of February can always be expected. A decrease in the early year optimism, businesses limiting their spend after Christmas and possible recruitment quotas are all contributing factors for this decline.

Social care and other public services are particularly limited financially and may not be able to recruit until they are made aware of their budget for the following year.

Similarly, the abundance of active candidates in January means that many of the early year vacancies have already been filled and company owners are ready to turn their attention to other business matters.
Second Quarter
Although February sees the first recruitment slump of the year, Easter leads to a mini revival with retail in particular pulling in strong figures. The demand for chocolate eggs, bunny ears and greeting cards results in an increase in shopping footfall and a subsequent increase in the number of staff required. The bumper bank holiday weekend is the high point of this climb and retail employers are quick to advertise for temporary workers to cover the rise in shoppers.

The construction industry also experiences growth at the advent of Spring as the improved weather means that building projects are soon underway. November, December and January largely results in a construction hiatus, before the industry picks up again towards the start of the second quarter.

Other industries to be impacted by this improvement in weather include:
Agriculture
Tourism
Shipping
Leisure
Travel

Despite an increased need for staff from April to June, these fields might not offer long term job stability to candidates and are unfortunately reliant on the rather unreliable British climate. 

This time of year also coincides with the end of the financial year, a point where businesses may find themselves with a surplus of cash. This unused budget provides a resource for employers to grow their team, something that the company pursestrings may have been restricting up until now. 

The second quarter sees less competition for jobs and this poses one of the best opportunities for candidates to find a new career. Similarly, a reduction in the number of applications allows employers to take their time over filling a new position and limit the likelihood of incurring the cost of a bad hire. 
Third Quarter
As the Northern Hemisphere basks in the glow of the summer light, the job market is anything but hot with the holiday months typically resulting in a recruitment siesta.

Summer has always been considered an employment vacuum, with warm weather, school holidays and dreams of a 99 all leading to the assumption that work is certainly not at the forefront of everyone's minds.

In 2012, the Chartered Institute of Payroll Professionals (CIPP) reported that September was the most popular month for personnel to take annual leave, followed by August, June and July.

Although it might be somewhat surprising that September topped the list (most likely down to the drop in holiday prices), it's clear that the sunny season results in the greatest absence of staff. With managers and key decision makers therefore away from the company, it's easy to see why candidate hires might fall to a glacial crawl.
Student and temporary jobs
Of course, not everyone is subjected to this summer decline and students looking for part time jobs prove that August isn't the complete recruitment tumbleweed that it's made out to be.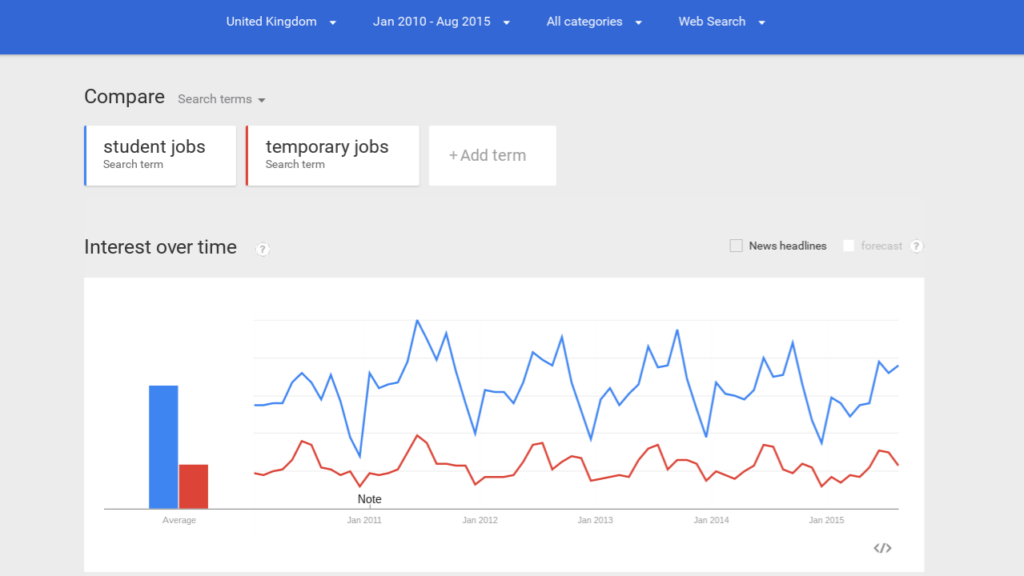 With the academic year ending between May and July (depending on the level of education), we can see via Google Trends that searches for student or temporary jobs reach their annual peak at this midpoint of the calendar. Students can be afforded anything from six to twelve weeks off and this creates an influx of candidates looking for temporary work.

This increase in active job hunters is great news for the leisure and food & drink sectors, who utilise this talent pool to address a seasonal spike in demand. Likewise, businesses often require temporary staff to cover for holiday shortages. This is particularly evident in customer service, call centre and administration roles.
Graduate jobs
As well as a peak in temporary student jobs, summer also sees graduates swarm onto the job market and employers will be looking to attract the best young talent from the moment those discarded caps hit the ground. Businesses who are on the ball will be setting benefit laden honey traps from the start of May, however they may have to wait until autumn to entice top candidates.

Once exams and the stress of leaving the education bubble have subsided, graduates may look for some time off, be it in the form of travelling, holidays or watching endless episodes of Storage Hunters. This means that September / October could be the best time to recruit exuberant talent, if employers are willing to be patient.
Fourth Quarter
The changing of the leaves signals a rise in job postings as key decision makers return from their private islands and Faberge encrusted chalets.

In 2014, the UK Labour Market Report showed that between October and December, there were 700,000 vacancies. This was a 19,000 increase than from July to September and justification for the image that autumn has developed for being a busy time for employers and recruiters.

The end of summer forces employers and candidates to reacclimatise to office life, meaning that job moves are quickly back on the agenda. The festive prelude can be a hectic time for businesses and recruitment agencies are often at their busiest from September to Christmas.

Though not everyone openly welcomes old man winter, job hunting candidates are able to find equinoxial solace in the increase for career opportunities. The education sector is now back in full swing, while retail, events and marketing companies gear up for the Halloween, Bonfire Night and Christmas trilogy. Oh, and let's not forget Black Friday…
Christmas
Unless you work in retail (or Santa's workshop), the last few weeks of the year sees a slowdown for most businesses. This is typically reflected in the number of hires made once we open the first doors of the advent calendar. This, however, might not be through lack of job postings but rather the minimum interest from candidates.

Candidates are generally less eager to apply for positions in the final month of the year, instead opting to enjoy the festive season and postpone any job hunting apprehension until the last drop of sherry has been quaffed. Though perfectly understandable, this could prove to be misguided with the less competitive market proving the perfect opportunity to land desirable roles. This is true for the majority of industries, although Christmas is not generally considered a good time to fill executive positions.
It is true however, that a large proportion of job postings at this time are for temporary positions, which candidates may be interested in taking on in an attempt to offset the festive strain on the wallet.

The Royal Mail is perhaps the most well known Christmas employer as it aims to address more than twice the normal amount of letters and packages. They annually advertise around 20,000 vacancies each year and this is likely to increase as the high street continues to make its virtual transition. Online giants such as Amazon and Argos further support this and the former recruited more than 13,000 temporary employees at the end of 2014.

Parties and family gatherings also increase the demand on the food, leisure and hospitality sectors. Again though, this is another step into temporary work and many of these positions are taken by students as they return home for the holidays.
What have we learned?
Due to the impact technology has had on recruitment, seasonality is becoming less of a factor when filling vacancies. Job boards, social media strategies and company websites have made connecting employers to candidates easier than ever. This means that business owners and HR teams should be able to attract the right people for whenever demand requires. 

Of course, we have learned that some jobs are indeed affected by the changing seasons and employers may take this into consideration when planning their recruitment campaigns.
January is arguably the best time to attract a high volume of response as candidates use the New Year as motivation to embark on a career change. High volume doesn't always mean quality hires though and executive positions are best filled later in the year. Retail employment is high here, as is the demand for accountants.
Businesses looking to grow their team might decide to do this in in March / April. This coincides with the end of the financial year and employers may find some room in the budget to make new hires. Retail companies will again need to compensate for the increase in demand, this time during the Easter Bank Holiday Weekend.
Employers looking to recruit top graduates need to start their search in the Summer. This is also the time for food and leisure businesses to take advantage of the influx of students in need of temporary work.
Key decision makers and candidates return from their summer holidays at the end of September and the job market becomes more saturated. Excluding January, this is the busiest time for employers and recruiters.
Candidates are less inclined to look for work during the festive season and the talent pool in December is decidedly sparse if looking to fill a top role. While managerial hires should be put off until the Spring, temporary positions are still popular in industries such as events, food & drink and hospitality.
Though seasonality undoubtedly has an impact on recruitment, no amount of calendar turning can compensate for poor planning. Top candidates are available across all four seasons and employers who implement a strategic process will optimise the chances of making the right hire.

We would like to thank Dee Spencer, Agata Klimaszewska and Theresa Oxide for contributing their thoughts towards this article.