If you read our piece about leaving London earlier this year, you'll already be aware of the pitfalls associated with life in the capital – but we didn't actually highlight the advantages of living up north.
In this article we take an in-depth look at the two most popular city destinations north of the M25. We profile everything from career opportunities, average property prices and key industries – helping you to envisage how your work and lifestyle would look elsewhere.


The north / south divide
With a £75,000 deposit, a one-bedroom flat in Paddington, London, could be yours for just £3,620 per month over 25 years. The flat includes cracked bathroom tiles and an eight-foot square kitchen space.

With a £30,000 deposit, you could buy a new build, four-bedroom detached home in Swinton, Manchester, for just £1,002 per month over the same period.

Still not tempted to leave London?

Well the prices above are just one of many differences between the north and south.

There are trains up north that you can get on without using your elbows, and there are roads that sometimes don't have cars on them (*huge gasp from Londoners*).

And while there is plenty of research to suggest you'll live longer if you reside in London instead of Manchester (probably because of the warmer climate), there is equally as much evidence suggesting you'll need to live longer – in order to pay off your mortgage.

While we are inevitably going to be drawing comparisons to London throughout, let's hone in on two of the most exciting northern cities to live in when it comes to careers, urban living standards and future investment prospects.
Which northern cities are on the rise?
While we will cover a total of five northern cities in our forthcoming eBook (watch this space), below we focus on two of the big guns. So, from property to accessibility, let's have a look at the most promising metropolitan areas of the UK outside of the crowded capital …

Manchester
According to the 2016 Global Liveability Ranking Report produced by the Economist, Manchester ranked 43rd out of 140 cities in the world – 10 positions higher than London. It made a leap of three places on 2015's position, showing that there has been a distinct improvement.

The survey itself ranks cities based on a number of qualitative and quantitative factors, all falling under the main categories of: stability, healthcare, culture / environment, education, and infrastructure.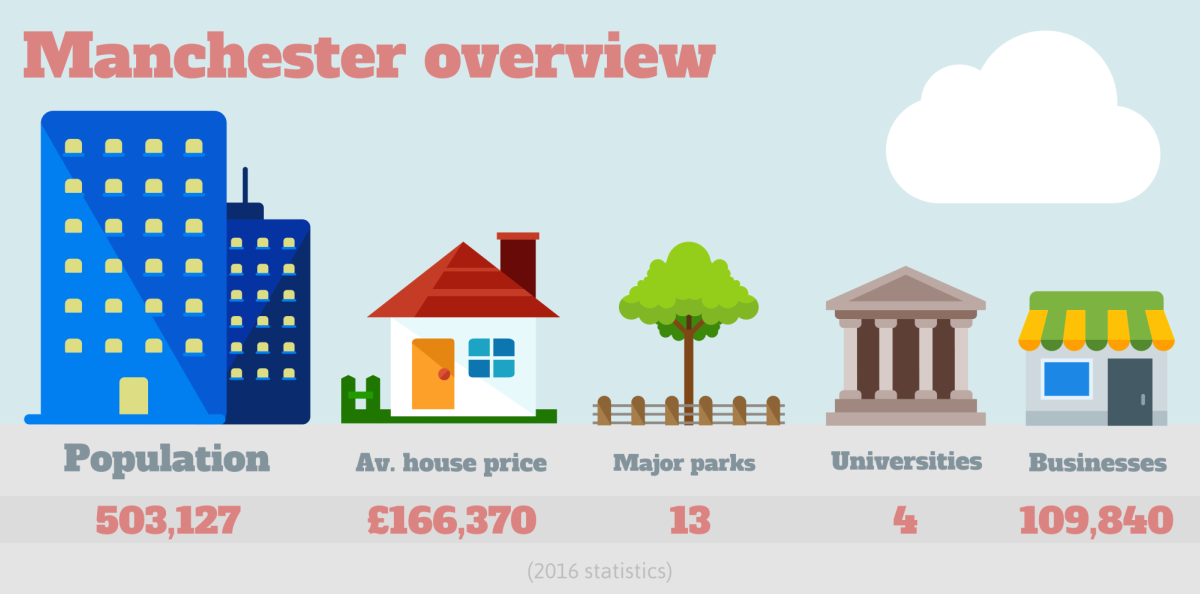 So if you're considering moving to Manchester, what exactly are its biggest selling points?

Education

There is a student population of around 100,000 across the city – and for good reason. The University of Manchester is ranked 56th in world rankings of best universities (2016), a respectable score out of the 800 establishments assessed. In the UK alone, it sits in the top five.

With impressive members of staff such as Professor Brian Cox and Sir Andre Geim, the University of Manchester also boasts the claim of being the largest single-site university in the entire country.

We managed to grab an exclusive chat with Professor Geim, on why he prefers living and working in Manchester over London. Geim won the Nobel prize in 2010 for his groundbreaking experiments with the element Graphene – with years of study primarily conducted from the university.
We asked him what the main advantages of living in Manchester were when compared to London:

"An average Londoner spends three working weeks every year just in traffic. This is often in coaches so densely packed that animal rights activists would complain if Londoners were cattle. Over a lifetime, one wastes at least two years in such terrible conditions. Ask yourself: How much would you pay to extend your life for an extra two years?!

In Manchester, you can live in a leafy suburb within less than 15 mins from the city centre by car or bus. The beautiful Peak District is within 40 mins, shorter than a routine commute for a Londoner."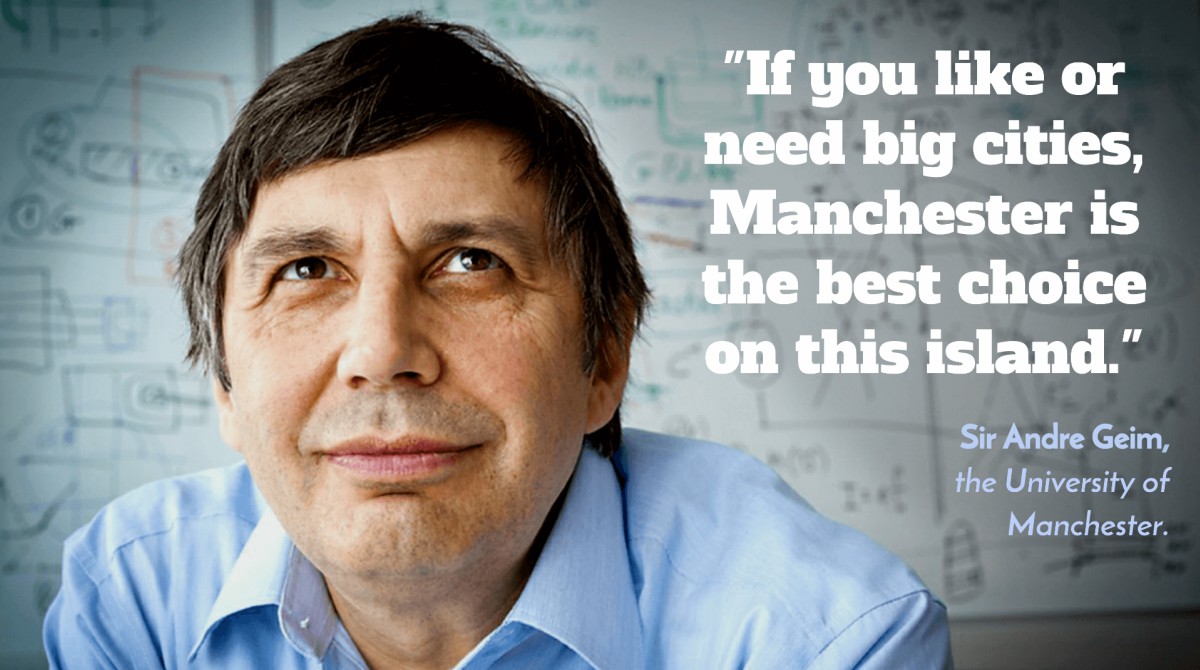 These advantages, Prof. Geim points out, lead to him concluding that "if you like or need big cities, Manchester is the best choice on this island."

The Vice Chancellor of the University of Manchester, Dame Nancy Rothwell, urges people to 'recognise the value of the north'. She also said that the EuroScience Open Forum (ESOF), the largest general scientific conference in Europe, attracted thousands of people into the city when it ran from July 22-27th this year (2016). This helped to raise the status of the city's offerings within the scientific field on an international level.

And if you're interested in a career in science, but still aren't convinced Manchester is the place, the north-west powerhouse was recently named as the European City of Science 2016.
Property hotspots
As a result of the aforementioned student population, the property rental market in Manchester is thriving. This is great news for any investors looking to grow their development portfolio. From a buyer's perspective, Manchester offers a wide range of property types to suit most budgets.
According to Rightmove data from October 2016, most property sales in Manchester over the last 12 months were terraced properties, selling for an average of £142,500. If we look at house price averages overall for Manchester, then that figure rises slightly to £166,370.

Considering the UK national average house price is £233,254, Manchester sits significantly below – meaning it is an attractive proposition for people looking to relocate or even make a first-time purchase.

The data goes on to reveal that house prices in the region are 6% up on last year and have continued to rise, so the future of the housing market looks promising.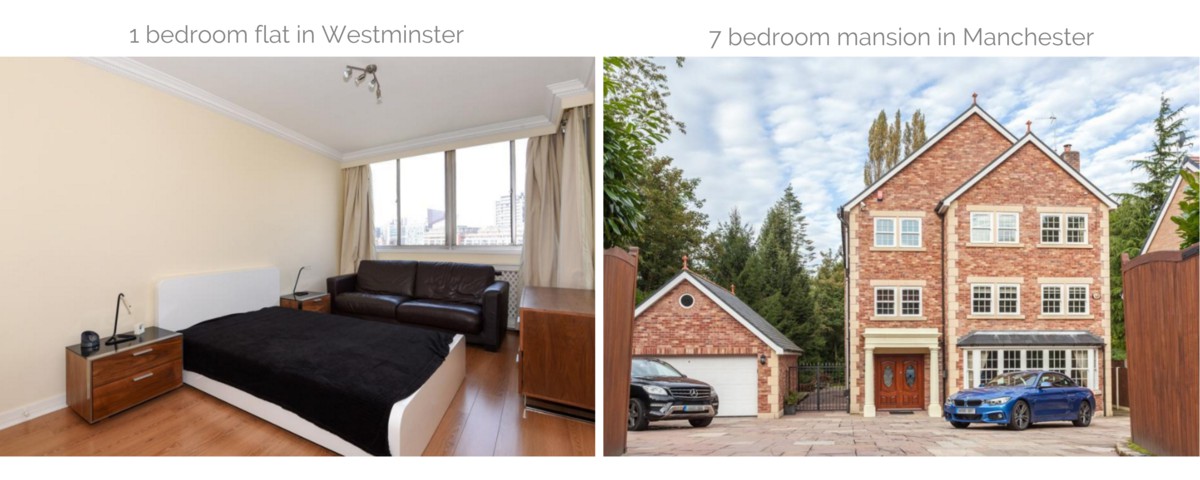 These two properties are the same price. Where would you sooner live?
Key industries
Manchester is home to a myriad of thriving business districts, proving to be popular sites for headquarters, northern offices and even new start-ups. From Spinningfields to Salford's Media City, there are many large employers spanning all kinds of industries.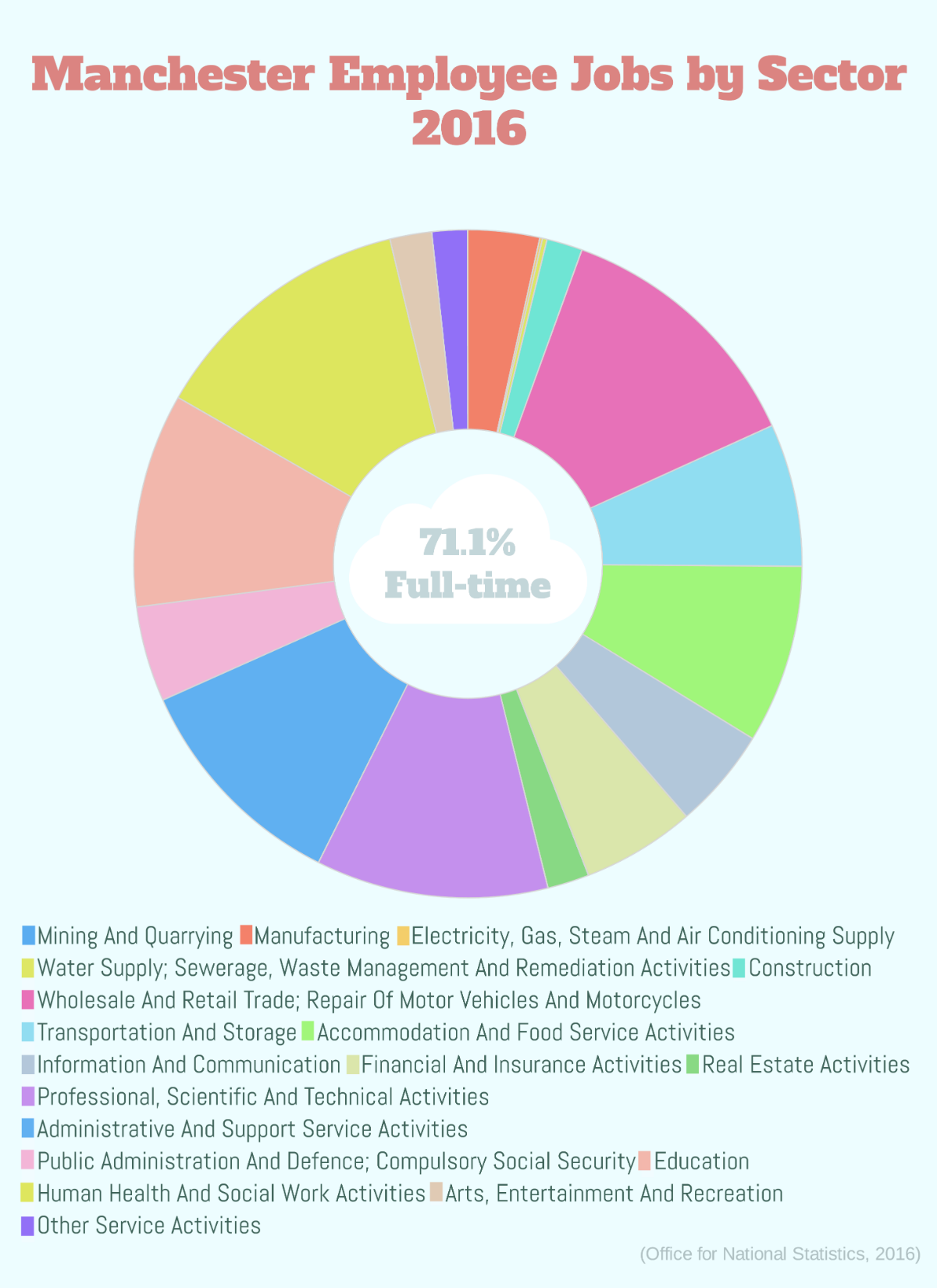 Both the BBC and ITV are located in MediaCityUK – offering a plethora of opportunities within the digital & media sectors. International healthcare group Bupa are also located in the 200-acre Salford Quays development, boosting employment within the healthcare industry.

As a whole, and spanning beyond MediaCityUK, Manchester also offers fantastic opportunities in the retail sector – with thriving shopping venues such as the Manchester Arndale and the Intu Trafford Centre.

To discover what current opportunities there are in the city of Manchester, you can register with one of the many Manchester-based recruitment agencies here.


Attractions
As one of the largest cities in the UK, Manchester isn't short of things to do. Home to two of the largest football teams in the Premier League, sport is a huge tourist attraction for the region. Subsequently, the large stadia allow for the hosting of many major events, from concerts to boxing matches.
On the subject of venues, Manchester also has the ever-popular Manchester Arena (formerly known as the 'MEN'), which receives over 1 million attendees every year. And if you prefer your surroundings to be a little more historical, a visit to the beautiful Albert Hall is a must – making for a spectacular indoor atmosphere all year round.

There are plenty of bars and restaurants within the sprawling city, but often found in small clusters – so be prepared to take some short taxi journeys if you want to see them all. Popular nightlife spots include Deansgate, the Northern Quarter and The Printworks.


Accessibility
When it comes to getting about, Manchester is privileged to have one of the best developed public transportation networks in the country. From trains to trams, buses to taxis, Manchester is very well connected – offering a far-reaching web of routes to and from workplaces in the centre.

Like any big city, congestion will occur, but this problem is alleviated as much as possible by the M60 ring road which (much like London's M25) circles the city. This means accessing the far corners and suburbs is much easier than before.
But possibly the most important motorway (or at least the most used), would be the M62. Officially completed in 1976, the M62 connects Liverpool and Yorkshire (Gilberdyke to be precise) – servicing everywhere in between. So that means cities like Manchester, Liverpool, Leeds, Bradford and Hull all significantly benefit from this motorway.

With the M62 pretty much spanning the breadth of the country, it means that Manchester is accessible from a wide range of densely populated regions, making it a popular place to work and visit.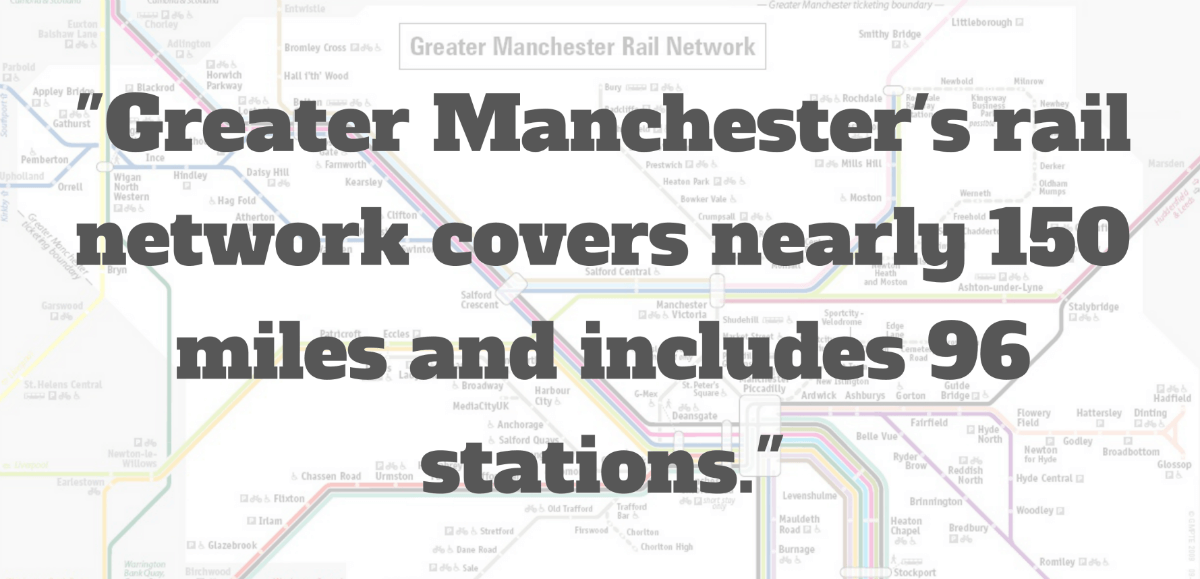 If driving isn't your thing then fear not. Train lines feed the city like veins would a pumping heart. With 14 platforms in total, and a staggering 24.6 million entries/exits throughout 2015, Manchester Piccadilly Station is the 15th largest train station in the UK (4th if we don't count the capital).
The northern hub scheme
The Northern Programme is a series of strategic upgrades on the railways in the north of England. This will increase daily train-flow tenfold, and allow space for millions more passengers per year. According to the National Rail website, the key features of the ongoing project include:
Over £4bn worth of wider economic benefits to the region and potentially 20,000 to 30,000 new jobs.
Two new fast trains per hour between Manchester Victoria and Liverpool.
More frequent services between Manchester and Leeds (six per hour).
Faster services across the TransPennine route, improving journey times by up to 15 minutes between Manchester and Leeds.
Journey times between Liverpool and Manchester could be reduced by 10-15 minutes.
New direct services from across the north to Manchester Airport.
Faster journey times to Sheffield, the East Midlands, Bradford, Halifax, Hull, and Newcastle.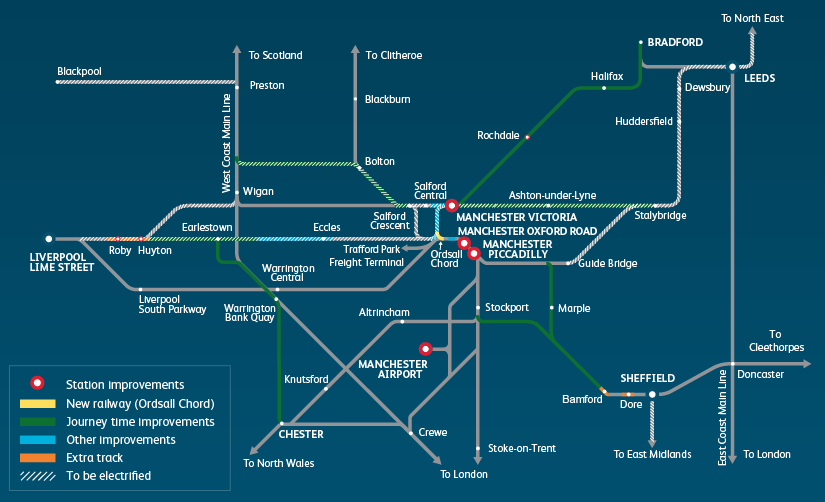 Image source: Network Rail

The Clean City Project

According to the Manchester City Council website, a recent cash boost of £14 million is to be invested into the city in order to make it a cleaner, greener place to live. This covers everything from the tidying up of vacant land, installation (and replacement) of litter bins, planting more trees and just a general pruning of the parks and foliage around the city.

Should this scheme fulfill the prioritised wishes of the residents of Manchester, then the place will certainly see a boost in the standard of living. You can view (and vote for) the most popular and rallied for 'green projects' here.

Manchester Council's creative team, M-four, have released several fun and witty campaigns recently, aiming to capture the imagination of the younger generations and prevent acts such as littering and graffiti. September 2015 saw the release of some very creative ad campaigns, including this rather ingenious Goldie Lookin' Chain hip-hop reference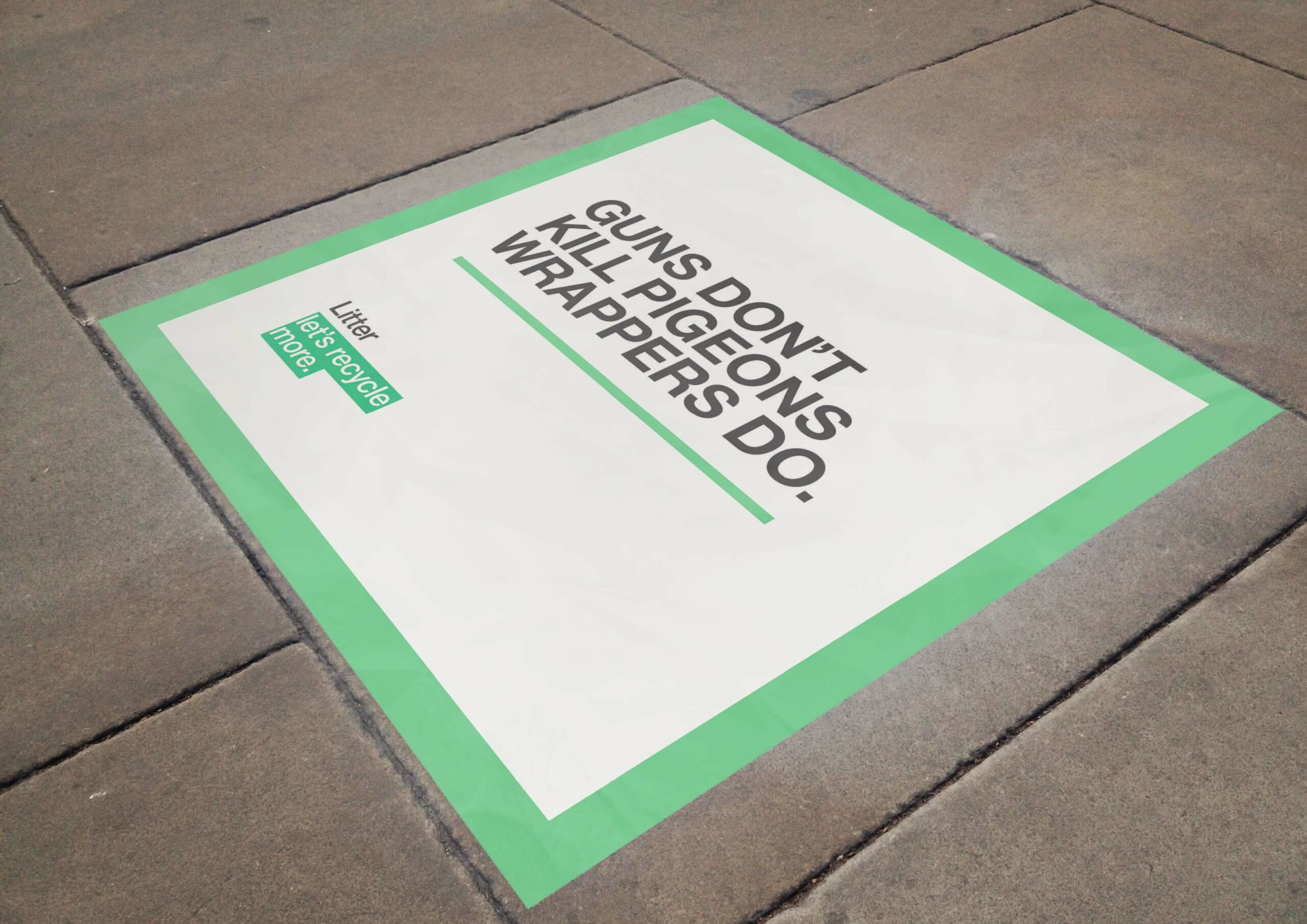 Cleaner Manchester: a fun reference to the rap song, "Guns Don't Kill People, Rappers Do!"
The final word on Manchester
Manchester is the only place in the UK to feature in Lonely Planet's Best in Travel 2016. This speaks volumes about the multicultural aspect of the city – a dimension which makes any place nice to work and/or live in. Just recently, Theresa May committed to pressing ahead with George Osborne's 'Northern Powerhouse' project – which includes Manchester as the main focus area.

With such a promising future of investment ahead, along with growing industries and new businesses, why wouldn't you consider climbing the career ladder in Manchester?


Leeds
The name Leeds derives from the old Brythonic word 'Ladenses', which translates roughly as "the fast-flowing river of people". With a current population of 794,250 (approximately), Leeds ranks as the third largest city in the UK. Earning city status back in 1893, Leeds sits east of the Pennines and around 190 miles north of central London.

The city was also ranked fifth in the UK for quality of life in 2013. The rating system assessed numerous factors, including cost of living, unemployment rates, disposable income growth, salary levels and life satisfaction.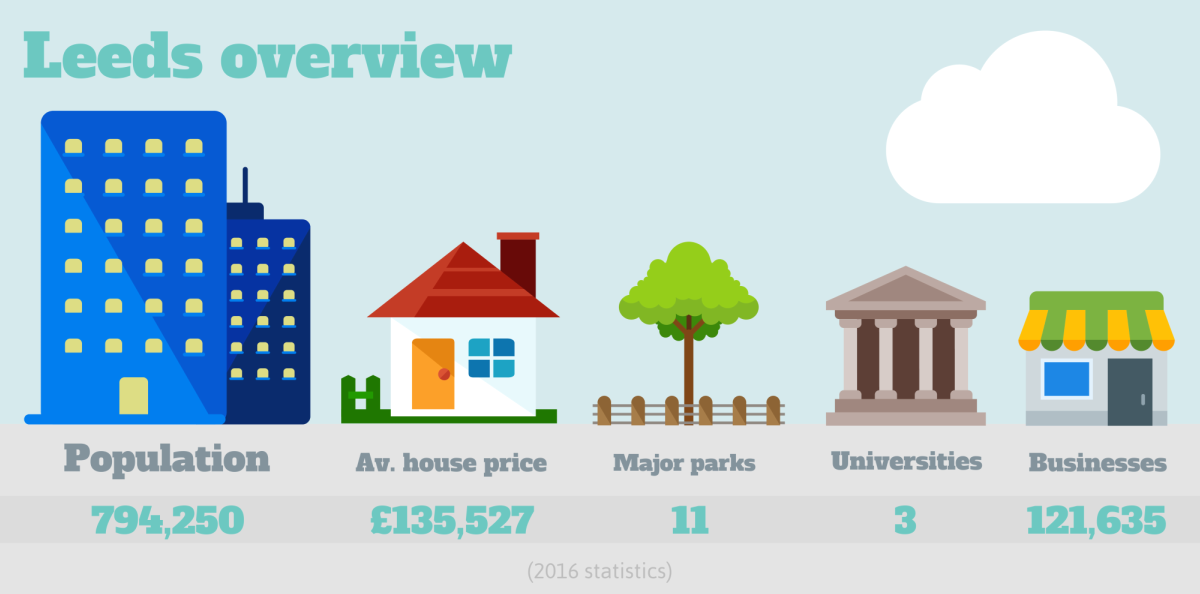 Apart from its envious location in the valley of the River Aire, this city offers a lot of exciting prospects for anybody looking to forge a successful career and a well-balanced lifestyle. So let's take a look at what makes this city so desirable …

Education
Leeds is home to three major universities: the University of Leeds, Leeds Beckett University, and Leeds Trinity University. Each establishment offers a range of subjects and specialisms, giving undergraduates the opportunity to take their qualifications up to PhD level.

The University of Leeds by numbers

The University of Leeds is the largest of the three, boasting a total of 32,138 students from 147 countries, make it one of the most diverse educational facilities in the UK. The university is also the third largest employer in Leeds, with over 7,861 staff members.

As of 2014, there are approximately 600 first-degree programmes and 300 postgraduate courses being run at the University. Accommodating such a range of subjects is an expansive student library, spanning five different locations across the campus and home to over three million books.

Over the coming years, the University of Leeds have pledged a £520 million investment into their campus development programme – future-proofing the site with more state-of-the-art halls, auditoriums and research centres.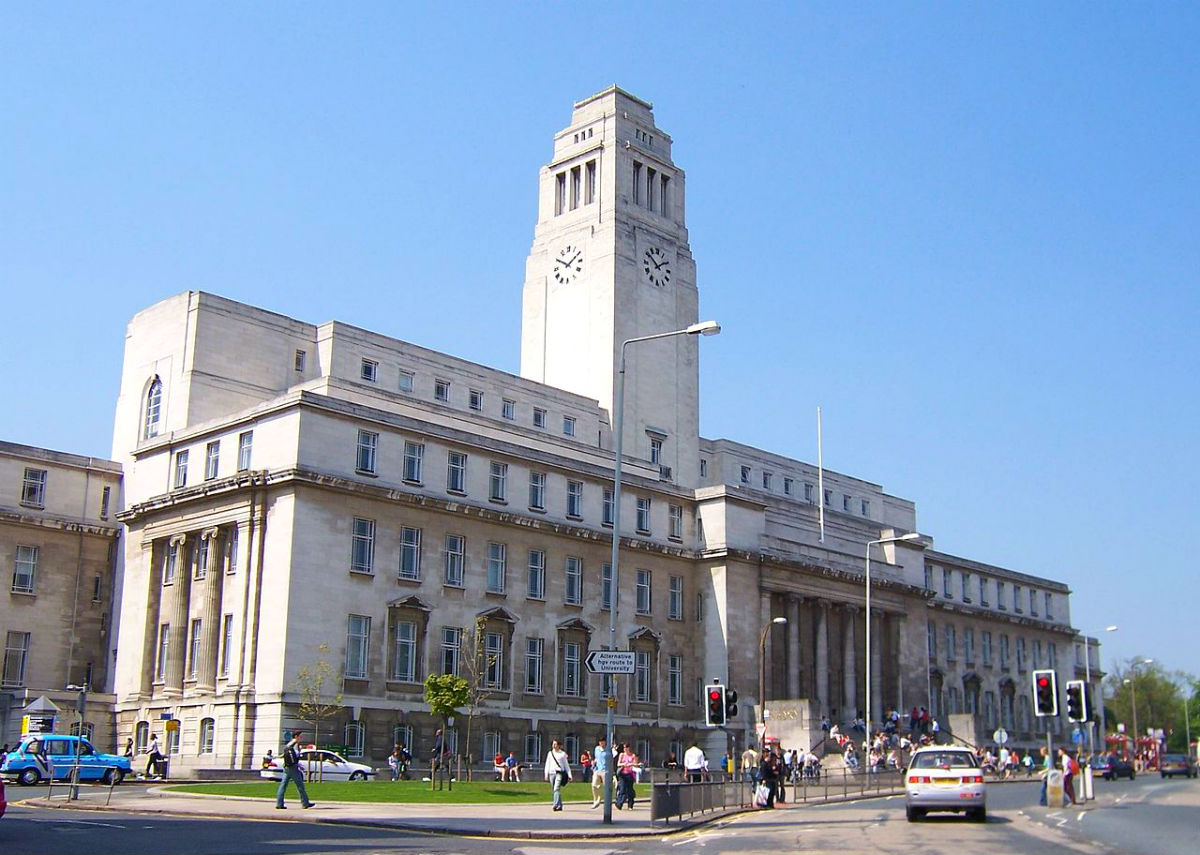 The Parkinson Building, University of Leeds.

The University of Leeds' specialisms

Although there is a wide spectrum of courses available, the university's most specialist subjects include medicine and aviation. With strong connections to Leeds General infirmary (through the St. James University Hospital), they operate a broad range of cutting edge research laboratories for biomedical and physical sciences.

In terms of aviation, the University of Leeds offers a range of courses, delivered by some of the most well-respected professionals in the field. It is also home to the Airbus A320 flight simulator, which trains students to develop their reactions to freak weather conditions or engine failures.
Property hotspots
In contrast to Manchester, most of the property sales in Leeds throughout 2015 were of semi-detached houses, with an average sale price of £185,980. Leeds City Centre properties had a much lower average of £135,527, making them some £98,500 less than the average national house price.

Surrounding areas such as Chapel Allerton and Roundhay both held averages above £200,000 – meaning that city living (in contrast to London) is a far more affordable option. The advantages of living in Leeds, York and Harrogate is that, because house prices are nowhere near the millions in central London, property growth has not been affected by stamp duty. As far as larger cities go, this makes Leeds a relatively affordable place to live.

If you are considering moving here, check out Ali Turner's 'The Best Places to Live in Leeds' article – she covers which areas are the most popular, upcoming and unsung heroes of the region.
Key Industries
Although suffering significantly from the 2008 recession, the economy in Leeds grew by 39% from 2002 to 2012. In such time, Leeds has established itself as one of the largest financial centres in the UK (outside of London) – meaning that skills within the accounting and finance sector are in high demand.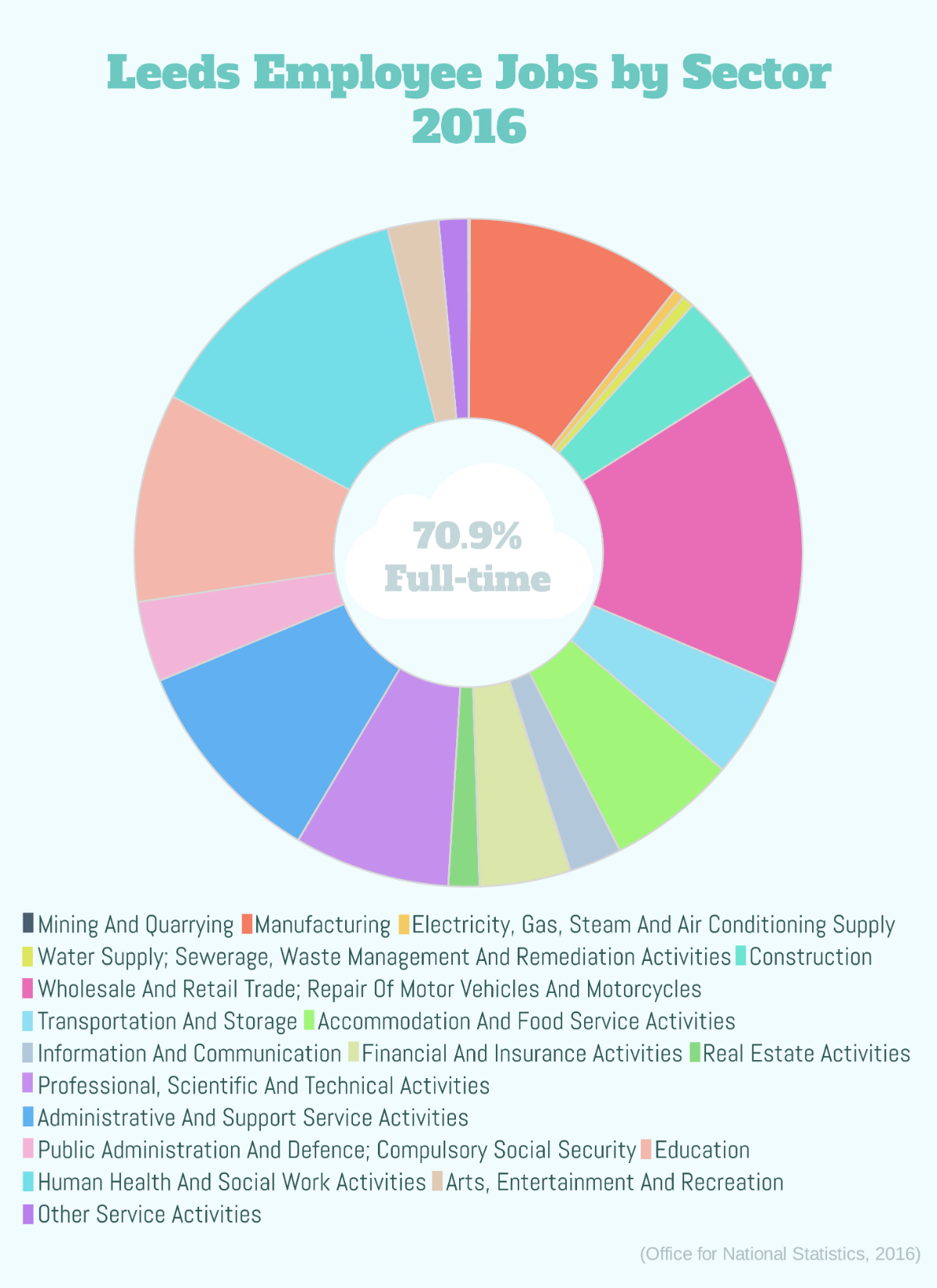 Growing industries in the area include retail, telecommunications and media. Sportal, Freeserve and Perform Group all started in Leeds and now dominate the UK internet industry. So much so that over 33% of the UK's internet traffic passes through Leeds – making it the most important internet hub in the country.

According to the Labour Market Handbook (August 2016), Leeds is the second largest employment centre (after Birmingham), home to 474,000 employees. Below we can see how this figure compares to other large cities across the UK:

So why are there so many companies in Leeds?

A great place to set up your business

A survey conducted by Cushman & Wakefield analysed over 500 businesses from Europe's leading cities, and asked a number of key questions regarding Leeds as a business destination. A number of insightful facts were revealed:
Best city to locate a business – overall 23rd in Europe, 4th in the UK after London, Manchester and Birmingham.
Ease of access to markets, customers or clients – 16th in Europe, 4th in the UK after London, Birmingham and Manchester.
Best qualified staff – 17th in Europe, 4th in the UK after London, Manchester and Birmingham.
External transport links to other cities – 18th in Europe, 4th in the UK after London, Manchester and Birmingham.
Value for money of office space – 1st in Europe and the UK.
Languages spoken – 24th in Europe, 4th in the UK after London, Birmingham and Manchester.
Ease of travelling around within the city – 15th in Europe, 3rd in the UK after London, and Manchester.
As a result of so many impressive incentives for businesses to be there, Leeds has become home to the UK Headquarters of Asda, Jet2, Tetley's Brewery, The Yorkshire Bank and Rockstar Games.

To discover what current opportunities there are in the city of Leeds, you can register with one of the many Leeds-based recruitment agencies here.
Attractions
Like most modern UK cities, Leeds offers a rich diversity of cultures and activities. If you're considering relocating here, then you might want to have a look at some of the lifestyle benefits on offer beforehand …

Shopping

When it comes to leisure time, Leeds offers a great balance of shops, cafes, bars and restaurants. Notable shopping destinations across the city include the recently developed Trinity Leeds Centre. Built in 2013, the shopping mall is spread over 3 floors, covers a total of 92,000 square metres and is home to 120 establishments.

While not as big as the Intu Trafford Centre of Manchester, Trinity Leeds provides a unique shopping experience, as it sits beneath a glass dome consisting of almost 2000 individual panels, and is home to some fantastic pieces of architectural art by Andy Scott.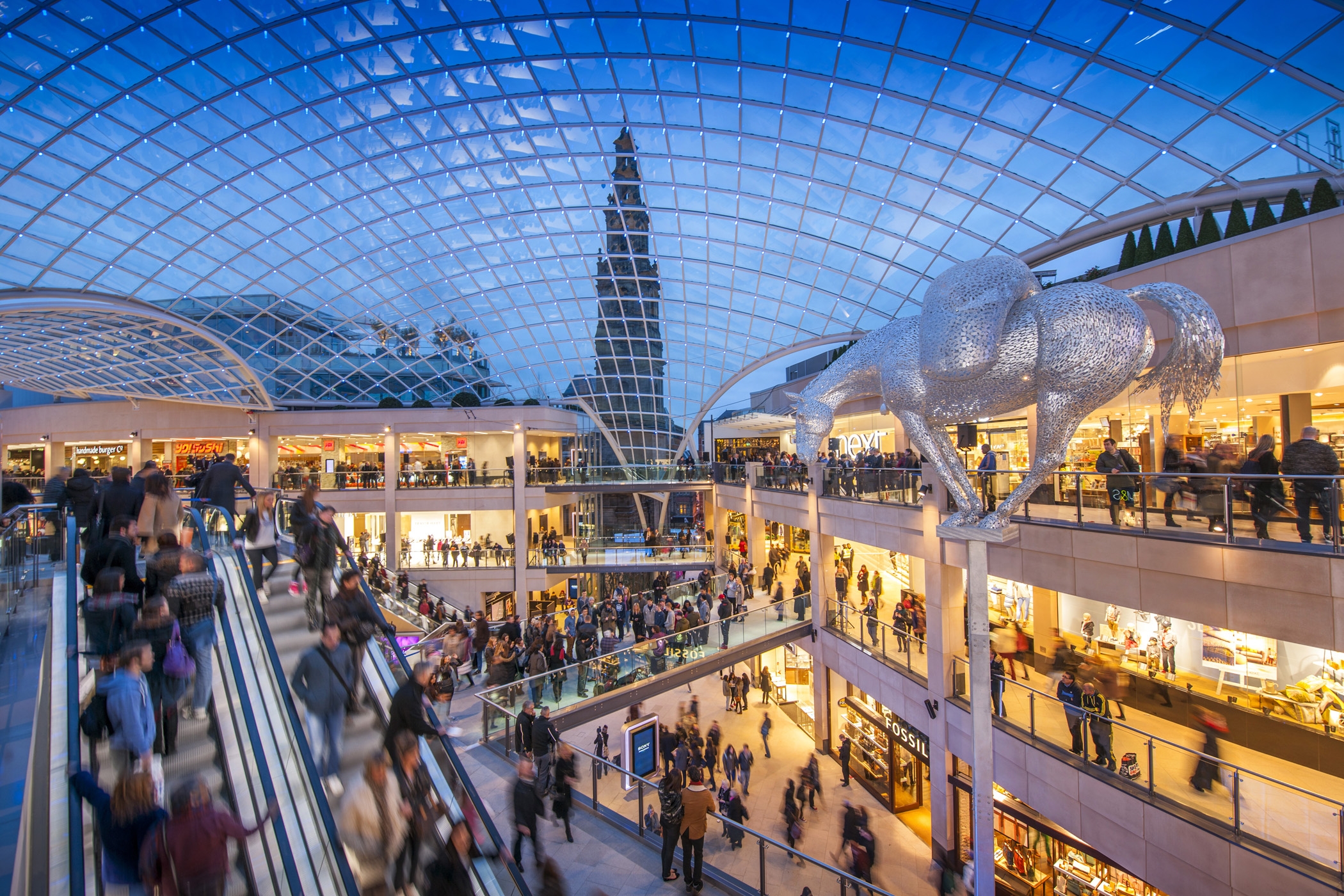 Trinity Leeds: opening back in 2013, the shopping centre created over 3000 jobs.

We managed to speak exclusively with Dan Wharton, who is the Marketing Manager at Trinity Leeds shopping centre. He commented:

"As the UK's fastest growing city, Leeds packs an incredible punch. Since Trinity Leeds opened in 2013, the city's seen a fresh wave of investment, with new bars, restaurants and shops opening every week, making it such an exciting and dynamic place to live. The city's creative and digital scenes are really booming, and much of that is owed to a loyal student population – talented young people who decide to stay in Leeds and forge careers for themselves, instead of heading south. We are fortunate to draw on such a diverse pool of talent to deliver the amazing customer experiences which matter to us at Trinity Leeds."

Concerts and events

Opening some four months after the Trinity Shopping Centre, the First Direct Arena (formerly known as the Leeds Arena) provides a great indoor auditorium for musical acts, theatre and any similar events. With a capacity of 13,500, the arena has already hosted some A-list guests, including Sir Elton John, Bruce Springsteen and Rod Stewart.

Unlike Manchester, Leeds only has one major football ground in Elland Road – home to Leeds United FC. Although it has held some notable concerts in the past (Queen, U2), Elland Road is rarely used for this function anymore. If you're a lover of sport though, the stadium is well worth a visit, as the club is renowned for its rich history and vibrant atmosphere.


Accessibility
By car, Leeds is easily accessible from most areas in and around the north-east, midlands and even the north-west. This is thanks to a well established road network, serviced by the M62 (starting in Liverpool), M1 (starting in London) and the M621 (Inner Ring Road). The coming years will also see over 80 miles of 'Smart motorway' installed in the north, increasing traffic flow and minimising congestion.

The city also has a strong public transportation infrastructure, with a fleet of over 537 taxis (237 of which are wheelchair accessible), a number of bus service providers, and even a FreeCityBus scheme, which provides zero-fare access to most of the city.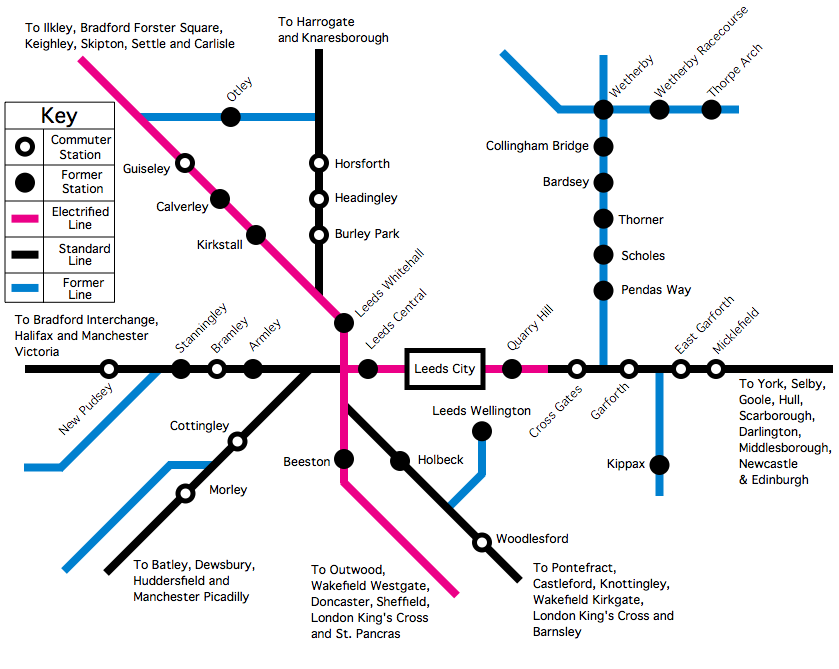 Leeds Rail Network: plenty of stops are offered throughout the city for commuters.

There were proposals for a regenerated tram / trolleybus service through the city in 2014, but plans were ultimately declined due to cost.

However, there have been recently approved schemes in the form of more designated cycling routes between Leeds and Bradford, along with a new cycle hire system at a number of railway / bus stations across the city too.
The final word on Leeds
As a place to work and live, Leeds provides all kinds of lifestyle benefits and is a viable option if you want to leave London. The lower cost of living combined with the increased opportunities from start-up companies means that it's proving to be a popular place to relocate. Though it may seem to lack the pulling power of Manchester when it comes to attractions and large events, it is a city growing rapidly with a promising future ahead.

"As the UK's fastest growing city, Leeds packs an incredible punch."
Dan Wharton, Trinity Leeds shopping centre.

You should move here if you're interested in gaining a highly respected education (and career) in medicine, are interested in aviation, or would like to pursue a career in game developing. These sectors are not only large in Leeds, but they are arguably at the cutting edge of their respective fields across the country.
Wait, there's more …
Still not convinced the city for you is covered above? Well don't worry. In the coming weeks we will be publishing a detailed eBook containing Leeds, Manchester and three more cities.

That's right, with the same amount of depth and up-to-date research, we are rounding out the top five northern cities in style. This means lots more liveability stats, key industry analysis and property breakdowns.

Make sure you come back soon to find out which other UK cities we think make the best all-round destinations for your career and lifestyle.

Thanks for reading!