Mind the gap. A phrase uttered thousands of times over the underground Tannoys in London every single day. But these words also hold a sweet irony to the fact more and more people are doing exactly that – and I don't mean on train platforms. The gap opening up between London and the rest of the UK has led to an increasing number of people choosing to leave.
Considered one of the world's best cities for jobs, London provides a catch 22 conundrum between work and personal life. Although salaries are higher, so is the cost of living – meaning the quality of life for a modern-day Londoner is not what it used to be. But is this the only motivation to leave our great capital?
They weren't very well fed and they chased each other through the cramped spaces, their tails covered in dirt. It was then that the train lights emerged from blackness, so I stepped behind the yellow line and hoped the two rats made it to safety from the tracks. Glancing across the hoards of London commuters, all shuffling forwards and eagerly watching the doors slide open, it was evident that the underground mentality was 'every man for himself'.

As they slithered on and filled every conceivable corner of the cabin, I realised something. They weren't very well fed and they chased each other through the cramped spaces. Okay, they didn't have tails (that I could see of anyway), but they did remind me why we call it the rat race.
Life in London
I distinctly remember one man, in a mac that probably used to be beige but was now a little mottled with coffee stains, scampering towards the last vacant seat. The unlucky ones (myself included) spent the journey stood up, our faces uncomfortably close together and some even planted unavoidably into armpits. Anyway, mac man had his laptop balancing precariously on his knee, maneuvering his body to compensate for the surges and bumps of the Circle Line – quite skillfully if I'm honest.

In his left hand, he had a Boots meal deal sandwich, I think it was BLT, and his right was scrolling over something on the computer screen. He had headphones in and was clearly jabbering away to somebody on the phone. What I'd found here was a unicorn. A mythical creature that doesn't exist: a man multitasking.

During my time there I noticed more and more of these rare beasts, often found barging through the cattle gates of every station or rushing out of coffee shops. Is this what London does to people? Turns them into crazed commuters living at 100mph, unable to take time to breathe in case they miss the next train or last espresso?

I evaded a business lady by inches as she meandered through the suited sardines, before making my way to the closest park to steal some personal space. If this is day-to-day life in London I'm not sure I want any part of it.
The famous writer V.S. Naipaul was once quoted as saying, 'I came to London. It had become the centre of my world and I had worked hard to come to it. And I was lost.' This is a sentiment that I imagine rings true with many people in the capital today. A mecca for so many different industries and opportunities yet, in equal measure, a wilderness of windows and anonymous streets. As a visitor, I love the (cliche alert) 'hustle and bustle' of the city. The fact that there is always something happening adds to such excitement. If you're in the centre of London on any given day you can guarantee you won't be far from a concert or a busker, a nightclub or a jazz bar, a landmark or a modest cafe.

Such is the contrast and diversity, London spoils tourists more than most places. A short stroll reveals just how close an underground stop or any other form of public transport is – leaving you plenty of temptation to explore the steel and glass canyons of our economy's heart. However, I get the sense that living there would soon wear me down and steal that magic.

I imagine it to feel a bit like 'meeting your hero'.

Whilst the ideology and romantic notion of inner city living, on paper, quenches my creative thirst for that kind of cosmopolitan lifestyle, the reality of stressful travelling, extortionate living costs and overpopulation all prove enough to kill the aforementioned mirage and leave me appreciating my personal space and queueless Starbucks.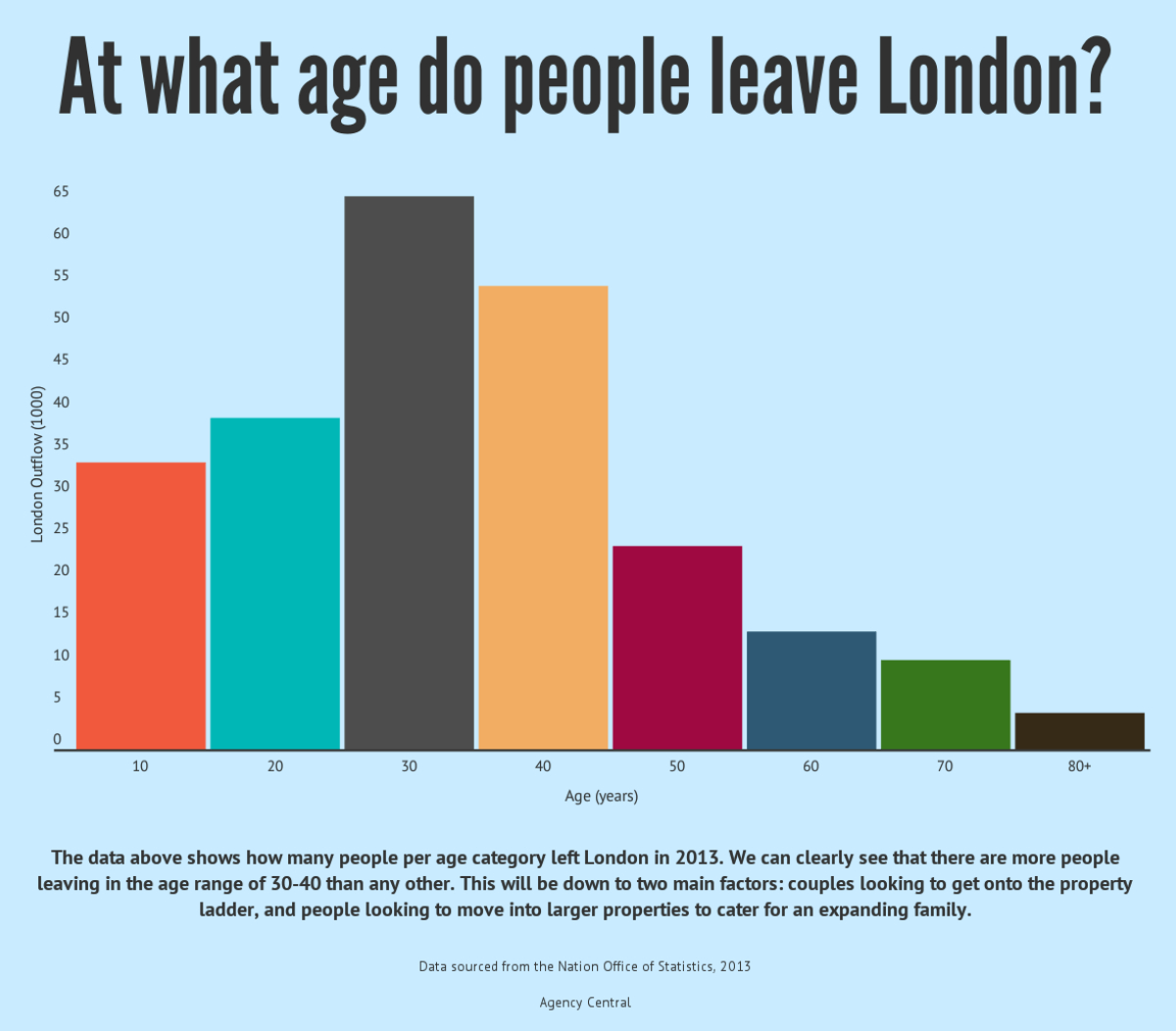 It isn't just my northern allegiance speaking these words either. More and more people now, often born and bred Londoners, are looking to escape from the city entirely, in search of a more relaxing life elsewhere. Rafael Behr, Political Columnist for The Guardian, best sums up the feeling of Londoners looking to leave in his article from June 2015:

"The escape impulse is primitive. It is an appetite for oxygen, a dream of kids having a free-range childhood and a desire to see the horizon for sustained periods. There is no better symbol of London's macho financialisation than the early 21st-century surge in skyscraper construction, the lanky delinquent mob of new towers that cluster around the City, and their gangmaster, the Shard."

The most amazing irony in all of this though is that London folk are some of the loneliest people in the world. The typical British custom of 'keeping yourself to yourself', most of us seemingly born with an innate phobia of talking to a stranger, is no more evident than on the trains and streets of London. So many different faces pass by and, relatively, so few words are spoken. People avoiding eye contact at all costs, with their heads buried in books or ears comforted by music, the city is home to 9-5 zombies that evade social interaction.
Samuel Abrahams, a London-based film director, recently made a documentary about the 'offline dating' scene in London. He discussed how deleting apps such as Tinder and actually approaching people in the street is an extinct but still effective concept:

"It's the thing about London: you're constantly surrounded by all these people but you're more isolated than ever because you're next to someone but you're pretending that the other person doesn't exist. But the fact is that you're both there, you're both human beings."

Now that we have got a grasp of how life in London tends to be – a cramped battle of loneliness through a coffee breath mist on polluted pavements – let's take a look at what the price to pay for all of this actually is.
Cost of living
With an average salary of approximately £46,000, London holds a pay advantage of around 23% over the next highest region in the UK (Scotland at £35,000). Working in a big city with such great levels of pay is obviously an attractive proposition to any professional, particularly the younger generation (as the culture and nightlife proves to be a massive pull). So what is the catch?

Over the past two decades, house prices and general living costs in London have soared at a stratospheric rate and, although wages have risen to try and compensate for this, there has become a huge (or should I say small) gap between the median monthly income and the cost of living. Many people live in shared accommodation to split costs, often residing in a small box room with shared bathroom facilities and thin walls. Hardly the setting to raise a family is it?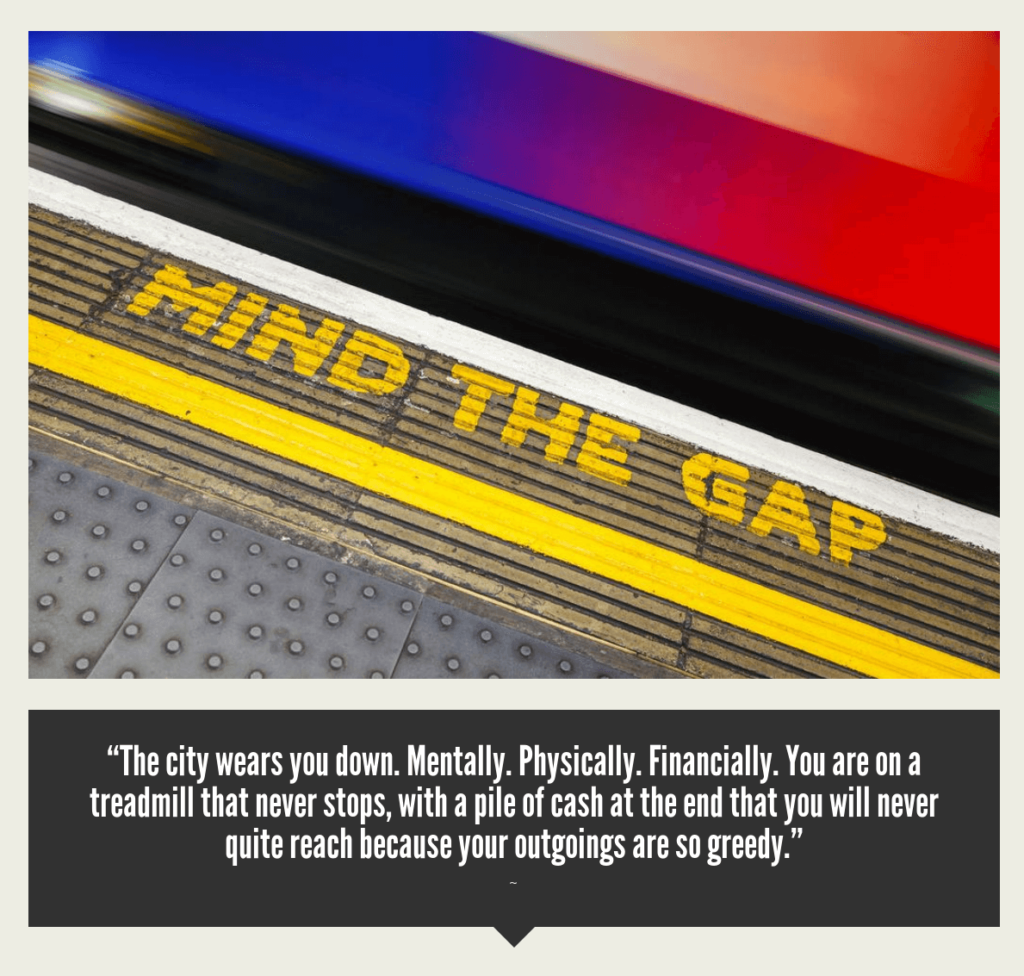 Getting onto the property ladder as opposed to renting in London is a laughable task too. The average deposit required for a house is £70,000 – that's right, seventy thousand pounds of your finest legal tender. To give you an idea of how property prices have adjusted in London, in September 2015 in was confirmed that the average house price in the capital has risen by 10.6%. What this means in cold figures is a house that costs £124,500 in the rest of the UK, costs a gargantuan £443,400 in London as an equivalent – making it the largest gap ever.

This inevitably has an effect on the recruitment industry. With more people renting as opposed to buying, their commitment to a particular area sits on thin ice. People's roots aren't as 'deeply embedded' as they would be if they were settled with a mortgage, family and more than just a bedroom and a sink. This means that jobs tend to change hands frequently but, more interestingly, talent becomes thin on the ground. So how well is recruitment in London preparing for the potential of skill shortages in the near future?
Skill shortages in London
With the competition for positions in London being so strong, a lot of people are seeking pastures new elsewhere – sometimes taking a pay cut just to get themselves experience and to escape the urban chaos. This once wasn't a problem, with an abundance of graduates and experienced professionals flocking to London every year. However, recently, the mass exodus of such talent has led to some skill shortages. Yes, that's right. Skill shortages in London.

As one example, at the time of writing this, there are £95.7 billion worth of London construction projects requiring a 20% increase in skilled workers. But the skills shortage in construction looks to continue as many housing firms are reporting struggles to recruit qualified candidates. With 90,000 skilled workers in the industry looking to retire between now and 2020, it is little wonder that the imminent cloud of a skills shortage looms large on London's grey horizon.
It doesn't end there either. With many other industries suffering similar fates, London increasingly looks overseas to fill the shortages. This leads to an increased population within the city, causing even more career congestion and creating just another reason to pack your suitcase and head for the hills. Leaving London for many is like leaving a crazy ex. You know your life will be better without them, but there is still part of you that loves her. This is the notion I gathered from many of those who left their city behind.




A GP who recently relocated from Lewisham to a place up north said 'I am desperately sorry for the generation below me who will have even less of an opportunity to live in this amazing city.' Whilst clearly still holding some compassion for London, and even as a well paid professional, he had no choice but to throw the towel in.

Maybe 'throwing the towel in' isn't quite the right sentiment though, although it certainly feels like it to some. A graphic designer who moved from central London to Cambridgeshire said 'I used to think people who left London were giving up. Now I'm one of them. I just can't afford to romanticise the incredible exploitation anymore.'

The reasons why people are leaving London are becoming clearer with every morbid ride on the tube. The city wears you down. Mentally. Physically. Financially. You are on a treadmill that never stops, with a pile of cash at the end that you will never quite reach because your outgoings are so greedy. There was a phrase I read the other day proclaiming how London has become a 'playground for the super-rich', a stark contrast to the battlefield it is for the working class.
Recruitment in London
I suppose the next big question is how recruitment has been affected in London because of this? Andrew Adonis, the former Labour Transport Secretary, claimed last year that 8 out of 10 new private sector jobs created since 2010 have been in London. However the Office of National Statistics paint a very different, but more up-to-date picture. According to ONS, out of the 2.2 million private sector roles created over the last 5 years, only 570,000 of those have been in London.

Of course, relatively speaking, that is still a massive one-third of the entire UK's recruitment industry – making London recruitment agencies some of the busiest and most diverse in the country. According to HM Revenue & Customs, as of March 2015, there are just under 20,000 recruitment agencies in the UK today. Whilst we don't have an exact figure on how many of those are London-based, we can safely assume the percentage would roughly mirror one-third to cope with the regional employment 'bias'.

The recruitment industry grew by one-quarter in 2014 alone, with the prominence of social media (along with a slow rise out of the recession) proving a pivotal factor for startups. According to a Bullhorn recruitment trends report last year, 89% of recruitment agencies plan on having a staffing surge this year, with over a third intending to move to larger offices. The report also revealed that 84% of agencies generate around half of their revenue via repeat business gained from their existing clients.

The Bullhorn report concluded that "the UK recruitment industry continues to grow stronger and healthier with each passing year since 2011, when only 67% of revenue goals were met or exceeded. Growth in terms of both headcount and physical expansion is increasing, and the recruitment industry has been able to take advantage of a slight boom in manufacturing and industrial labour."

To target this more towards London, we need to look at what the employment trends have been in the capital specifically, to determine which industries in recruitment are proving to be the busiest. In the chart below we can see what each industry sector's percentage of London's total employment is, giving us an idea of the most in-demand job roles and agency specialisms: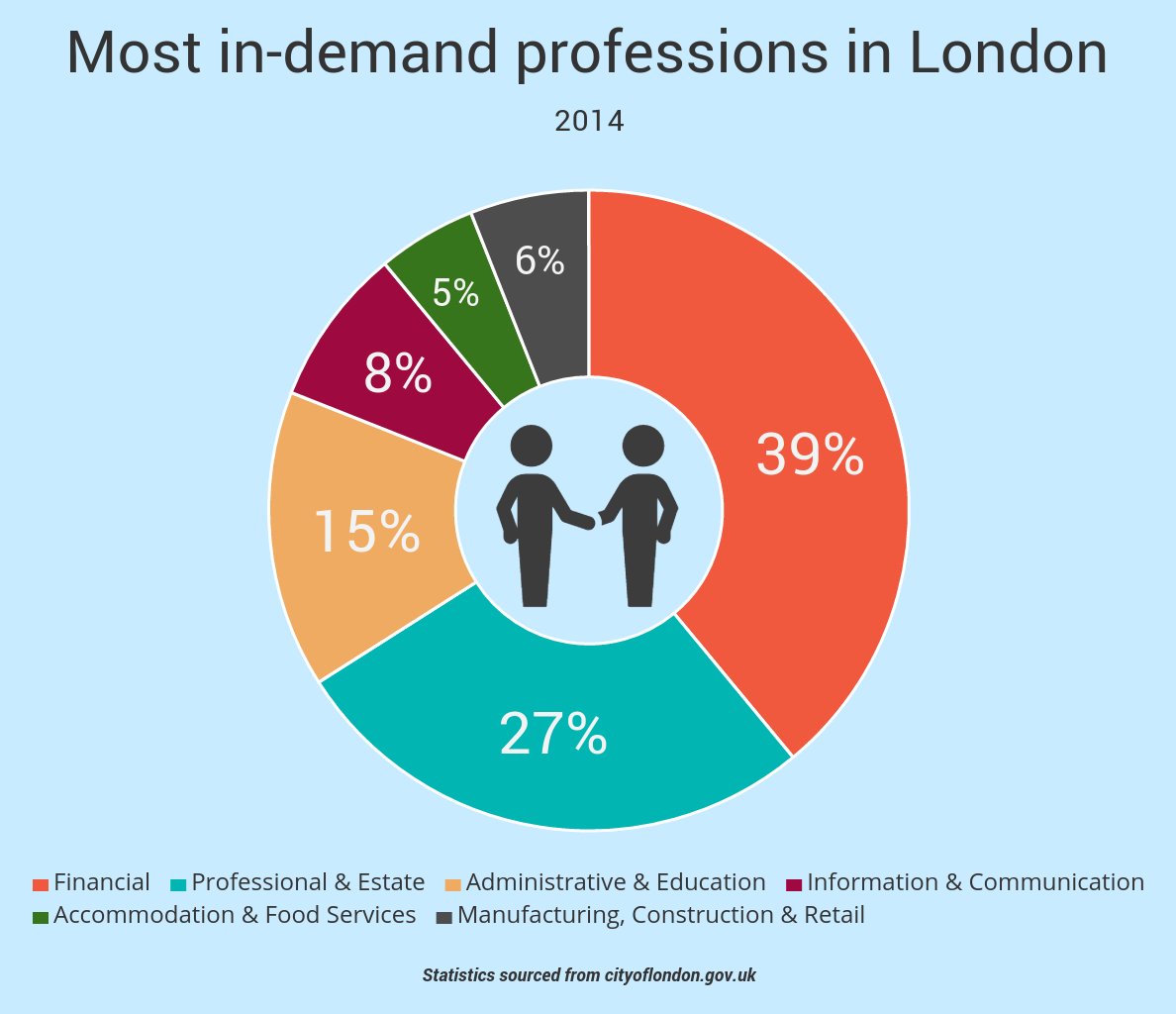 It is clear to see that the Financial Sector is the main driving force of the city's employment figures. Apart from 2012, the Financial Sector in London has seen promising, year-on-year growth since 2008. As a result of this, there is a growing number of specialist financial recruitment agencies in London to cope with such demand.

Overall then, the recruitment industry in London isn't suffering so much as actually having a lack of candidate / employers, but having a lack of quality candidates to supply to more specialist roles (revert back to the earlier point regarding skill shortages). So if a noticeable amount of these 'skilled' workers are fleeing the big city in search of a more peaceful and affordable life elsewhere, where are they going and why?
Where are people going?
The hoards of people leaving London have a mixture of destinations, almost too broad to narrow down to a specific few. Wales and Scotland prove very popular, because of their dramatic scenery and slower pace that proves so refreshing to a city dweller. Other large cities such as Birmingham and Manchester also prove to be popular migrating spots for professionals still looking to have the city lifestyle without the congestion and cost.
A lot of people, particularly in the creative and IT sectors, are turning to self-employment, and therefore working from home. By moving out of London they are able to reduce their monthly rent or size of their mortgage, whilst still completing work remotely from a home office. Jobs such as web design, copywriting, illustration are just a few amongst the fields that can be done just as effectively from home (provided you have the correct equipment and software).

The working from home idea has gained momentum over recent years, with advancements in technology and the internet comes new ways of completing tasks whilst being in your pyjamas and novelty slippers (that you begrudgingly wear because your wife thinks they are 'adorable'). The idea of avoiding such a stressful commute and even reducing your working hours are dreams that are now turning into realities for some.

People who live, or who have lived, in London are not oblivious to the stark contrast with an increased quality of life elsewhere. Until recently they were prepared to do very little about it, feeling trapped in a career and a city they daren't leave.

However, an increasing amount of people are now taking risks and setting up new businesses – renting offices elsewhere in the UK in order to keep startup costs to a minimum. This begs the question then, is there a sensational irony that entrepreneurialism is a contributing factor to the downfall of London? A case could certainly be put forward, but maybe that's another article.
The future of London
A city of such pedigree will never truly scare off all of its children and, for every person that leaves, three more enter – all with fresh, scarless hopes of making it big. Irrespective of what he says or she says or we write, London will always be a magnet for the masses. It's population is expected to rise to 11 million by 2050, some 3 million higher than it is today.

The constant issue everybody will face is a city at war with itself. Rising housing costs forever outpacing salary inflation, new developments leading to business closures, and public transport bursting at the seams, all mix as a sour cocktail to push people away.

Even though there is a constant conveyor belt of new housing developments and accommodation plans, 54% of all Londoners confess to being under a lot of stress from their mortgage and living costs. This increases to over 75% for those people in rented accommodation.

If London is to retain and attract the very best talent, this common fear needs to be addressed. Help-to-buy schemes and government funding need to play a larger role in London if they are to make the city an attractive prospect to younger talent again. In turn, recruitment agencies in London will benefit from this, but will have to be prepared to cater for an increased demand.
The combination of generalist and specialist agencies in the capital will help to alleviate some strain, but the key for both is to maintain a high level of service and focus for both their clients and candidates. Speaking of the future of recruitment agencies, particularly in bigger cities (like London), Gemma Reucroft from Undercover Recruiter highlights that "recruiters are going to have to be agile. The old methods of attracting people to your organisation just won't cut it in the future. We may well need to create our own talent by engaging those leaving education and investing significantly in their careers through learning and development."

The forecast for London's future remains a worrying thought for many living there, as it is delicately dependent on how the government will respond to ever growing affordability problems. Many feel frustrated and sad at having to leave their home on such terms, but take comfort in the fact that London turned its back on them before they turned their back on it.

The bright side is that many families have left London with much success, finding a more peaceful way of life through self-employment opportunities and lower living costs. London is still a great city of the world – albeit increasingly too exclusive and expensive if you actually want to set up camp there. Just bear in mind, as the people leaving with their burdensome bindles will tell you, the pace and cost of the city isn't for the faint-hearted.