Do you have a senior vacancy, but not sure what recruitment method to use? Then read on and find out about executive search.
Recruiting can be tricky, especially when looking for management or board level staff. Understanding what executive recruitment is and how it works, could minimise the cost and time of your next hire, while also helping you take on the perfect candidate.
What is an executive search agency?
Executive recruitment is used to find candidates for senior-level jobs. Recruiters may operate within a particular sector and are responsible for sourcing market leading or hard-to-find talent.
Also known as search and selection or headhunting, this form of recruitment is typically known for its proactive approach and doesn't solely rely on traditional methods of sourcing candidates.
How executive search works
An employer will approach an executive agency with a need for senior or highly-skilled talent, usually granting the agency exclusive rights to work on the placement.
The recruiter will then get a detailed understanding of what the employer wants, both in terms of skill and character, before identifying and engaging with prospective candidates.
These are likely to be passive candidates who are already in a role.
Once the right candidate has been identified, introductions can be made with the employer. Recruiters may also play a part in negotiations.
Of course, some firms may do things a little differently, but this gives you some idea of the general process.
How executive recruiters get paid
Executive search recruiters usually work on a retained basis. Unlike contingency recruitment, this means that the recruiter is paid an upfront fee before receiving additional payment once a successful placement is made. It's also not unusual to be charged a fee at the shortlist phase.
The final cost could be more than 30% of the candidate's annual salary.
What's the difference between a recruiter and an executive recruiter?
Although the overall goal for an executive search consultant and a recruiter is the same (i.e. make a placement), there is one key difference:
Recruiters will typically identify a number of active job seekers who would be right for the job.
On the other hand, a headhunter will aim to find the perfect match for both the job and the company – whether the candidate is actively looking for work or not.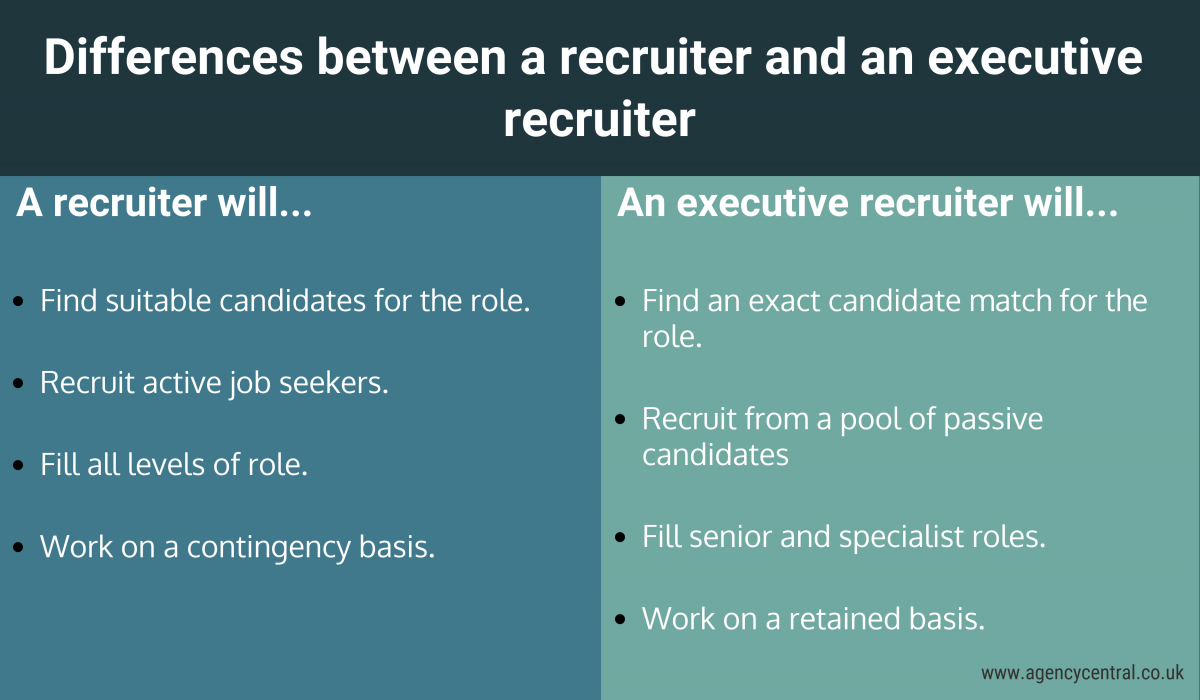 When do you choose an executive recruitment agency over a traditional recruiter?
This largely comes down to the type of role you're recruiting for.
If you're looking to fill a key or high profile role, then you might want to consider executive recruitment. The same applies if the position is particularly niche or requires hard-to-find skills.
Thinking of using an executive search firm? Then it's important to remember that while headhunting fees are usually more expensive than those of a standard recruitment agency, the process tends to be more intensive.
What jobs do executive search firms recruit for?
Executive recruiters find staff for management or C-suite level roles, meaning that salaries will often exceed £100,000.
The specific types of staff that a search consultant may source will vary depending on the market they operate in. For instance, a healthcare headhunter may recruit a Hospital Director, however general roles are more likely to include:
CEO
Managing Director
Operations Director
Finance Director
Area Manager
While these will often be permanent positions, many search recruiters will also fill interim management jobs.
Executive search vs. search & selection vs. headhunting
So we've used a few different names in this article, but is there a difference between executive search and search & selection? Or executive search and headhunting?
The answer: not really.
Some will argue that headhunting has a wider scope than executive search, or that one works more closely with candidates than the other.
Ultimately, these are all interchangeable terms meaning more or less the same thing.
Why use an executive search agency?
When you use an executive recruitment agency, you're enlisting the services of the very best. These people know the market and are able to give you access to a top network of industry-leading candidates.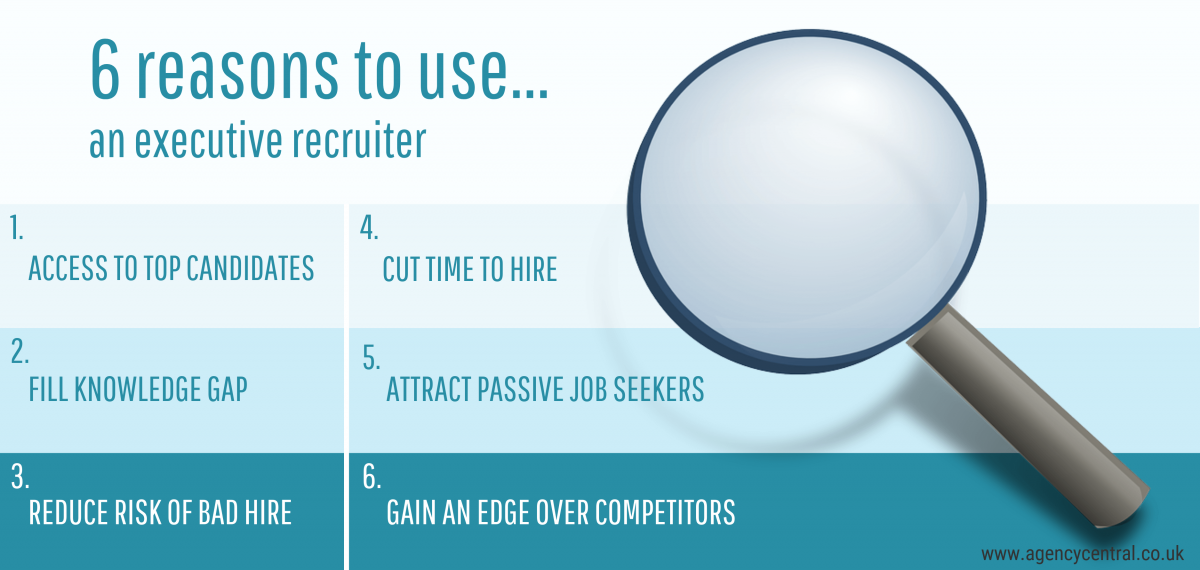 As the roles that require an executive recruiter tend to be key positions (and lucrative), a bad hire would be particularly costly.
Being able to fill a knowledge gap and tap into a talent pool of otherwise inaccessible candidates, can help mitigate this risk while also reducing the time to hire.
How to find an executive recruiter
If you're a candidate, an executive recruiter will probably find you.
But what if you're an employer with a senior vacancy to fill? Where do you go to find a headhunter or search and selection firm?
The main places to look are:
Social media.
Your own network of contacts.
Online.
While headhunters once had a 'lurking in the shadows' type of reputation, the majority now have a strong online presence – even if they keep the actual recruitment process discreet.
This presence is particularly noticeable on social media. I'm sure many of us have been approached by a headhunter on LinkedIn at one time or another, and this isn't surprising when we consider that recruiter influence has grown on social media in the last few years.
Looking for an executive recruitment agency?
There are thousands of headhunting recruitment firms in the UK, many that combine executive search with a standard contingency service.
If you have a hard-to-fill vacancy and want a fast and easy way to find an executive search firm, then visit Agency Central. You can use our website to find headhunters that recruit in your industry or location.