Navigating the job market can be tricky when you're a first-time graduate. With newly-earned qualifications under your belt, but little to no practical experience, finding an employer who'll give you a chance to shine is no easy task!
When should I begin my graduate job search?
As a student or recent graduate, you may ruminate over the question of when to begin your jobsearch. The best advice on this matter will surely come from those who have already been in your shoes. We polled our network of graduate professionals for their view on the best time to get started … and here's how they answered: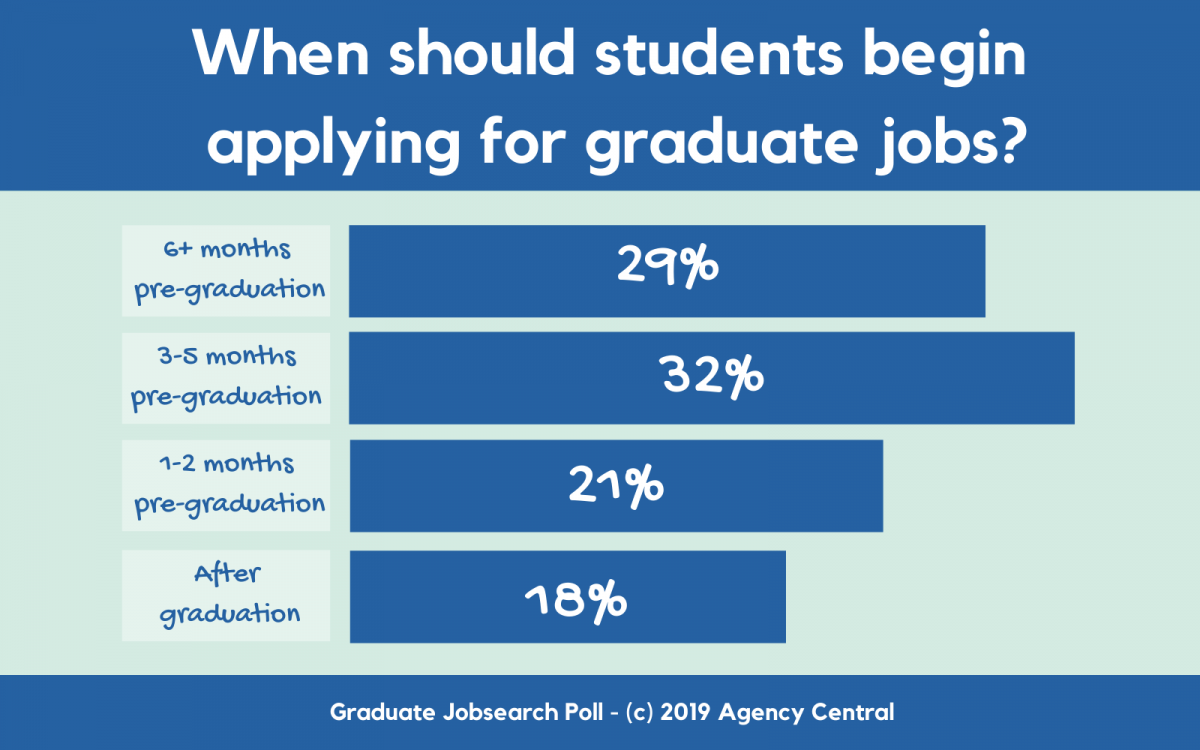 The results show that our network favour a proactive approach when it comes to pursuing a first graduate job. However, whether you've already graduated or are still in your final year, we believe there's no time like the present to begin planning those crucial first steps of your career.
Going it alone as a graduate jobseeker, is no easy task, however. To make things a little easier, we would recommend getting a little expert help from recruitment agencies.
How do recruitment agencies work?
Recruitment agencies match qualified jobseekers with employers. The good news is that their services are completely free to use! When you register with a recruitment agency, you'll typically be introduced to one of their recruiters, who will then act as an intermediary between you and any prospective employers.
Can a recruitment agency help me find a graduate job?
Recruiters can provide invaluable help and support for new graduates looking for work. They specialise in placing candidates within one or more industries, so it's in your interest to take the opportunity to learn from their expertise.
Aside from arranging job interviews, many recruiters will help graduates with other aspects of their job search, including helping them prepare for success at the interview stage.
Here's a quick infographic explaining some of the ways your recruiter can make landing your first graduate job a little easier: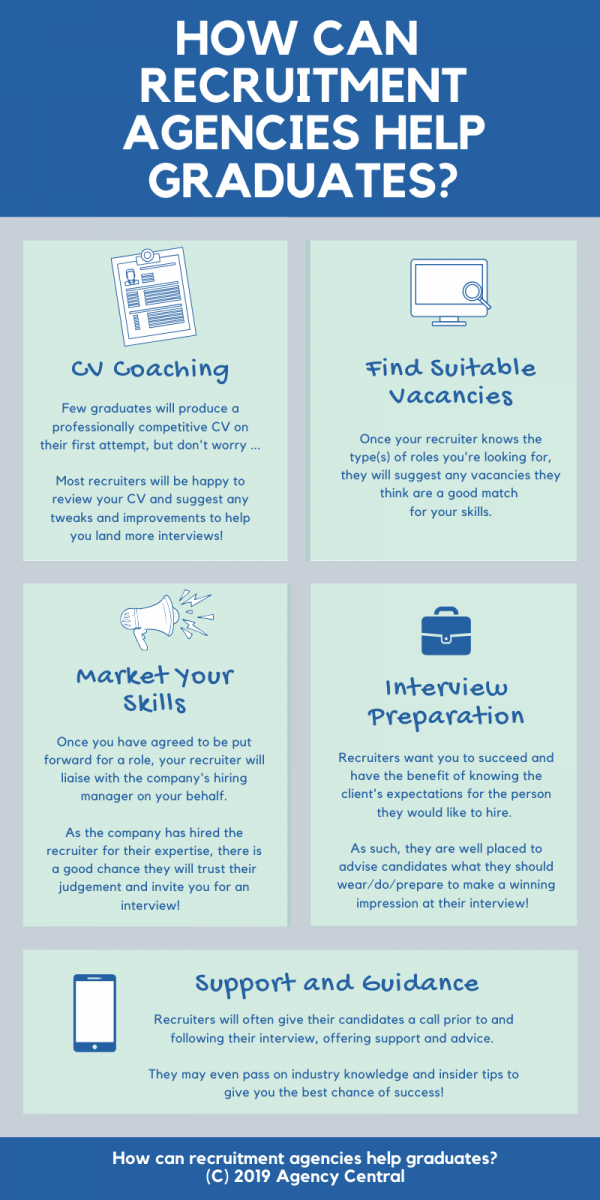 Graduate Recruitment Agencies Poll
We polled our followers who had used a recruitment agency when searching for their first graduate job on how helpful they were. Here's how they responded: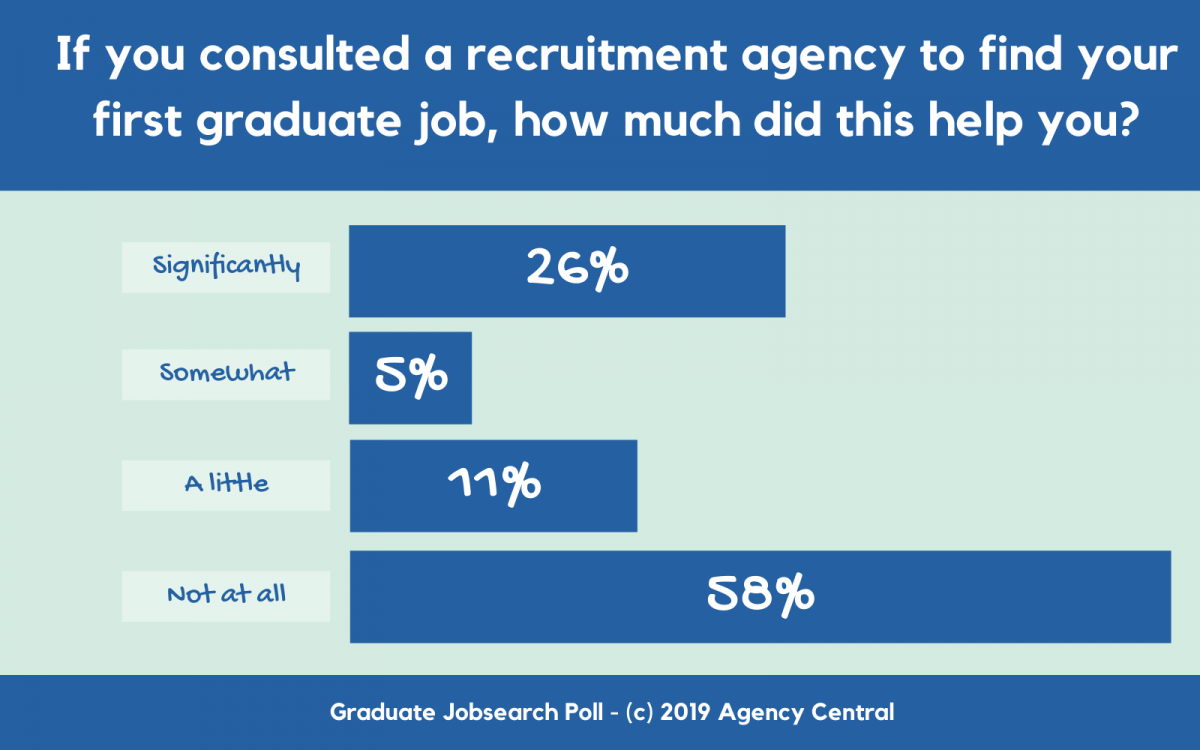 Let's examine the results. Although a little over a third saw at least some benefit from working with a recruitment agency, the remainder did not. Why might this be the case?
Recalling my own experience as a new graduate, I began my jobsearch with little knowledge of how to market myself as a professional and was also unsure of how to get the best from recruitment agencies.
After consulting with a careers coach, I was advised that registering with multiple agencies may help improve my chances. And, it was this approach that ultimately allowed me to find my first graduate job.
How many recruitment agencies should I register with?
I was interested to see if our network also advocated this method, so polled our followers once more: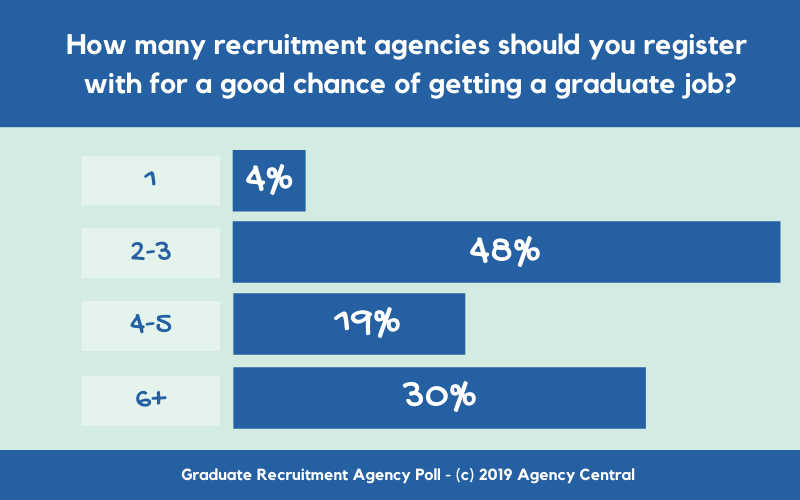 The consensus is that registering with multiple agencies is the way forward. So, exactly how many should you register with?
To begin with, I would suggest registering with three agencies that are relevant to your chosen specialism. Remember, you will have to spend considerable time with each agency, explaining your requirements either in branch, via email or telephone, then liaising with any recruiters throughout the process.
After registering with a few relevant agencies, you can then wait and see whether you're getting the interview offers you want. If you are not, there is always the option to get more agencies working for you!
Deciding Which Recruitment Agencies to Register With
With so many options available, how can you find the agencies that are best placed to serve your requirements?
Sophie Finlay, Recruitment Director at Bridgewater Graduates, offers our readers the following advice: "It's important to find an agency specialising in the sector you want to work in, as they should be able to tell you exactly what the employer is looking for and more about how the company works, as well as the industry they operate in."
Jessica Ching, Marketing Manager at Give Grad a Go adds:
"When choosing a recruitment agency, make sure to read their reviews on Google, Trustpilot or social media. If you can see that other graduates rate their services highly, the chances are they'll be helpful to you."
The Agency Central website features an extensive directory of UK recruitment agencies, which is searchable by industry and location. Give our search feature a try – we're sure you'll find a few knowledgeable agencies to assist with your jobsearch.
What to Expect from a Recruitment Agency
Once you've registered with them, many recruitment agencies will ask you to meet with a recruiter for an interview before they start looking for vacancies on your behalf.
While these meetings are often more informal than your typical job interview, they still require some preparation and a professional attitude. If you're unsure of what to expect, you may find our recent article on recruitment interview attire and presentation helpful.
Then hopefully, following the initial meeting with your recruiter, your calendar should begin to fill with job interviews! Don't be afraid to ask your recruiter for interview advice and take the opportunity to learn as much as you can about your prospective employer.
What Recruiters Expect from You
As a budding graduate professional, you may be keen to build a network of professional contacts within your chosen industry. However, bear in mind that recruiters are arguably your most valuable contacts when it comes to finding new opportunities. As such, you should aim to build a positive relationship with each recruiter you contact during your jobsearch.
Jessica Ching, Marketing Manager, Give Grad a Go
Once a recruiter knows that you are dependable, they should be more willing to put you forward for roles. And, if you are not initially successful, they may spend more time and effort lining up new opportunities on your behalf. If and when a recruiter introduces you to your first graduate role, be sure to stay in touch, as they may do the same again once you are ready to take the next step in your career!
We hope you found our article helpful and wish you the very best of luck with your graduate jobsearch. Don't forget to keep an eye on the Agency Central blog for more career wisdom and insights. See you again soon!