Ultimately, our goal as human beings, is to be successful. Whether it's success in the form of wealth, happiness or family life, we all strive for an 'ideal'. The great thing about success is that it's never too late to find it and we can all condition ourselves to be successful, through persistence and other key behaviours.
Read on to see how some of the most successful people have climbed a mountain we all want to summit …
'The accomplishment of an aim or purpose' or 'the attainment of fame, wealth and social status' are just a couple of dictionary definitions for the word success. Perhaps the most related synonym that recurs in all meanings though is 'accomplishment'. We all experience some kind of accomplishment through life – large or small – in the form of exams, sporting medals, or businesses.

The thing about success is that it's definition is different for everyone. There are some people who seek out success in one, specific area all their lives; then there are others who inadvertently stumble upon success.

The fundamental thing to remember is to set a goal to aim for. To do this, ask yourself three questions: what is your own definition of success, how can it be achieved and what steps should you take?

Depending on your definition of success, it can be be easy or hard to attain. Most people seek the same goal though – happiness. The majority of people see happiness as a product of wealth, health and family. Yet if these things were so easy to achieve, success wouldn't be such a desirable thing, right? It's something we work towards every day, with some achieving it quicker than others.

But is there a point when success gets 'out of reach'?
Does success have an expiry date?
Contrary to the likes of Mark Zuckerberg (Founder of Facebook at the age of just 19), some people spend a good part of their lives trying to find success. It's a path of obstacles, trials and unpredictability. Every turn swats away thousands of people's dreams with a single, devastating blow. It's the ones who never give up in their quest though that ultimately succeed, no matter the setbacks or their age.

Have you ever heard of Ray Kroc? If not, don't worry – I'm more than confident you've eaten at one of his restaurants at some point.
 
Ray bought out a small fast food chain in 1954 by the name of McDonald's and turned it into quite a big deal. He was 52 years old at the time and, investing his life savings into the franchise, was a big risk to take so late on in life. By 1958 there were 34 McDonald's restaurants. Today there are over 36,000 of them, serving around 68 million customers daily. 
Yet even Mr Kroc is a mere pup compared to Colonel Harland Sanders who, at the ripe old age of 65, ended up founding a nemesis company called KFC. The similarities between Harland Sanders and Ray Kroc is that they both had a vision and took a risk. Their age didn't phase them and neither should it.

To answer the question 'does success have an expiry date?', just take a look at some more glorious examples of the older generation finding their own forms of success:

John Pemberton – Inventor of Coca-Cola at the age of 55.

Stan Lee – Creator of the Marvel Universe. Wrote his first comic at the age of 40.

Dino Zoff – Won the World Cup with Italy at the age of 40.

Ronald Reagan – Became the 40th President of America at the age of 70.

Frank McCourt – Pulitzer Prize winner, yet only took up writing at the age of 65.

Whether in literary form, politics, sport or science, all of the above have one attribute in common: an undying passion for what they do. The infographic below not only demonstrates how passion is the fuel for everything, but it shows what other key characteristics and traits are required in order to achieve your own success:

Three Examples of Successful People
Now we've established that success can happen at any time in life, it's time to look at different types of success. Below are three people who typify the absolute summit of success in each of their respective fields. Their dedication, passion and vision are features they all have in common, even if their end goals and achievements might be very different.

Muhammad Ali

Muhammad Ali transcends sport. He is more than just a three-time Heavyweight Champion of the World, he is the epitome of an icon and a true living legend. Taking up boxing when he was 12 years old (after someone had stolen his bicycle), Ali set off on a path that would change history. Little did that bike thief know, but they had just gifted the world a personality and talent that would never be forgotten. 

He went on to win Olympic Gold at the 1960 Summer Olympics in Rome, before taking the heavyweight title from the intimidating Sonny Liston in 1964. Come 1967 though, Ali faced exile from the sport he excelled at for his refusal to fight in the Vietnam war. 
Standing up for his religion and personal beliefs cost him his prime boxing years (from the age of 25 to 29), but it demonstrated a courage and heart only true champions have.

His return in 1970 welcomed back a talent and charisma the sport, and entire world, had sorely missed. He went on to regain the Heavyweight crown twice, before retiring in 1981. Many agree that Ali fought for too long, as early signs of Parkinson's disease could be seen in his last fights with Larry Holmes and Trevor Berbick.

Yet, even though his later life has been plagued by this degenerative condition, Ali continues to inspire millions, earning the title Sportsman of the Century and igniting the Olympic flame in 1996. One of the most revered sportsmen to have ever lived, Ali simply had success running through his veins.

Best success quote: "You're not going to enjoy every minute of the journey, but the success you'll find at the end will make it all worth it."

Sir Richard Branson

Britain's best-loved entrepreneur and founder of the Virgin Group, Sir Richard Branson started his own chain of record stores by the age of just 22. Since that day in 1972, Virgin Records has now become Virgin Trains, Virgin Airways, Virgin Mobile and Virgin Broadband (to name only a few). Today, Mr. Branson's entrepreneurial genius is responsible for over 400 companies, all within the Virgin Group umbrella.

Aside from taking residence on his very own Necker Island and being worth over £3 billion, Branson continues to develop himself through various humanitarian efforts and even world record attempts. His sheer hunger and drive for success hasn't waivered, not even after finding wealth and global popularity.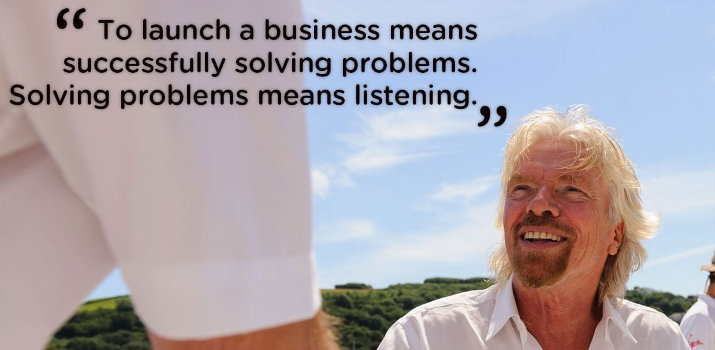 At the age of 65 it is fair to say that Branson has lived quite a life so far, but doesn't intend on slowing down anytime soon. His hunger for success was always going to see him achieve it, though I'm not sure if the man himself could have envisaged it being so big.

His headmaster, Robert Drayson, famously said that Branson would 'either end up in prison or become a millionaire.' It's fair to say that Drayson was wrong on both accounts, as Branson became a billionaire – with every £1 of his wealth representing an ounce of his dedication.

Best success quote: "The best advice I could give to anyone is to spend your time working on whatever you are passionate about in life."

Arnold Schwarzenegger

I'd almost forgive you if you're pulling your face at this one, exclaiming that 'Arnie' is an autonomous, type-cast actor who found luck in the role of The Terminator back in 1984. But you would be wrong…so very wrong. Besides being one of the most successful bodybuilders ever (winning Mr. Olympia 7 times), Schwarzenegger leveraged the fame of his legendary physique to land himself a hollywood career – a very shrewd move.

At first he was laughed off and was rejected countless times due to his wooden acting and 'thick' Austrian accent (this was even dubbed over on a number of occasions with an ill-fitting, softer American voice). But a persistence and belief in himself inevitably took Schwarzenegger to the doorway of success.

He was carefully selected for roles that suited his behemoth build, that strong accent and those hyper-masculinized features – meaning films like Conan the Barbarian, The Terminator, and Commando were all huge commercial successes.
It was Arnold's vision to capitalise on this success by making himself a household action movie star during the 1980s/1990s – going head to head with another classic 'underdog-turned-success' story in the form of Rocky Bal…sorry…Sylvester Stallone.

As if all of this success, across two separate careers, wasn't enough, Schwarzenegger then became the 38th Governor of California on October 7th, 2003. He served a well-received and successful stint totalling eight years as Governor, before reprising his role as a movie star once more. He's navigated three separate careers, all with a great degree of success. I wouldn't write him off yet either – at the age of 68, I have no doubt he'll be back…( sorry, I couldn't resist).

Best success quote: "Trust yourself. Break some rules. Don't be afraid to fail. Ignore the naysayers. Work like hell and give something back."
So How Can I be Successful?
If, like me, you're now sat there feeling rather under-achieved after reading about these people, fear not. As we have already seen, it's never too late to find success. Use these stories as inspiration. Even though I will never have a body like Arnold, it doesn't stop me from using his work ethic and general approach to life as motivation. 

The thing ALL successful people have in common is passion. Passion for what they do and passion for vision of where they want to be in 10-15 years time. They all strive to make that vision a reality, set goals and treat every day as a small bite towards success. There's nothing incredibly special about these people, nothing superhuman, just a cocktail of will, perseverance and passion.

So whatever it is you want to be successful at, commit yourself to it and go after it with everything you've got. Success won't meet anybody halfway.

Before this turns into a script-worthy speech for the forthcoming Rocky film, I'll cut it short now and just say 'try'. If you never at least try to follow your dream, you'll never know where you would have ended up. 

Success isn't a luxury reserved for the special ones, it's a state of mind.