Whether you have industry experience or not, there are various roles and opportunities available within the construction sector. If you're considering a career in construction but are unsure where to start, this article will look at the wide range of options available to you – whether through apprenticeships, Degrees or a Diploma.
We'll also be getting first-hand advice and information from some of the most experienced construction workers in the UK, giving you a head start so you can walk into this career with safety goggles on.
Types of Construction Jobs
To understand exactly what qualifications and experience may be required to work in construction, we must first determine what roles are available. Depending on the type of work you prefer, whether more technical or hands-on, the opportunities provide diversity unlike any other sector. Take a look at our Construction Recruitment Agencies to see how many different roles are currently available.

Before setting about deciding which position has your name on it, doing some research first can help a lot. That research can come from a simple internet search, or through networking with some of the people you may already know who are working in construction. Either way, having the accurate information is always important in making decisions.
From Quantity Surveyors to Site Managers, Technical Engineers to Architects, the industry has a variety of roles that require different abilities and strengths. If you tend to prefer more technical or mathematical exercises, Architects and Quantity Surveyors are perhaps more suited to you. But if you prefer a more hands-on or labour intensive role, then a Bricklayer or Site Manager position is probably more your cup of tea. 'Builder's tea' in fact.

Before embarking on your career in construction (or any career for that matter), it's always a good idea to have a clear vision of where you want to be in 10-15 years time. The way you start out will determine what future, senior roles you're able to apply for.

A good example to use here is an Architect. Possibly the most academically intensive construction role, budding Architects have to be willing to complete a 3-year university course (BA or BSc), a further 2-year Diploma, then (on top of all that) a minimum of 12 months' paid work experience.
So if you have aspirations of becoming an Architect, it isn't worth your while starting out with a bricklaying apprenticeship – but it is worth finding a suitable architecture course and getting a foot in the door with some work experience.

The start of a career journey is arguably the most important part. It's when you actively make a choice to work towards a specific goal. Your career should start with 100% commitment and dedication to the chosen path.

So I guess the next questions are, what path to choose? Which construction role is best for you and how do you get that all-important first job? Unsurprisingly, the section below covers this …
How to Get Your First Construction Job
Finding an entry-level construction job shouldn't prove too difficult a task, as opportunities are plentiful and the industry has been on the rise since 2009. The difficult task is know exactly what constitutes 'entry-level'.

If you see the words 'Trainee Quantity Surveyor' don't assume anyone can apply for it. As is often the case, it requires relevant work experience first and, alas, we are in that frustrating cycle of trying to get your first job when everything requires work experience.

There are more and more apprenticeships being offered now though, with companies willing to supplement your studies whilst you work/learn. But companies still like to see a certain set of skills and basic qualifications to consider you.
Construction jobs with no experience
To land yourself a construction job with little or no experience can seem an impossible task. After all, there are plenty of people out there with 'x' number of years in the profession and all kinds of qualifications. Ironically these 'strengths' are their greatest weaknesses. There are plenty of firms out there that would be put off by this, deeming the candidate over-qualified. So you should remain optimistic about entry level opportunities!

The key to finding them is down to what words you search for when looking for a job online. 'General Labour' or 'Construction Labour' are common terms employers use to convey that the role requires little or no experience. As obvious as it sounds, always ensure the job isn't listing any particular qualification under the 'essential requirements' heading.

Most construction jobs with no experience tend to be temporary or part-time (to begin with), with more permanent openings and opportunities presenting themselves once you have some experience.

Below is a table outlining some of the entry-level roles available in the construction industry, with a brief description of what skills and abilities will gain interview brownie points: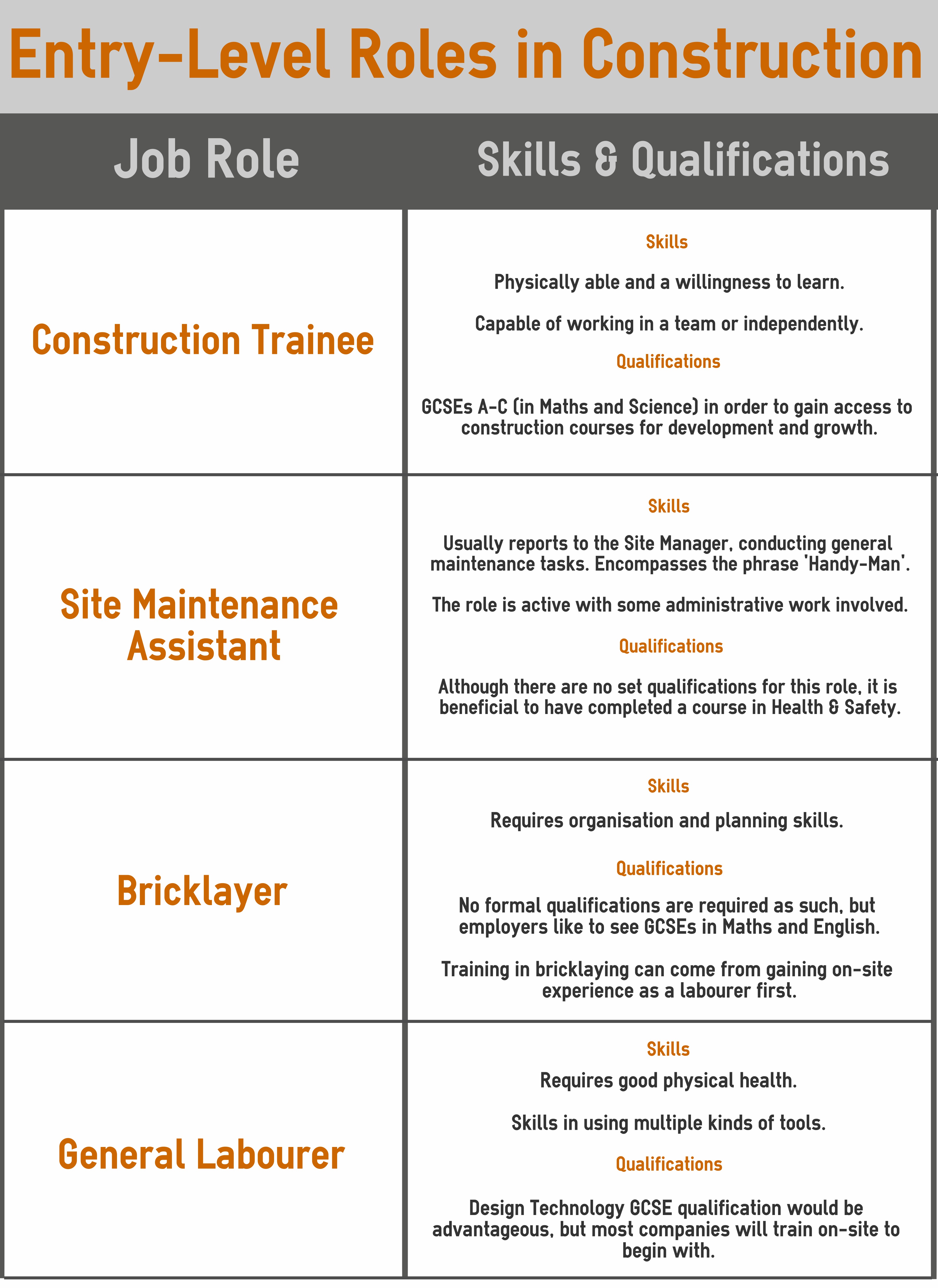 By no means exhaustive, the list above demonstrates a general selection of basic construction roles. As outlined earlier in the section, having a clearly defined path of what type of job you want to do is all-important.

Being forward-thinking is always vital to your career. So it is a good idea to consider what the day-to-day tasks of more senior roles might entail, in preparation of any future progressions.

Below is a 'day in the life' breakdown of a Senior Construction Manager. This helps to establish what the expectations and tasks might involve in a senior role and if these are the kinds of things you can see yourself enjoying has been gathered from multiple sources and reliable professionals working within a Construction Manager capacity.

Finish your brew and grab a hard hat then …
Senior Construction Manager: A day in the Life
5am:
The early bird catches the worm and all that. Construction is a business for early risers. Getting to the office early means that they can schedule the day's meetings, on-site tasks to be completed and answer any emails.

6am:
The first meeting of the day. This is usually to get a quick overview and rundown on progress and what the day's activities will entail. The discussions are often candid and to-the-point, whilst maintaining an overarching focus on health and safety. Setting the schedule up before the day begins helps organisation which, in turn, enhances all safety aspects of the site.

7:30am:
After the morning meetings, they spend the next hour or two reviewing and amending multiple reports. Initially created by the team, it is their responsibility as Site Manager to run an accurate eye across them – making them as polished as possible. As well as this, the financial health of the project will also be assessed, so mathematical/accounting skills can come in handy.

9am:
Next up is the all important meeting with the client. Naturally they will want to know about progress, schedule, financial and technical challenges – so always have this information to hand. They will be keen to discuss any risks along the way, so it's best to be totally honest and address each risk individually with your 'risk mitigation strategies'. This way, the client is kept in the loop of the project and you can dedicate more hours to managing the construction in the best way possible.

11am:
Time for some food.

11:45am:
After lunch, the Construction Manager will grab a hard hat and hi-vis jacket and walk the site (usually with a safety manager). By showing an active interest and managerial presence on-site this way, productivity and motivation in the workforce tends to increase. It also gives them a working-level perspective of everyday challenges we might face at ground level and how we can solve them.

2:30pm:
Any technical issues in terms of the construction, from methods used through to planning, gets discussed in various meetings and document reviews. They also spend some time answering any requests for information from the various organisations involved in the build.

5pm:
By 5pm construction activities are usually at an end for the day. They will plan the week ahead by checking the weather, before hitting the commute home.

As expected a day in construction tends to be more active than your normal job. It also involves a good technical ability, elements of creativity and (in this particular case) good team management.

To develop and grow into a career as a Senior Construction Manager, qualifications such as a Level 7 NVQ Diploma are required – using the CIOB can fast-track your way there too.

The skills, salaries and further daily activities of a Construction Manager can be found on the National Careers Service website.
An Interview with a Builder
Bricklayers can be either fully employed or self-employed, with opportunities quite rich in both areas. More and more Bricklayers are tending to go down the self-employment route in recent years though, with the freedom of being your own boss and flexi-time proving a massive pull. But, just like any other self-employed vocation, it comes with its challenges.

Jay Charlton, a self-employed Bricklayer/General Builder, has kindly offered some of his own experience and insight into a career in self-employment within the construction industry:

What challenges on your path to becoming a Bricklayer/Builder have you faced in terms of opportunities and progression?

Having learnt all of my trades direct on-site I have no official paperwork or certifications for my skills therefore sometimes I have found it hard to find stable work within large companies as most will not consider you unless your CV looks appealing and brimming with tickets. Most of my career has been for smaller to medium size companies.

Are apprenticeships perceived as valuable (if not more so) than just qualifications in certain construction fields?

Again, if you have completed an apprenticeship within a trade you are more valuable and will be considered ahead of those without – even though you may not be able to complete set tasks to the same standard as others (paperwork does not always mean you know what you are doing).

I have found it hard to find stable work within large companies as most will not consider you unless your CV looks appealing and brimming with tickets.

Would you say your job delivers a lot of satisfaction and diversity? If so, why?

Yes, I can start from ground works and complete different trades daily, all the way through the build up to roofing, and then landscaping afterwards.

Jobs can be satisfying but unfortunately, due to the nature of construction at the moment, you do not have enough time to appreciate what you do on a daily basis. The project time is often too short to get the job done.

What personality and values are fundamental in order to work efficiently within the construction industry?

Always try to remain positive regardless of what the day brings. Be strong and decisive with no grey areas. Simplify as much as you can and always keep your staff happy – a happy workforce is a productive workforce.

According to Jay, It would seem that your attitude, motivation and dedication are all key factors to succeeding in self-employment. I guess these traits might appear fairly obvious and transcend all industries, but it helps us to understand how he applies them to his typical working day.

Jay also points out that positivity is an important factor in overcoming set-backs and pushing a project forward, as it can promote creative thinking and problem solving. In an industry where projects are consistently suffering from set-backs and delays, never have truer words been spoken.
Bob Schecter
Coming at this subject from another angle, we were able to get the views of Bob Schecter – the Founder and Principal Officer of DMI Works. His long history in the construction and development industry allows for a very different insight into the sector. With wise words on how to start your career, Bob says,

"Whether you choose to be a bricklayer or corporate magnate, you should, at the very least want to be the very best at what you do. In most cases, as you get better at something, you like it more. If you like what you do, then getting up and going to work won't be a drudge, it will be something of a joy."

In discussing his own career path and how it started out, he reveals,

"My first job was as an apprentice doing finish carpentry – drywall, acoustic ceilings and flooring – on the now infamous World Trade Center. Four years of apprenticeship school and I was hooked, and 45 years later, I still love doing what I do and I make a point of trying to learn something every day. That attitude has taken me from the field to management and led me to my current consulting position."

Of course this all relates well to the previous interview with Jay, stating that attitude and commitment are the two key traits to success in construction. But in an ever changing world, where the future of construction remains undecided, Bob tells young labourers to remain calm as the industry will be reassuringly thriving.

So what will the industry look like for you tomorrow?

"It will look at once very much the same and very different from the industry of the past. We've already seen the beginnings of change over the past few decades, with weather and energy influencing design. That trend will grow exponentially until no concept will be considered sound if it hasn't contemplated the use or effect of wind, solar, renewables, alternative energy, and efficiencies of all sorts.

For those getting started in the trades, take heart. Regardless of what materials and resources are proposed, someone has to produce, move, install and maintain them, and that will make labour a valuable commodity once again. But don't become complacent. As designs incorporate new products and most with longer life-cycles, skillsets will be in greater demand and, by extension, a knowledge of the integration of those skillsets will be sought out and rewarded.

I see the reshaped industry as a very good place for the bricklayer, carpenter, electrician, plumber, and such. Especially those with experience sufficient to not only install, but also to manage the installation process. And that bodes well for the tradesman with an entrepreneurial spirit."

An eye-opening foresight from an experienced voice within the industry. Bob's knowledge and career path thus far gives him the best vantage point to see how the future of the construction industry is going to look.
Health and Safety
Of course the big subject in the construction industry is health and safety. The good news is just how much safety regulations have improved over the last 40 years within the UK. Fatalities are down by almost 80% since 1974, the graph below demonstrates this: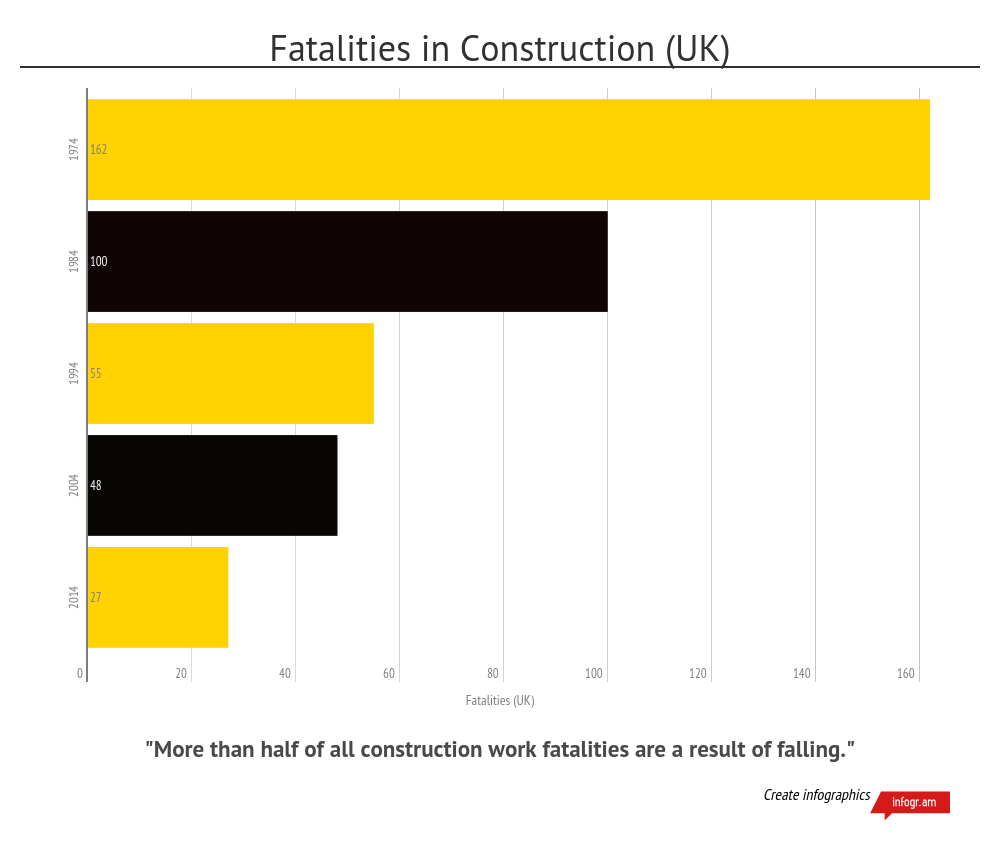 A lot of this improvement is down to strictly regulated and consistently practiced guidelines that every company is now legally obliged to deliver. In 2013/14 an approximate of 2.3 million working days were lost due to illness and injury. This initially sounds like a high number, but effectively boils down to just 1.1 days per worker. An impressive figure considering the nature of the industry itself.

The usual causes for accident in construction are affectionately known as the 'fatal four':

Falls (roofing, scaffolding, misconstructed platforms)Caught in objects (high speed machinery, heavy materials)Electrocutions (live wires, mains supplies)Being struck by objects (unsecured debris)
On the first point, the most commonly violated law of the OSHA (Occupational Safety & Health Administration) is that of fall prevention. Adequate steps are often overlooked in minimising the risk of injury from falling – whether that be from scaffolding, roofing or even ladders.

Other repeat offenses that increase injury-risk can also be found here.

The good news is just how much safety regulations have improved over the last 40 years.

Of course health and safety courses are part and parcel of careers in construction as a result, therefore if you haven't been on one already, expect to attend a few different courses as part of your training and on-going development.
What to Wear
Unless you consider rugged, hi-visibility clothing stylish, construction gear isn't exactly Milan couture. Check out the infographic below to understand the different components and features of the personal protective equipment (PPE) a construction worker might wear.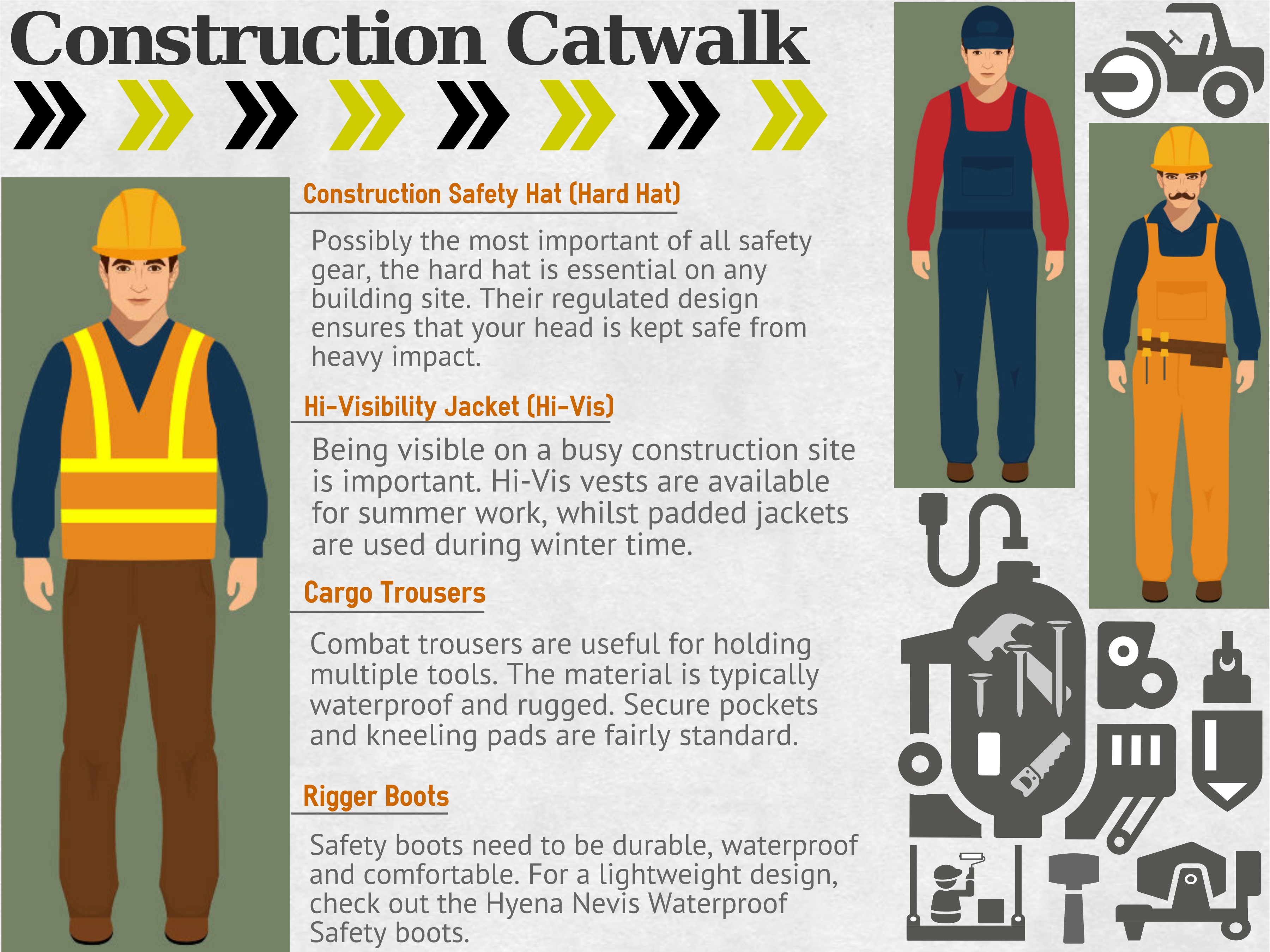 Get the full kit for less than £99:

JSP EVOLite Vented Safety Hard Hat – £9.99

Yellow Hi Vis Vest Executive – £7.99

DeWalt Work Trousers – £19.99

Hyena Nevis Waterproof Rigger Safety Boots – £59.99
Construction jobs for women
Though the stereotype that the construction industry is largely male remains prevalent, there are currently a record amount of opportunities for women to break into a career within this sector. Out of the 11% of the female workforce that represents the construction industry, most roles are office-based, with only 2% working in manual jobs.

However, there is now an increasing number of work placements and training courses specifically aimed at getting more women into construction.

The fact that there aren't many women in construction means that, should you be successful, you can become a role model and help to start the shift. This is no better represented than by the 'Women in Construction & Engineering Awards'.
Brick by Brick
Carving out a path into the construction field can often be filled with obstacles, require long term commitments and often mean enduring low-paying apprenticeships to begin with. However, a dedicated worker will reap the rewards if they are tenacious enough – with some construction careers delivering great salary rewards as well as project satisfaction. 

You have to build your portfolio brick by brick – whether through qualifications, experience or networking. Read our article on how networking can help put you in the right place and get discovered by the right people.

Hopefully this article has shed some light on construction careers and provided useful information towards making your next step. If after reading this you're convinced it's the career for you, then take a look on our website construction industry page to find yourself a specialist construction recruitment agency, who has the knowledge, contacts and experience to find your perfect role.