Have you ever found yourself at a career impasse? Have you finished education, have qualifications, and are now looking for your ideal job? Working in the recruitment industry could provide the answers.
Here, we look at the opportunities available to potential recruitment consultants as well as the career progression and salaries on offer.
Why should you have a career in the recruitment industry?
Like many careers, there isn't one set reason why working in recruitment is an attractive option.

However, the Graduate Recruitment Bureau spoke to a number of people who have gone on to make a success in this industry and one point stands out as much as any: salary.
That isn't to say it's the only reason, and happiness at work is important, but recruitment represents a superb opportunity to make a great living.
Nikki Dallas is the Managing Director and founder of Talent FM – a consultancy specialising in recruitment of Facilities Management employees.
She told Agency Central that the role is attractive because of the way you can positively influence lives, as well as make lots of money for working hard.
"I love that my role changes people's lives. I love that there is no upper limit to the rewards you can get if you are in a company that offers uncapped commission so you can build your desk and get directly rewarded for your work," she said.
Julie Bowen is the Head of Talent at The Association of Professional Staffing Companies (APSCo). She explained that recruitment is a career that not only provides ample career opportunities, but also great earning potential.
She said: "Most established recruitment consultancies have well developed career paths with opportunities to progress from junior recruitment consultant to team leader, up to manager and beyond.
"Many successful recruiters end up setting up their own recruitment consultancies so there is plenty of scope for those with an entrepreneurial spirit.
"As with any sales environment it is competitive but the rewards are high."
Is money the only attraction to the recruitment industry?
It's almost as if the answer to this is obvious but no. No it isn't.
Putting food on the table, holidays, nights out etc are all important – and a successful recruitment professional will have the finances for this – but it's not the only reason for taking a job.

Going back to the graduates canvassed, a common theme for those who didn't say salary was the defining factor was that they saw a career that suited their skills and attributes.

This is where the industry stands out. Sure, graduates and others with higher education academic qualifications can get their foot in the door.

But unlike many jobs, it isn't a deciding factor.

According to Barnaby Parker, CEO at business transformation consultancy, Venquis, recruitment gives hard working employees a solid career path and options the further up the ladder they go.

He said: "The industry allows the best consultants to rise through the ranks quickly and choose between a sales or managerial path depending on their interests and abilities."
Is recruitment an accessible career path?
If you're a people person, enjoy a sales environment, are a good communicator and can negotiate, you're well placed to succeed in the industry.
Specialist agencies including The Sterling Choice – who work in the food recruitment sector – look at the right people rather than qualifications. This means employees from all backgrounds can get involved in the recruitment industry.
Richard Hanwell, Associate Director, said: "We tend to look for people who simply have the right attitude to succeed in a demanding environment.
"With that in mind we can take candidates for any background and have actually seen the likes of sports therapists, veterinary nurses, bar staff, and customer service managers succeed in our company."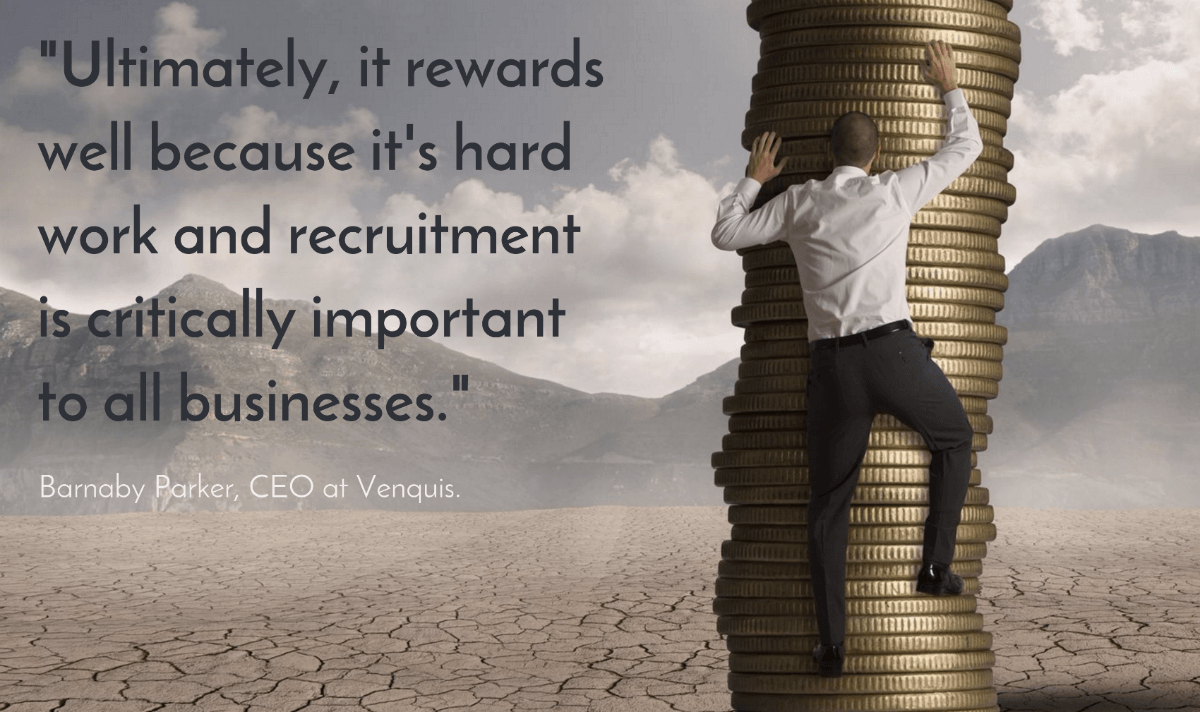 For niche recruitment agencies such as The Sterling Choice, another useful route into the profession is for people who have worked within the particular industry that you specialise in.

Therefore a construction recruiter may employ consultants who have previously worked in the industry. According to Richard, it "adds to our offering to our clients," although does require transition.

Along with the money and opportunities to progress, the recruitment sector stands out because of its accessibility.
As we have discussed, skills and attributes are all important and therefore regardless of whether you're a seasoned professional, a graduate or not, you can make your way in this career.

Nikki at Talent FM embodies this approach, given the company "has a real mix of consultants from young apprentices to seasoned employees with over 10 years' experience."

For the eager beaver recruitment consultants out there, there are a number of routes into the industry.
Job opportunities in the recruitment industry
So how can you get started in recruitment? If you want to work your way from the bottom up, a Recruitment Resourcer is a good place to begin.

Starting on £16,000 – £17,000, this won't be a case of going straight in and handling accounts.
While this is usually a support role to the Recruitment Consultant, working as a Recruitment Resourcer will equip an employee with valuable experience.
Throughout this employment, you will be searching for and identifying candidates for a variety of roles. Interviewing and matching them up to advertised vacancies on job boards will also be part of the remit.
The next step is where a Resourcer's craft is really honed; speaking to employers and clients, you'll have to sell these candidates to those hiring.
Now, this can't just be a means to an end approach; trying to persuade an employer to take a candidate who you know isn't right will reflect badly on the recruitment agency, and the long term relationship with that employer.
But once you've found candidates you feel are right for vacancies, being able to sell this to an employer will help improve your sales technique, will help you build B2B relationships, and will therefore impress your own employer.
Can Recruitment Resourcers progress further?
Absolutely! According to Nikki Dallas at Talent FM, their Recruitment Consultants are encouraged to hire and train Resourcers.

She said: "If the individual wants the responsibility, they can hire Resourcers on their desk and train them up to be consultants."

The Sterling Choice also give ample chances of progression to Recruitment Resourcers, who first gain experience in "candidate generation," and setting up interviews – all are essential in the learning curve that leads to fully fledged Recruitment Consultants.

According to Richard Hanwell, the role is: "very much research and training-led with a strong focus on candidate work.

"This will be based around phone interviewing, candidate generation and managing the candidate database whilst working with a senior consultant. The emphasis is on training though and learning every day."
If you're a successful Recruitment Resourcer, it will eventually lead to a position as…
Working as a Recruitment Consultant and salaries available
Any successful Recruitment Resourcer will find themselves promoted into the position of Recruitment Consultant within 12 months. For the real go-getters out there, it could be as little as three months.

The role, as you would expect, involves more responsibility. As a result, the money is improved.

A leading recruitment agency told us they offer Trainee Consultants a salary of £18,000. For fully fledged Recruitment Consultants, this can rise to £25,000.

With commission, salaries can rise astronomically. According to one recruitment agency, on target earnings (OTE) can take your salary past £80,000.
Basic salaries vary from agency to agency of course. Some quote Recruitment Consultant's starting wage at anywhere between £22,000 – £28,000, while Senior Consultants start on £28,000 and can earn up to £35,000 without taking commission into account.
How to be a successful Recruitment Consultant
The responsibility of a consultant becomes less about candidate sourcing – although this is still an important function.

Now, you will be managing the accounts of a variety of clients, helping to find them the right candidates for any vacancy they advertise.

New business is also a big part of the role, trying to sell your services to other employers.

This is why excellent interpersonal skills are needed; you should be a good communicator and be able to sell and negotiate.
The Sterling Choice's Dave Hanwell outlined the role of a Recruitment Consultant. If you want to be a master of all trades, this is the job for you!

He said: "Once an employee qualifies to a Recruitment Consultant, their role becomes a full 360 degree role where they will need to generate and manage a client base.

"Your role as a full 360 recruiter will mean that you are wearing many different hats from day one; from marketer, customer service, sales, career and interview planning."
Can Recruitment Consultants progress further?
Making a success as a consultant? Finding it all a stroll in the park? Well there are still places to move up to on the recruitment ladder.

Nikki at Talent FM makes this point, saying: "As a consultant's experience increases, there are opportunities to become managers."
Agencies such as Talent and the Sterling Choice are niche recruiters, insofar they are responsible for finding staff that are specialists in a certain industry for employers.
They are unequivocal in the opportunities they provide for progression. Like Resourcers, if you are successful as a Recruitment Consultant, this will be rewarded.
For Richard at the Sterling Choice, he looks not only at how many KPIs a consultant hits, but also their general impact on the environment around them – something that can often be forgotten in the whirl of aiming to hit targets.
"Progression within our business does not just stem from making revenue. It is determined by how you hold yourself in the office, how you help others and above all, how you represent the business in the marketplace," he said.
"Management here is far more than just driving sales."
Similarly, retained search agencies that handle senior level positions and also work on behalf of clients will generally be large enough that consultants can realistically move into senior or management roles if that is their ambition.

Some agencies will be smaller and in these cases, progressing right up to management level may be more difficult because of less available positions at that level.

However, they will still enable you to gain experience, firstly as a Resourcer and then as a Recruitment Consultant.

Therefore, if you do aspire to move into management, you'll have all the skills to give you the best possible chance.
Management positions in the recruitment industry
A successful Recruitment Consultant can expect to be in line for promotion to either a Senior Consultant or management position in 18 months.
As well as managing a portfolio of clients, satisfying their employment requirements, team leader roles will also include managing a team of consultants.
Management positions give you the chance to manage a department or office – more likely the case for small or niche consultancies – or for the larger firms, you could find yourself in charge of a whole region.
This type of management doesn't just mean making sure all targets are hit and clients' vacancies filled. Moreover, you're in charge of morale within the whole office. Different pressure, right?!
Imagine trying to keep up morale at those times when managing key accounts (also a huge part of the job) is proving a challenge.
There will be an element of training other members of the team to upskill where necessary, and any recruitment to the agency will ultimately be your responsibility; sorting applications, arranging interviews and job offers will all be under your remit.
Salaries range but senior positions have an average salary of £42,500 basic, with bonuses and commission on top of this. Some salaries are even as high as £52,500 before bonuses.

A lucrative, albeit a hardworking and pressurised career.
Is a career in the recruitment industry for me?
There's no guarantee that somebody adept as a Recruitment Consultant will automatically then find management as easy. The same can be said for a Recruitment Resourcer moving on to working as a consultant.

But as a career option, it is a viable choice for a wide range of people, with varying skills, qualification and experience.

What cannot be disputed in this industry is, if you work hard, not only will you find doors opening with further career options, you'll be paid handsomely along the way.