Want a social media presence that delivers ROI? Then you're going to need a strategy.
A social media strategy is a blueprint for how a recruitment agency (or any business) intends to succeed on social media.
It is a vital component of any digital marketing plan and is the first step in establishing a successful online brand in the recruitment marketplace.
In this article, we'll take you step-by-step through everything you need to create an effective social media strategy. It will cover:
Step one: identify your agency's goals.
Step two: decide your metrics.
Step three: identify your audience.
Step four: choose your networks.
Step five: research other agencies.
Step six: decide on your content.
Step seven: test, assess and update.
Step one: identify your agency's goals
When creating a social media strategy, there's only one place to start.
Ask yourself: what exactly does your agency want from social media?
This question is really important, as a lack of clear goals will make it almost impossible to measure a return on investment.
Choosing goals for your recruitment agency
While you probably already have a few goals in mind, there are a whole host of reasons why a recruitment agency might want to invest in social media.
Back in 2017, we wrote about how the recruitment market is using social media and asked agencies what their number one reason was for joining a networking site.
Our survey showed that a massive 77% of agencies wanted to build a brand, with the remaining 23% choosing candidate sourcing or lead generation as their primary reason for going online.
These were the most popular reasons for joining social media, but the likes of LinkedIn and Twitter can also help recruitment agencies with:
Candidate screening.
Driving website traffic.
Reputation management.
Building a community.
Increasing the talent pool.
Deciding on your main goals will make it easier to design focused plans that deliver a visible ROI. It will also stop your agency from taking a more scattergun (and costly) approach.
Step two: decide your metrics
Now that you've chosen your goals, you need to think about how your agency is going to measure success.
In the world of social media, it can be all too easy to fall for vanity metrics. These are numbers that look good on paper, but might not mean much in reality.
'Number of followers' is the perfect example of a vanity metric.
Sure, '20,000 followers' sounds great, but are these followers relevant to your agency? Do they convert into clients or candidates? Are they helping you achieve your goals?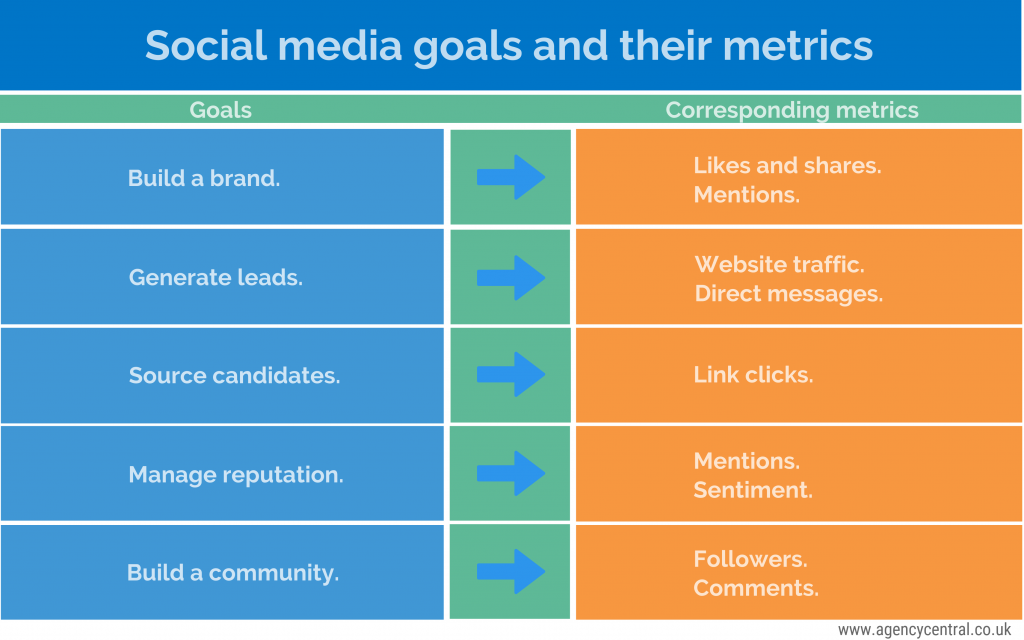 Different goals will lean heavily towards different metrics, so it pays to learn which ones to take notice of – and which ones to ignore.
As a general rule, engagement metrics (such as comments, shares and link clicks) are the things to look out for. These show genuine interaction with your agency and are a better indication of brand and lead generation success.
You can find out how your social media is performing with tools like Twitonomy and Sprout Social.
Step three: identify your audience
To implement an effective social media strategy, you need to understand your audience.
Who are they? Where are they? What do they like?
Being able to target your output at a clearly defined market could save your agency both time and money.
A recruitment agency's target audience
For recruitment agencies, it can be difficult to hone in on one particular audience.
You'll obviously want to attract both candidates and employers, but these can then be divided into your specialist markets (e.g. bricklayers in the Midlands, IT employers in London, etc.).
To give your agency some focus, it might help to create audience personas that you can produce specific plans for. The trick is to treat these personas as if they're real people, so name them, personalise them and give them a whole backstory.
Is your audience even on social media?
One limitation to consider is the demographic of social media users as a whole and whether your target audience is even 'online'.
We've recently conducted our own research into the digitalisation of different recruitment markets and found that some industries, such as agriculture, are considerably less into social media than others.
This is something to think about if you work within more 'traditional' sectors or with a demographic that's stereotypically less tech-savvy.
Step four: choose your networks
'Social media' is a term that fails to hit on the uniqueness of each of the platforms it represents.
When talking about social media strategies, we're actually talking about Facebook, Twitter, LinkedIn and Instagram strategies.
These are all individual platforms and deliver very different benefits.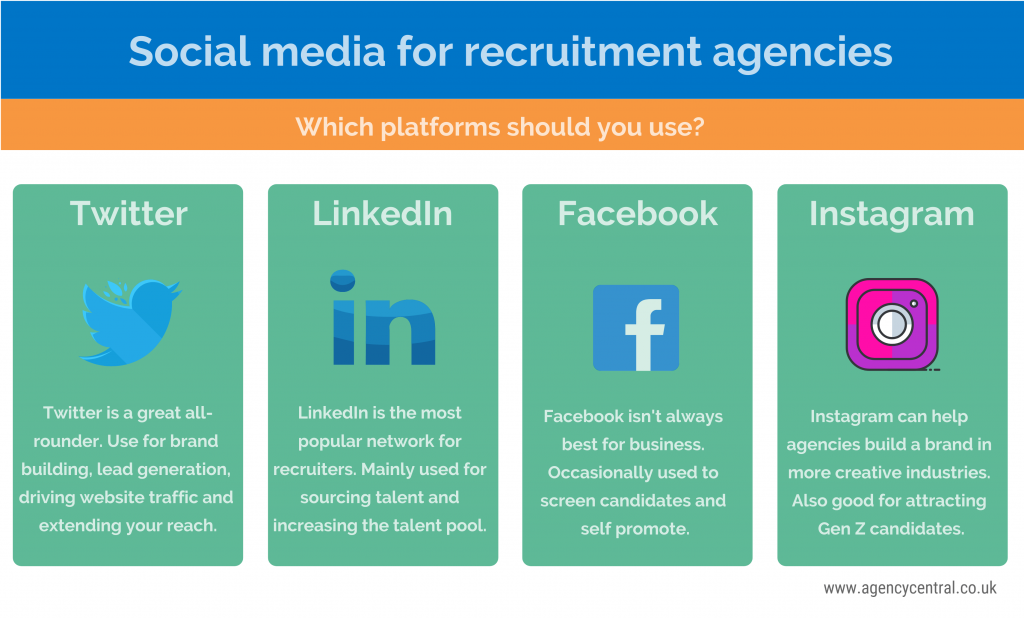 While LinkedIn and Twitter are typically the most popular for recruiters, you might find that Facebook or Instagram will work better for you (and we've not even mentioned the likes of YouTube, Pinterest and Reddit – although these are more difficult to crack).
Agencies will find that some platforms are better at achieving their goals than others, so it's important to choose the right ones.
How many social networks should an agency join?
With so many bases to cover, it can be tempting to throw yourself at every platform out there – but this might be counterproductive.
Trying to simultaneously establish a presence on multiple platforms can be difficult and you might find that you end up spreading yourself too thin.
Our advice would be to focus on one (maybe two) platforms at first. This will not only be easier to manage in the short term, but will make it easier to grow a following on other platforms in the future.
Step five: research other recruitment agencies
Have you ever looked at what your competitors are doing on social media?
While you might be busy concentrating on your own output, you can learn a lot from how other recruitment agencies are performing.
Not only will this give you some ideas on how to approach social media, it will also give you something to benchmark against.
What are other agencies doing?
In order to find out how the rest of the market is performing, you'll need to carry out an audit (of sorts).
Start off by finding social media accounts you admire and answer the following:
What are they posting?
How much engagement do they get?
How often do they post?
Who do they follow?
What are the things you like and dislike about their social media?
Once you've done this, you can look at agencies you would align yourself with and ask those same questions.
The aim is to get an idea of what works and what doesn't – but you might also find some 'gaps'. Can you think of any unique or original content that competitors aren't doing? It might also help to look at some popular recruitment hashtags.
Step six: decide on your content
Seeing what other agencies are up to will inevitably give you some ideas of your own, but what exactly should you be posting?
There is no set formula when it comes to posting and scheduling, and depending on your goals, it may differ greatly from your competitors.
Different types of social media content
There are different types of content that an agency will want to post.
Different content types will garner different results and you'll want to aim for a fairly balanced mix. Of course, knowing exactly what you want from social media will mean you're able to tamper with the recipe a bit more.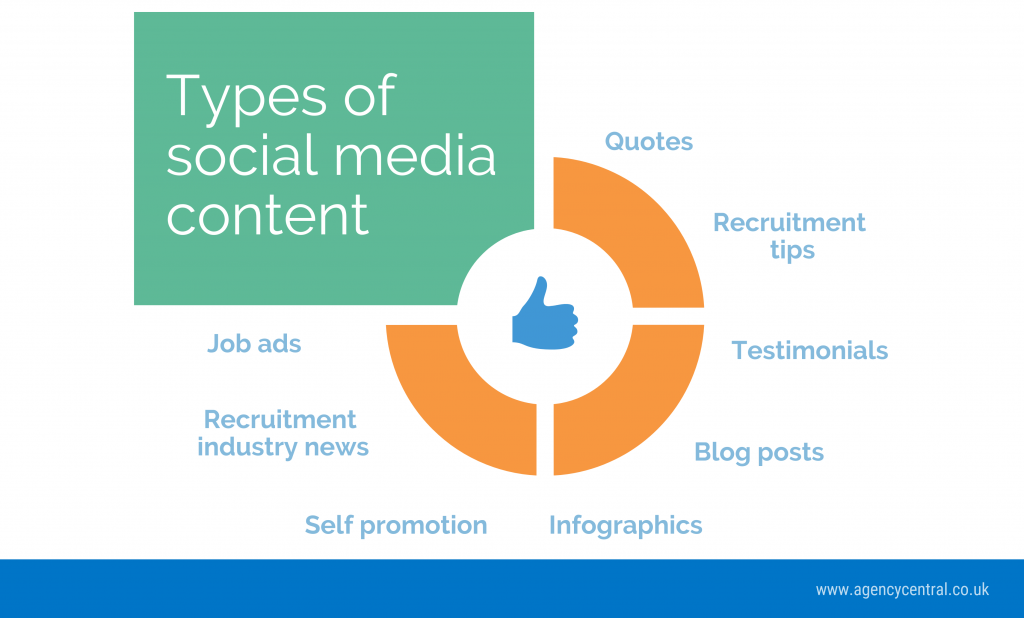 In our experience, recruitment agencies tend to rely heavily on just one or two content types, but they should try to adhere to the 80 / 20 rule.
This means that you should be posting 80% informative, entertaining or helpful content, 20% job ads or self-promotion.
To help get the balance right, management tools like Buffer and Hootsuite can help you schedule posts in advance and see which posts are getting the best results.
Step seven: test, assess and update
Finally, it's time to implement your strategy.
While this may sound like the final step, it's actually a perpetual process that never really ends.
This is because:
Social media is constantly changing.
Your business is constantly changing.
Recruitment is constantly changing.
This is why it's important to remain adaptive and design a social media strategy that's flexible.
So, frequently review your goals and how social media is supporting them. If your current strategy isn't working, don't be afraid to have a rethink.
Social media doesn't stop changing and neither should you!
To end
Social media can be a lot of trial and error, but this guide should give you the basic framework to build a strategy you can count on.
Of course, there's no 'one size fits all' solution when it comes to social media, so don't be afraid to tweak things if necessary. The key is to make sure that your strategy is always delivering value and supporting your recruitment agency's wider business goals.