In the UK alone, there are more than 45 million social media users, accounting for 67% of the population. This has created a wealth of opportunity for recruiters hoping to engage with both passive and active candidates.
The challenge? Getting your message seen among the 500 million tweets sent every day.
This is where hashtags come in. Hashtags can help improve the chances of getting your message heard on social media – and by the people you want to hear it!
So, should hashtags be a part of your social media strategy? Well, the recruitment professionals in our network certainly seem to think so:
But, what exactly are hashtags – and why are they such a powerful tool for recruiters?
What is a Hashtag?
A hashtag consists of a # symbol, followed by a specific phrase, containing no spaces, e.g #ITJobs. Hashtags are widely used on Twitter and many other social platforms, including Facebook, Instagram and LinkedIn, to provide context, index topics, and improve posts' searchability.
The hashtag is a powerful tool for anyone who wants to generate more engagement for their social posts – and make sure they can be found by relevant users. This is precisely why they are helpful for recruiters who rely on delivering messages to specific demographics.
If you want to harness the full power of social media in your recruiting efforts, mastering the hashtag is essential. To make things easier, we've created a handy guide covering the fundamentals for you to print out and keep by your desk: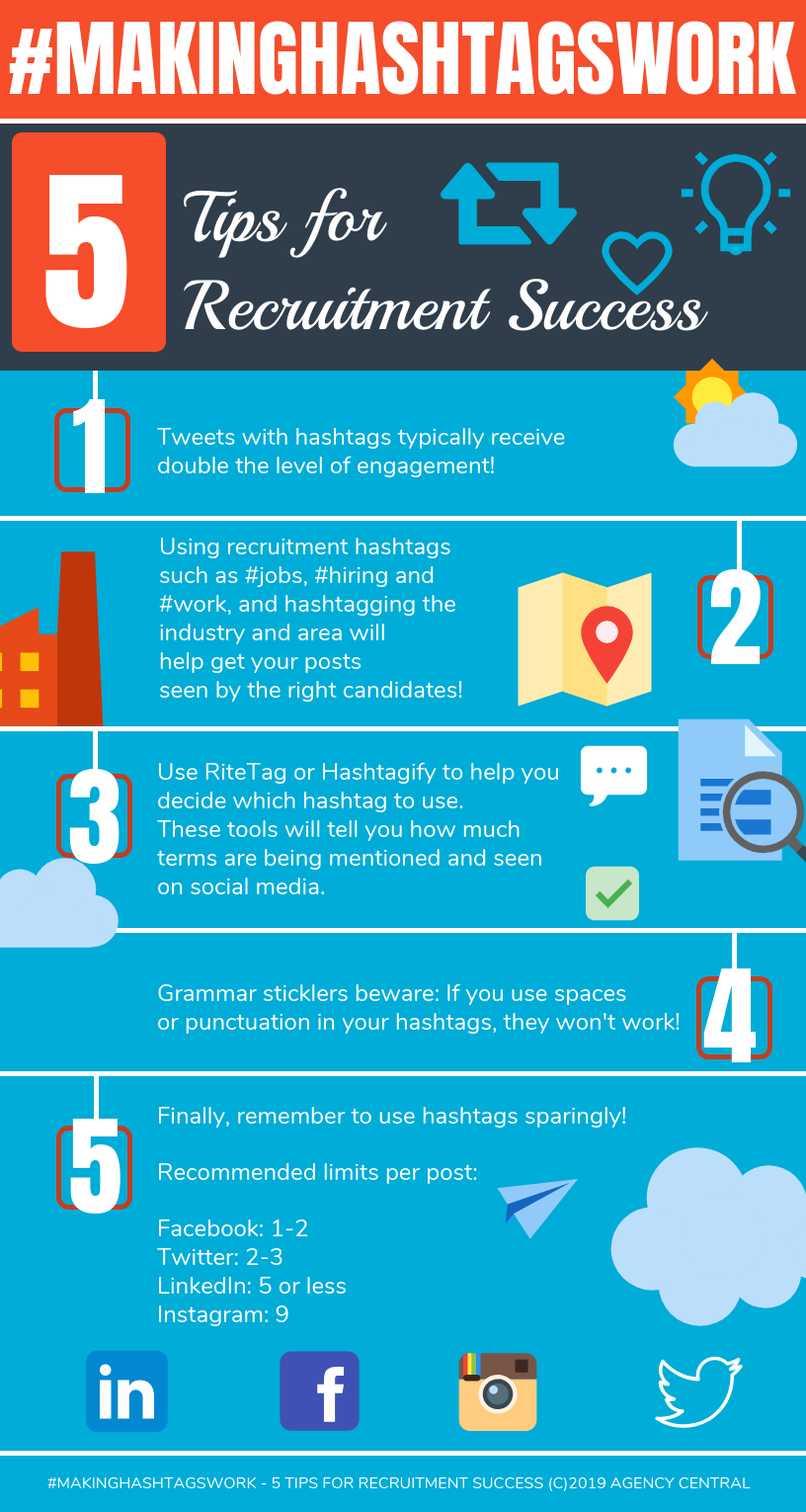 We hope you now have an understanding of the hashtag fundamentals. Whenever you write posts for your social channels, it's important to consider which hashtags to include, or whether it's appropriate to use them at all.
Remember, our 'rules' are merely intended as guidance. You may find a slightly unorthodox approach to hashtagging works particularly well – and in fact, it may take a good amount of trial and error before you can clearly define your strategy.
Why should recruiters use hashtags?
Creating an effective recruitment hashtag strategy can be a challenge, particularly if you're a relative newcomer to social media marketing! To help you learn to think strategically about this, let's consider some of the key reasons why recruiters use hashtags:
Brand Awareness
Using a particular hashtag consistently can help recruiters ensure their posts, and social channels are seen by a relevant audience. If this is done correctly, over time, these users will start to associate specific hashtags with the recruiter's agency, creating brand awareness.
Candidate Attraction
Whichever discipline recruiters operate within, they share a common aim: to attract more relevant candidates for their books. So, how can they filter through irrelevant users and reach out to their target demographic? Hashtags, once more, are the answer!
Using hashtags to denote industry, roles and locations will help put your posts in front of relevant job seekers, who are actively searching on social media.
Lead Generation
Recruiters can utilise hashtags to generate leads over social media. The strategic use of hashtags can help maximise the number of relevant users that see your posts, which, in turn, should help to boost the number of enquiries.
Which hashtags should recruitment agencies be using?
Now that we've established the common aims for using recruitment hashtags, let's look at some of the most popular ones – and how to utilise them to full effect.
Recruitment Terms
Hashtagging commonly used words and phrases associated with recruitment and employment in your posts will improve their visibility among jobseekers.
Examples: #jobs, #graduate, #hiring, #work, #recruitment, #talent
Industry/Role-specific Terms
With job posts, the aim is to target jobseekers, but not all jobseekers. As the role will only be relevant to candidates with specific skills and interests, hashtagging words relating to the job and its industry will help to direct the post towards the right audience.
Examples: #IT, #HR, #teaching, #retail, #manager, #SEO, #sales, #business
Location
Unless you're advertising for a remote working role, you'll need to target jobseekers that are willing to work within a specific area. To do this, you should hashtag words relating to the location of the role, as this will help bring your post to the attention of candidates searching in that area.
Examples: #Manchester, #Liverpool, #London, #NorthWest, #England, #Ireland
How do the recruiters in our network use hashtags?
To give our readers a clearer insight into how hashtags are used within the recruitment industry, we ran a survey among our network of recruitment professionals and leaders to find out why and how they are using hashtags: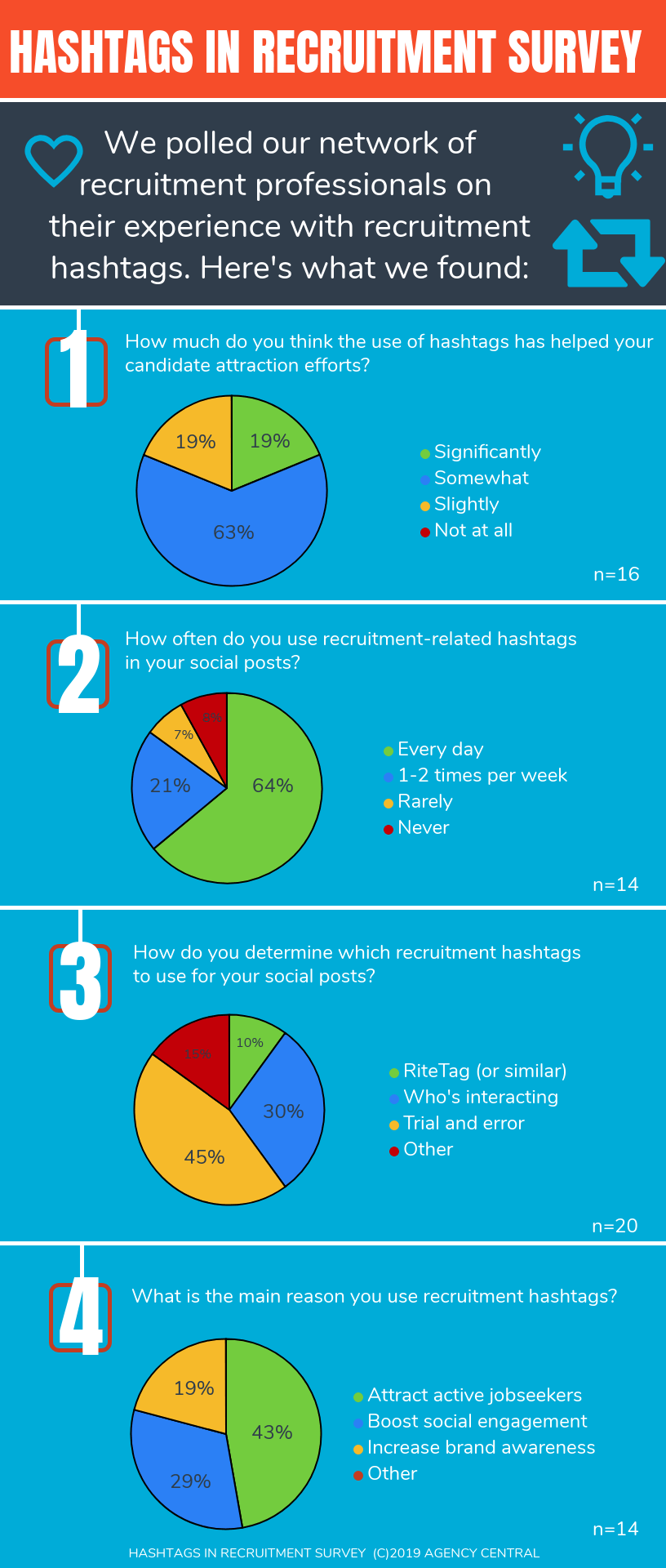 Key Takeaways
The majority (85%) of our recruitment network regularly use recruitment hashtags.
All the recruiters surveyed that utilised hashtags received at least some level of business benefit, with the majority benefitting 'somewhat', or 'significantly'.
The motivation behind the use of recruitment hashtags varied somewhat, although our results showed 'attracting more active candidates' to be the most popular incentive.
What did our recruitment network have to say?
Our survey highlighted that hashtag strategy varies considerably depending on the recruiter's specialism.
With that in mind, we considered how we could help our readers develop their own individual hashtag strategies. In the end, we decided once again to approach the recruitment leaders within our network, from a wide range of disciplines, for more detailed insights on how they utilise recruitment hashtags:
Sam Rose, Digital Marketing Assistant, ENS Recruitment
"We always start our job ads with #JobAlert. This tells everyone reading our post immediately that our post is a job ad, and helps attract the eyes of jobseekers!"
"Using more location or role-specific hashtags enables us to reach more specific candidates that are using social media for their job search within our area, or that are looking for a particular role."
Katie Perkins, Marketing and Communications Officer, Staffroom Education
"As Instagram allows a maximum of 30 hashtags, this allows us more freedom with which hashtags we use. This can be from generic hashtags such as #recruiting, #southwalesjobs and #hiring to more specific hashtags like #teacheropportunity and #teacherjobs."
Richard Yamoah-Afrifa, Marketing Executive, Blu Digital
"As we focus on the candidates in the digital market, (and it is so broad) any hashtags such as #artificialintelligence, #AugmentedReality etc. are so important. Altering your hashtags based on the message you are trying to send, will bring in even more consumers."
Rebecca Crowther, Marketing Executive, ASC Connections
"We utilise recruitment-related hashtags on both Twitter and LinkedIn. These include; #recruitment, #hiring, #jobs and hashtags with the industry, then jobs, such as #techjobs. I find these perform much better on LinkedIn than on Twitter in terms of reach and engagement."
Emily Fuller, Administration Manager, Bee Recruitment
"Our own hashtag #busybeerecruitment helps people recognise us. In terms of business goals, hashtags have helped us gain more followers, visitors and also candidates and some new clients!"
"Hashtags are very important in the recruitment industry, especially on Twitter. I don't use the conventional hashtags such as #hiring, #jobsearch, #jobhunt etc. Instead, I use skills that are needed for the job such as #Java, #Azure, #IaaS etc. By doing this, jobseekers and potential candidates can find jobs that are specific by typing their skills in the search bar, thus eliminating all the jobs that are not relevant to them. Doing this has helped towards many business goals, as we have found candidates that have been placed to clients of ours, and they are enjoying their new roles."
We'd like to thank all our recruitment leaders for collaborating with us. Now that you've read their insights, we hope that you've picked up a few pointers for your own hashtag strategy!
Are you active in the recruitment industry and on social media? Do you agree with our findings? Why not join in the discussion and leave us a comment about your experience with hashtags? We'd be interested to read your take on the subject!