In years gone by, it may have been tempting to write off artificial intelligence (AI) as a mere science fiction fad. However, over the past few years, the technology has gained some serious momentum – and many practical applications have emerged.
If you've been following Agency Central for a while, you might have read our thoughts on how AI-powered software is changing the recruitment industry. Well, in the few short years since that article was written, AI recruitment tech has taken considerable leaps forward!
To bring our knowledge right up to date, we decided to take a fresh look at AI in recruitment. And, to get a clearer picture of how this intelligent technology may shape the industry's future, we approached some of the recruitment experts in our network for their predictions.
So, if you'd like to know all about the AI tools disrupting the industry right now – and some of the exciting developments still in the pipeline, read on…
What is AI in recruitment?
Machine learning allows computers to expand their understanding and library of knowledge without the input of a programmer. AI-assisted tools can perform many labour-intensive search and administrative tasks in just a small fraction of the time they would take a human operative.
In fact, with each passing year, the power and capability of AI tech increases exponentially. It has already caught the attention of many forward-thinking recruitment leaders. AI-powered chatbots can answer candidates' routine enquiries, communicate in (limited) conversational language, and direct them to the appropriate teams. This can save recruitment agencies considerable time and help them deliver a smoother candidate experience.
So, what is the state of AI in recruitment as of 2019? In order to gain a clearer understanding of where things stand at present, we surveyed our network of recruitment leaders. Here's what we found: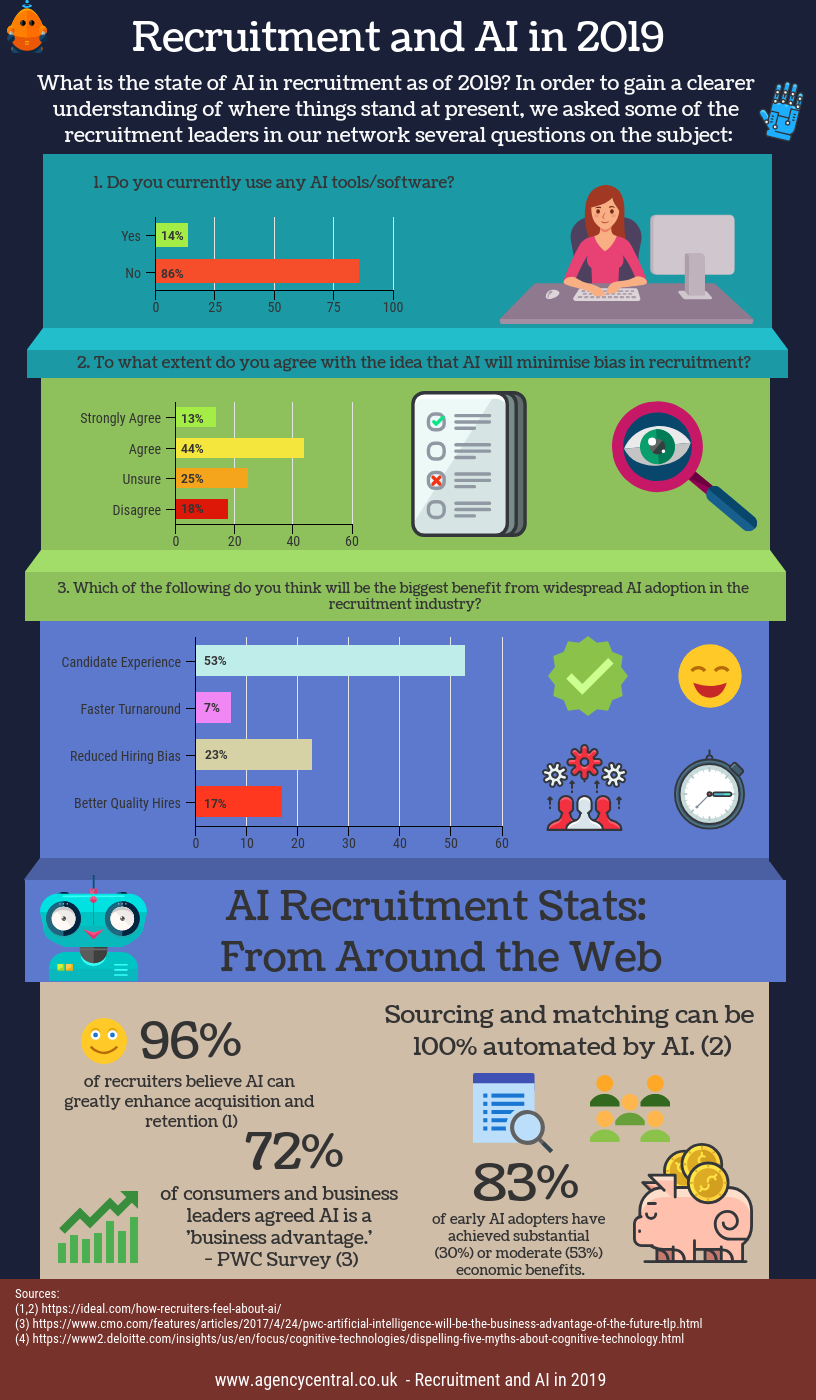 What are thought leaders saying about AI?
Regarding AI's untapped potential and possibilities, entrepreneur and investor Mark Cuban said:
"The world's first trillionaires are going to come from somebody who masters AI and all its derivatives and applies it in ways we never thought of."
On harnessing the potential of AI, futurist, author and Future Today Institute CEO Amy Webb said:
"In order for AI systems to work, they need to be trained. And we, we humans, are their mothers and fathers. We are their study buddies. We are the ones these AI systems should be learning from."
However, others, most notably Elon Musk, have expressed drastic concerns about the possible impact of an AI-led world:
"AI doesn't have to be evil to destroy humanity – if AI has a goal and humanity just happens in the way, it will destroy humanity as a matter of course without even thinking about it, no hard feelings."
An alarming prospect – however, readers of a sci-fi inclination may have noticed that this contradicts Isaac Asimov's Laws of Robotics!
So, the consensus in the tech community seems to be that AI is an incredibly powerful technology, and its full capabilities have yet to be witnessed. Many acknowledge the possible issues and dangers intelligent machines could bring about, although a few paint a more catastrophic picture than others!
AI Predictions from Recruitment Leaders
But, how exactly might the nascent AI revolution affect the world of recruitment? To answer this question, we consulted a selection of recruitment leaders in our network. Here's what they had to say on the subject:
Ben Chrystie, Recruitment Manager (Addition Solutions)
"AI will show infrastructure and the setup of the business. When recruiters say 'Our client is a great client to work for, they have a hardworking team and a chilled office etc.', the candidate can only go by what the recruiter is saying, but with AI the candidate would be able to see first hand whether the role would be worth pushing for, whether it would be a good environment and culture fit."
Ben's LinkedIn | Addition Solutions
---
Anthony Jessop, Business Administrator (Addition Solutions)
"In the near future, AI will help recruiters in finding candidates. When a recruiter is recruiting a role for one of their clients, AI would be able to choose the correct candidates with the correct qualifications, experience etc as the AI would be set for that particular role. It would speed up the process massively."
Anthony's LinkedIn | Addition Solutions
---
James Hall, IT Recruitment Consultant (Addition Solutions)
"AI will have negative aspects in recruitment. Candidates like a personal touch when going through the process such as after an interview the candidate would like to tell a human about how the interview went etc. AI would eliminate the personal touch of the recruitment process."
James' LinkedIn | Addition Solutions
---
Natasha Woodford, Director of Recruitment (clockworkTalent)
"There's a fallacy that AI will eventually make the necessity of humans redundant in recruitment. I may be biased (and hopeful) but I don't think that view of the future is completely true. AI will be a brilliant asset in making recruitment admin more efficient and precise including the communication between candidates, recruiters and hiring managers, booking interviews and more but, I strongly believe the final touch needs to be human. AI is yet to master the art of human emotion which, along with human relationships, 'gut feelings' and emotional decisions is what recruitment is all about!
My prediction for AI: it will be somewhat like the industrial revolution where AI takes over certain systems and tasks but overseeing the process there will be humans putting the final touch on the production line."
---
Matt Reaney , Founder and CEO (Big Cloud)
"Like many industries, I think AI is going to play a big part in shaping recruitment. However, for those wanting to keep real personable service, it won't be the be all and end all!
We recruit the amazingly intelligent people building this technology, so for us, we have a full understanding of the impact it's making on all kinds of industries and businesses the world over. Personally, I don't think it can replace the valuable interactions we go through on a daily basis with both clients and candidates, the relationship building, the intuitive side to recruiting however it will more likely go some way in helping with the other tasks.
It's already really common to see machine learning at work in the recruitment process from matching profiles, forecasting and recruitment marketing automation. I think faster computing power and AI will help refine these processes and make them more reliable and accurate in the future."
Matt's LinkedIn | Big Cloud | Big Cloud's Twitter
---
Katie Perkins – Staffroom Education
"I believe the use of AI in recruitment will become an integral part of the industry, especially AI Chatbots to improve the overall candidate experience.
The use of AI Chatbots to source, screen and schedule candidates will mean consultants will have more time to spend on the candidate and their overall experience.
Also, the use of AI when writing job adverts will allow recruitment businesses to analyse meaningful language patterns to ensure each job advert succeeds in reaching the right candidates."
Staffroom Education | Follow on LinkedIn
---
Richard Yamoah-Afrifa- (Blu Digital)
"AI could definitely have a positive experience in recruitment, significantly enhancing the overall experience for the candidates.
When it comes to finding talent within a large pool, this can often be a challenge for most recruiters. So with the introduction of AI, it will help recruiters determine which candidates are suitable for a position in regards to cultural fit and their ability to do the job.
It can also help the HR department greatly, as more time can be spent dealing with more complicated issues that require a human's creativity."
Richard's Twitter | Blu Digital
What are the up-and-coming AI recruitment trends?
Here's a closer look at some of the latest applications for AI within the recruitment industry:
Candidate Rediscovery
Candidate rediscovery in recruitment refers to the practice of matching CVs in your existing database to new roles.
In the past, one of the major challenges around candidate rediscovery was having to manually sift through large volumes of candidate data, using only keywords and Boolean operators.
Many forward-thinking recruiters now use dedicated candidate rediscovery tools. This AI-powered software can quickly and effectively search a database of previously registered candidates to pinpoint the best matches for new roles.
Although these tools already offer significant advantages over non-AI search methods, they are expected to become faster and more intelligent over the next few years.
Chatbots
Many businesses, including recruitment agencies, use chatbot systems (of varying levels of complexity) to field enquiries from customers. No matter what the business model, the aim of using chatbots is broadly the same – to save time, effort and deliver a smoother client experience.
One of the main benefits of chatbots is that they are available 24 hours a day and in many cases are able to answer enquiries instantaneously. This can help recruiters ensure they don't lose an important lead, client or candidate to a competitor!
At their simplest, chatbots may merely deliver a series of pre-written responses to commonly answered questions and direct users towards human operatives when needed.
Other chatbot solutions on the market are considerably more complex, such as Mya – a bot designed specifically with the recruitment industry in mind.
Mya is a conversational AI platform that engages with candidates to assess their suitability for roles. It asks candidates a series of pertinent questions about their skills and experience, as well as fielding questions from the candidates' side. Recruiters utilising tools such as Mya will be able to assess high volumes of candidates with minimal effort.
For those interested, this article from The Recruitment Network Club offers a more detailed breakdown of the latest chatbot solutions for the industry.
AI Screening
Many HR and recruitment professionals spend an inordinate amount of time screening candidates. One of the most challenging aspects of this is working through large volumes of applicants, accurately and efficiently. In most cases, human operatives will spend only a small amount of time reviewing each applicant, and, as such, there is always the possibility that crucial details could be overlooked.
Simple tools offering keyword searches are nothing new, but intelligent AI-screening solutions that can process information contextually are now emerging, making light work of once time-consuming tasks.
AI screening tools such as DeeperSense also have the capability to screen for 'soft skills' and behavioural attributes such as teamwork and attitude, without the need for complex tests or surveys!
Targeted Job Descriptions
Augmented writing platforms such as Textio are AI-powered tools that can help recruiters craft better job descriptions that will resonate with the right candidates. These intelligent tools make use of large quantities of data, contributed by businesses around the world and use a predictive engine to pinpoint the words and phrases that will deliver better engagement and outcomes.
What's more, augmented writing tools may also help to reduce bias in the hiring process. For instance, many job ads include gendered language, which may disproportionately deter applicants of one gender or another. Augmented writing tools can help users remove any such bias from their writing, resulting in fairer hiring.
So, what's next?
While it's not possible to predict exactly how AI will change the face of the recruitment industry over the next decade, one thing is clear – the future will be faster, smarter and more automated.
With intelligent machines taking charge of many once laborious tasks, there will be a greater need for professionals to master soft skills – and recruiters are no exception. Strong interpersonal and networking skills will help the recruiter of tomorrow get ahead in their industry.
AI is already outperforming humans at many tasks, but lags behind considerably in the creativity stakes. So, anyone who can think creatively and drive innovation will have the world at their feet today – and even more so tomorrow!
Do you agree with our analysis? What are your predictions for how AI will shape the future of work? Feel free to share your ideas in the comments below.