If you've recently entered the job market, or have a vacancy you're looking to fill, then you might be wondering whether a recruitment agency is right for you.
As the leading online directory of UK recruitment agencies, we understand the role that recruiters play in connecting candidates and employers.
Haven't used one before?
Here's our guide to everything you need to know about recruitment agencies, including what they are, the different types of recruiters, and the services they offer.
What do recruitment agencies do?
A recruitment agency is an external business that finds staff for job vacancies.
Acting on behalf of the employer, an agency (often called an employment agency, staffing agency, or recruitment consultancy) manages the hiring process and supplies potential candidates for permanent, temporary, or contract jobs.
Agencies made one million permanent placements in 2018/2019 and have become a key resource in both a candidate's job search and a business' recruitment strategy.
What is a recruitment consultant?
Also known as an agency recruiter or recruitment agent, consultants work for the agency and will be your main point of contact. They can also be employed in-house by a company.
A consultant is responsible for managing the recruitment process – including building and maintaining relationships with clients, defining an employer brand, and ultimately, sourcing the right staff for a position.
They will typically use a combination of tools to find a suitably qualified candidate, such as:
Social media
Job adverts / job boards
Referrals
Networking events
Some recruiters will work for a specialist recruitment agency and operate exclusively within a particular area or industry, such as graduate or construction, while others will work across multiple sectors.
How many recruitment agencies are registered in the UK?
There are between 30,000 and 40,000 registered recruitment agencies in the UK.
London has the highest percentage of agencies in the country, with around 5% of the total market, but other recruitment agency hotspots include Manchester, Leeds and Bristol.
The industry has experienced real growth in the last decade, with 230% more recruitment businesses launching in 2019 than in 2010.
How is a recruitment agency different to in-house recruitment?
When an employer decides to use an agency, they're choosing to use an outsourced recruitment service. This means enlisting the help of a third party to act as a 'middleman' between the employer and the candidate.
This is different from keeping everything in-house, whereby the employer will take sole charge of recruiting. The role may fall to a recruiter employed within the business, a hiring manager, or an HR department.
What services does a recruitment agency offer?
The role of an agency is to shortlist the right candidates for a client's job vacancy – but this isn't all they do.
Recruiting is a multifaceted process and there are many components to ensuring that firms make a successful hire.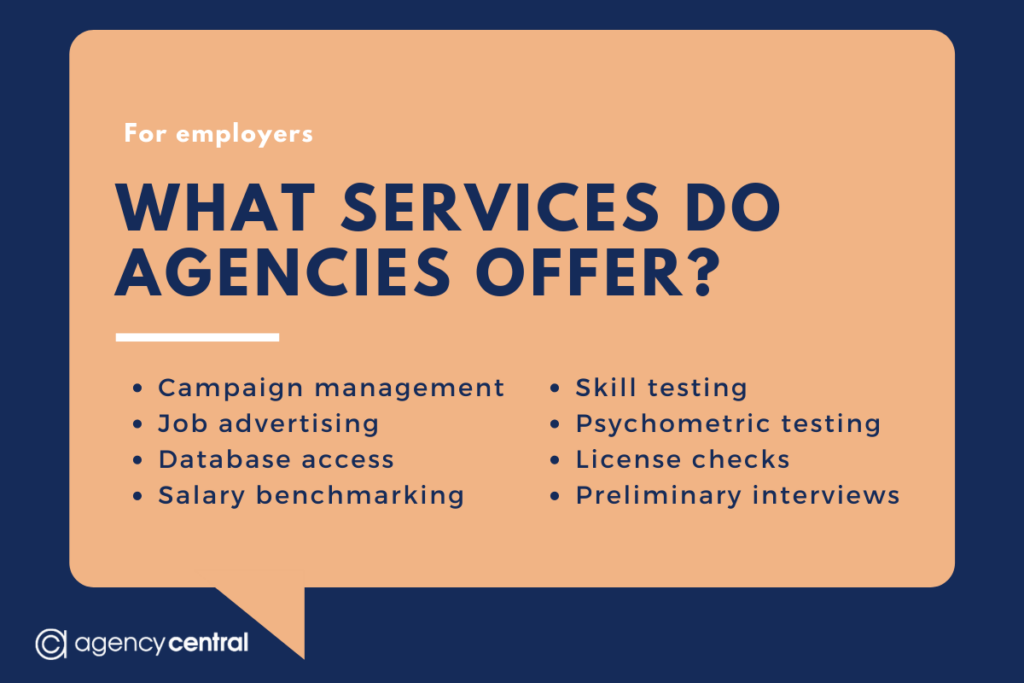 From an employer's perspective, the agency will manage job advertising, salary benchmarking and applicant attraction. They'll even screen potential candidates through preliminary interviews, psychometric testing and qualification checks.
What services do recruitment agencies offer to job seekers?
While a recruitment specialist might be working for the employer, they will often provide extra services for job seekers (in addition to matching them with a suitable job role).
These services are designed to boost a candidate's chances of finding employment and may include:
CV writing services
Cover letter advice
Interview training
Career tips
Additional services such as these may come at a cost to a candidate, so it's best to enquire if you would like any support in these areas.
What are the different types of recruitment agencies?
For permanent placements, the majority of the industry falls under two main models: contingency and retained recruitment. 
Contingency recruitment agency
This encompasses most UK agencies and denotes a payment approach whereby the fee is only paid once the position has been successfully filled.
This can result in multiple recruitment businesses vying against each other for the role.
While these types of agencies tend to recruit across the market, this isn't always the case and can also include specialist recruitment agencies.
Retained recruitment agency
If a business has a senior role to fill, it may decide to contact an executive search or headhunting firm.
These recruitment professionals concern themselves with high-end positions, typically seeking passive candidates for management, c-suite or niche jobs.
Unlike agencies that work on a contingency basis, executive recruiters often operate on retained terms, meaning they're employed by a business on an ongoing basis. They are usually paid an upfront fee and/or in installments, and are usually more costly for an employer.
What is a temp agency?
Temp agencies, sometimes called employment businesses, aren't quite the same as traditional agencies, and the difference lies in who legally employs the temporary worker.
Standard recruitment agencies don't employ candidates themselves, they simply source staff for other businesses to employ.
A temp agency, on the other hand, employs the candidate and hires them out for temporary jobs. The candidate will then work for the client on a short-term basis, but all payments and rights will be covered by the agency.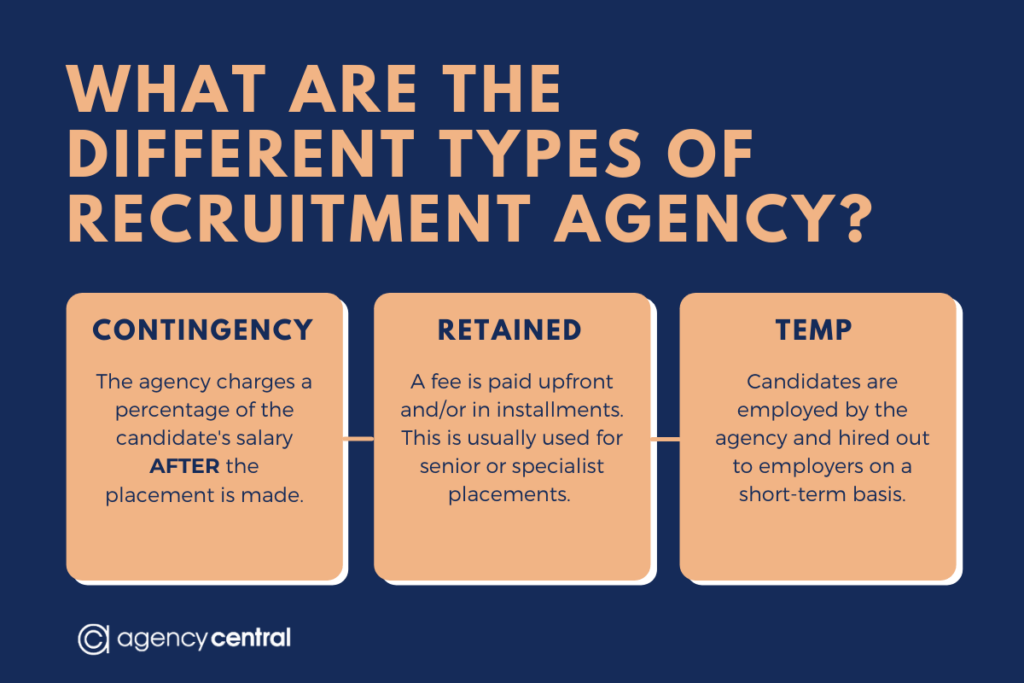 What is the difference between a recruitment agency and an employment agency?
Generally speaking, a recruitment agency and an employment agency are the same thing; the two terms are largely interchangeable.
However, there are instances where people will draw a distinction between the two. In these cases, employment agencies may be termed as a business that works on behalf of the candidate, actively seeking vacancies for the job seeker.
These services are few and far between, so if in doubt (and unless clearly stated), assume that the agency is working for the employer.
To finish
Whether you're searching for staff or hunting for a new job, using an agency can help your chances of achieving your goal.
If you're wondering where the best place to find a recruitment firm is, then visit our website and search for agencies in your industry or location.