As little as a decade ago, those using social media for recruitment (or in any business capacity) were seen as pioneering. Today, around 94% of recruiters use social media, and the competition for the best talent is tougher than ever before.
What is Social Recruiting?
'Social recruiting' simply refers to the practice of sourcing candidates through social media platforms such as LinkedIn, Twitter and Facebook.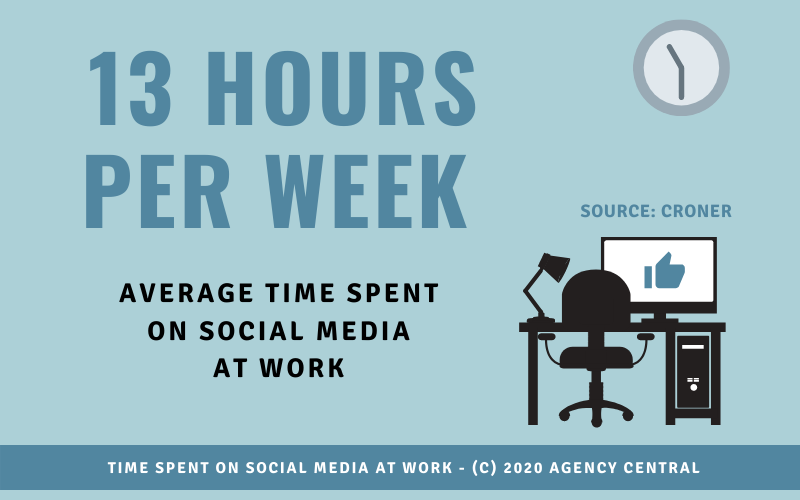 And, with the average UK employee now spending 13 hours of the working week browsing social media, it's easy to see why recruiters are turning to the web to source new talent.
If you were wondering how to gain the winning edge in the social recruiting arena, your friends at Agency Central have you covered:
New Statistics on the Social Recruitment Trends That Matter
We developed an in-depth survey, which was completed by our network of recruitment leaders from a wide range of disciplines, to give you unparalleled insight into which social recruiting strategies work – and how to put them into practice.
Plus, we've gathered some of the best actionable statistics and insights from around the web, together with social media wisdom from our favourite recruitment experts.
It's our aim to provide a comprehensive social recruiting resource. If you're blogging on the subject, please feel free to link to our statistics. And, if you want to become an expert in your own right, take a moment to bookmark this page.
Survey: Use of Social Media in Recruitment
We wanted to learn more about how recruiters and agencies are utilising social media. So, we distributed an in-depth survey among our recruitment network to find out:
On which social media platforms they are most active.
Their social media goals.
Their biggest social recruiting challenges.
Their preferred engagement methods.
Which tools/apps have brought them the most success.
… and more besides.
Let's examine the results …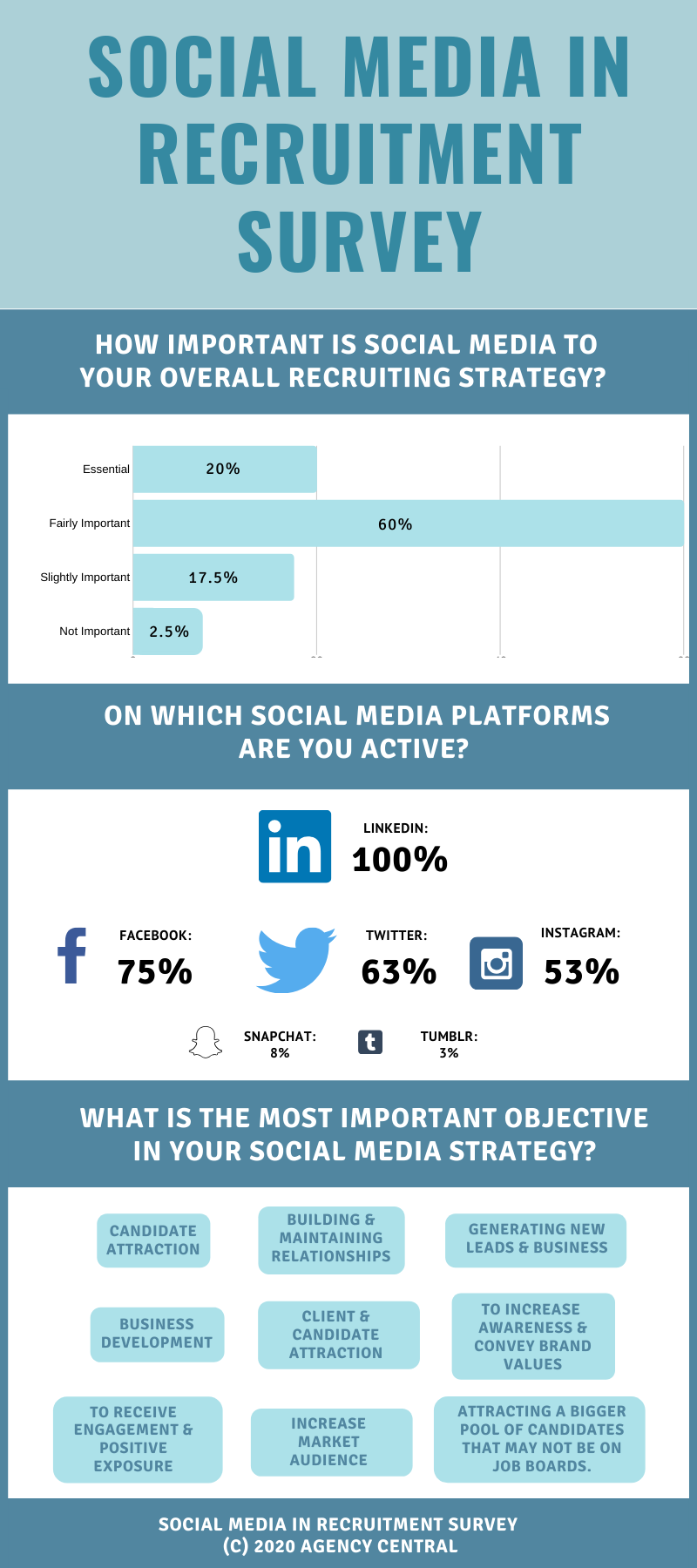 LinkedIn Stats and Strategy
According to our infographic, 80% of our recruitment network considered social media to be either 'essential' or 'fairly important' to their overall recruiting strategy.
All respondents are active on LinkedIn.
68% named LinkedIn as the social network that has brought them the most success.
Participants tend to prioritise growing their social audience, lead generation and attracting a larger pool of clients and candidates in their social media strategies.
Using Social Media for Recruitment
Our network is fairly split between using only personal named (23%) and business social media accounts (26%), while 51% use a mixture of both.
The majority (65%) typically post on social media only once a day, or less frequently.
93% monitor their social channels outside of working hours at least some of the time.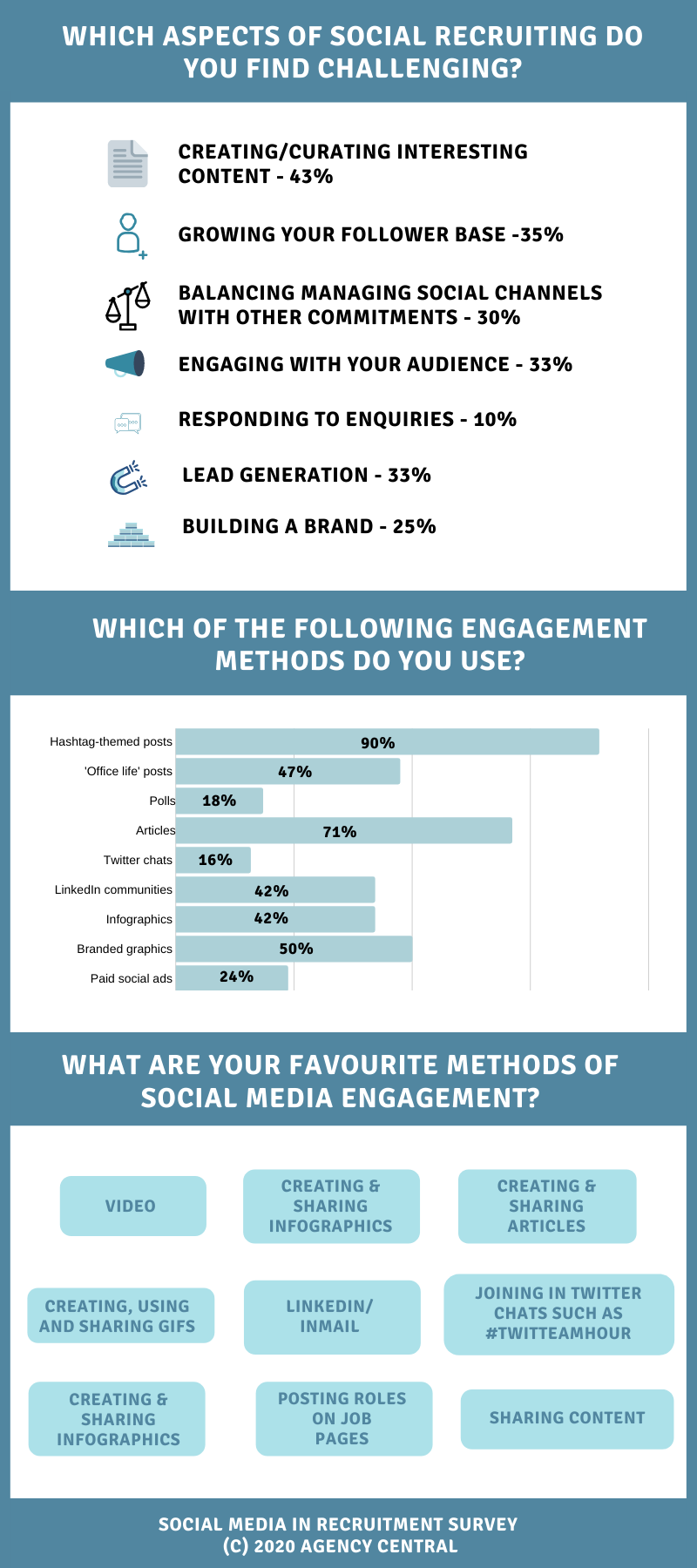 Social Recruiting Challenges and Methods of Engagement
The most common social media challenge faced by our recruitment network is sourcing (or creating) interesting content for their audiences (43%).
Nevertheless, the majority of respondents (71%) attempt to engage with their audience in this way.
The most popular method of engagement is hashtag-themed posts (90%). This involves recruiters and agencies creating posts (often spontaneously) around the latest trending topics.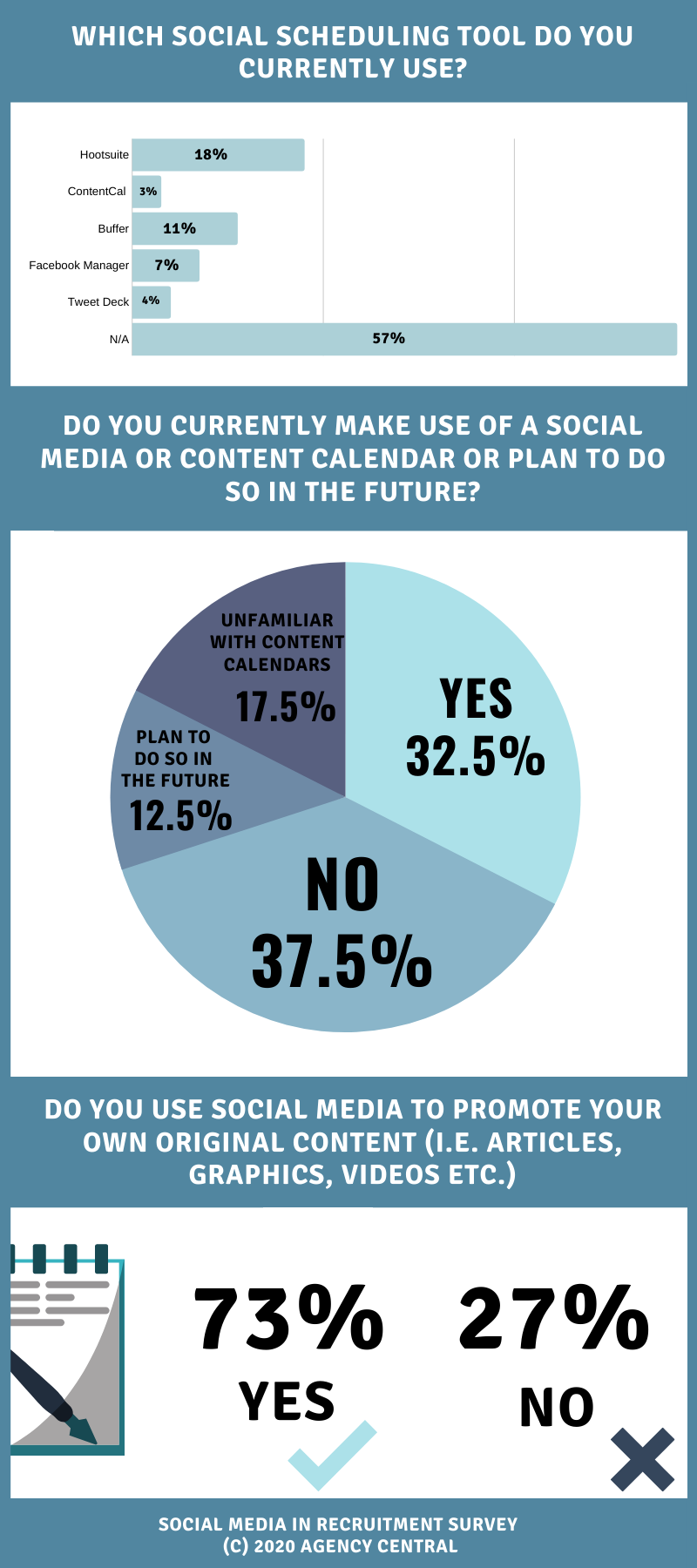 Social Recruiting Tools and Content Strategy
43% of our network use social scheduling tools and the most popular is Hootsuite (18%).
32.5% currently use social media or content calendars, to plan their social media output – and a further 12.5% plan to do so in the future.
73% use social media as a vehicle to promote their own content (i.e. articles, videos and infographics).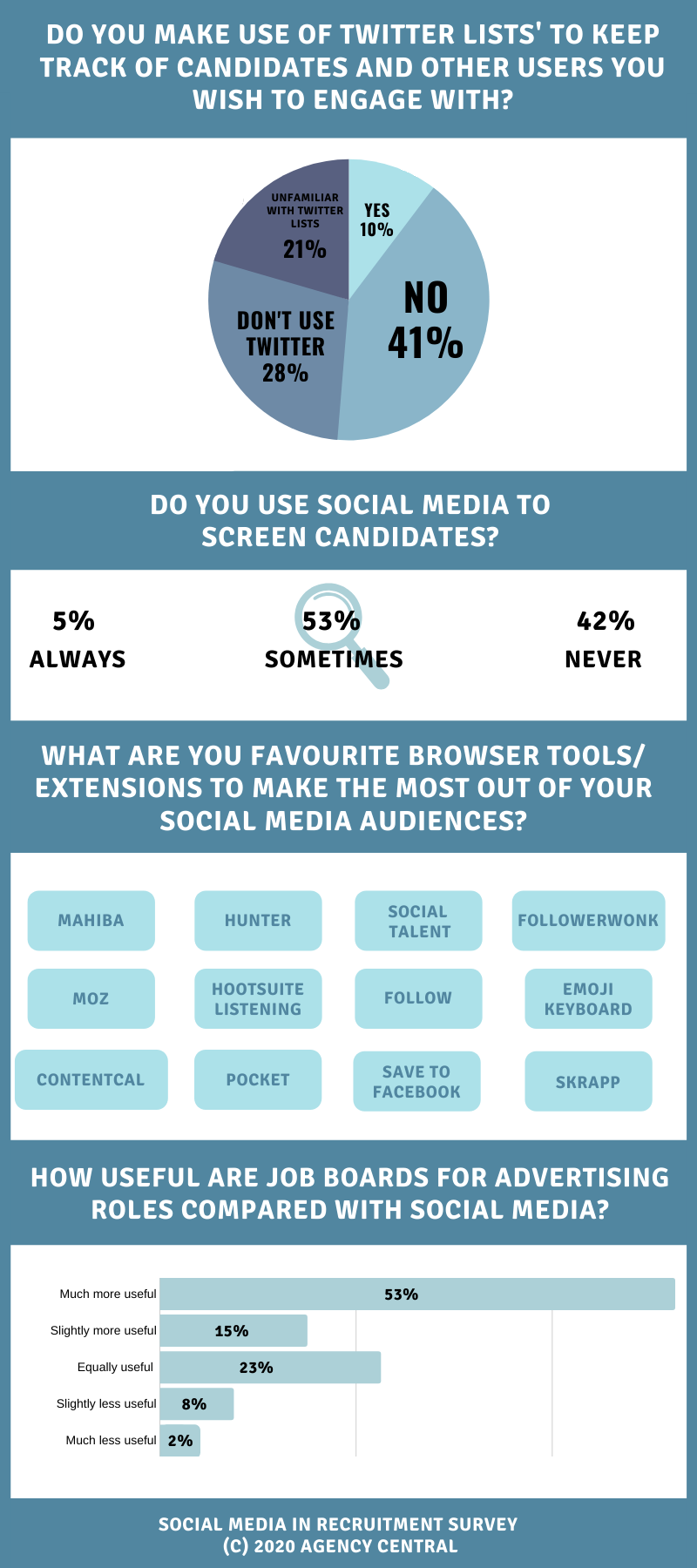 Social Recruiting Tools: Twitter Lists and Job Boards
Only 10% of respondents use Twitter lists to track candidates, clients and other followers they are engaging with.
However, the majority of our followers made use of browser tools/add-ons to make the most out of their social audiences. Their favourites include:
Followerwonk, Hootsuite Listening (Social Listening)
Skrapp (B2B email finder/lead extractor)
Social Talent (Training platform for recruiters)
ContentCal
Save to Facebook (Allows users to curate interesting content to share later.)
Recruiters still tend to prefer job boards over social media when it comes to advertising roles, with 68% stating they were much or slightly more useful compared to social platforms.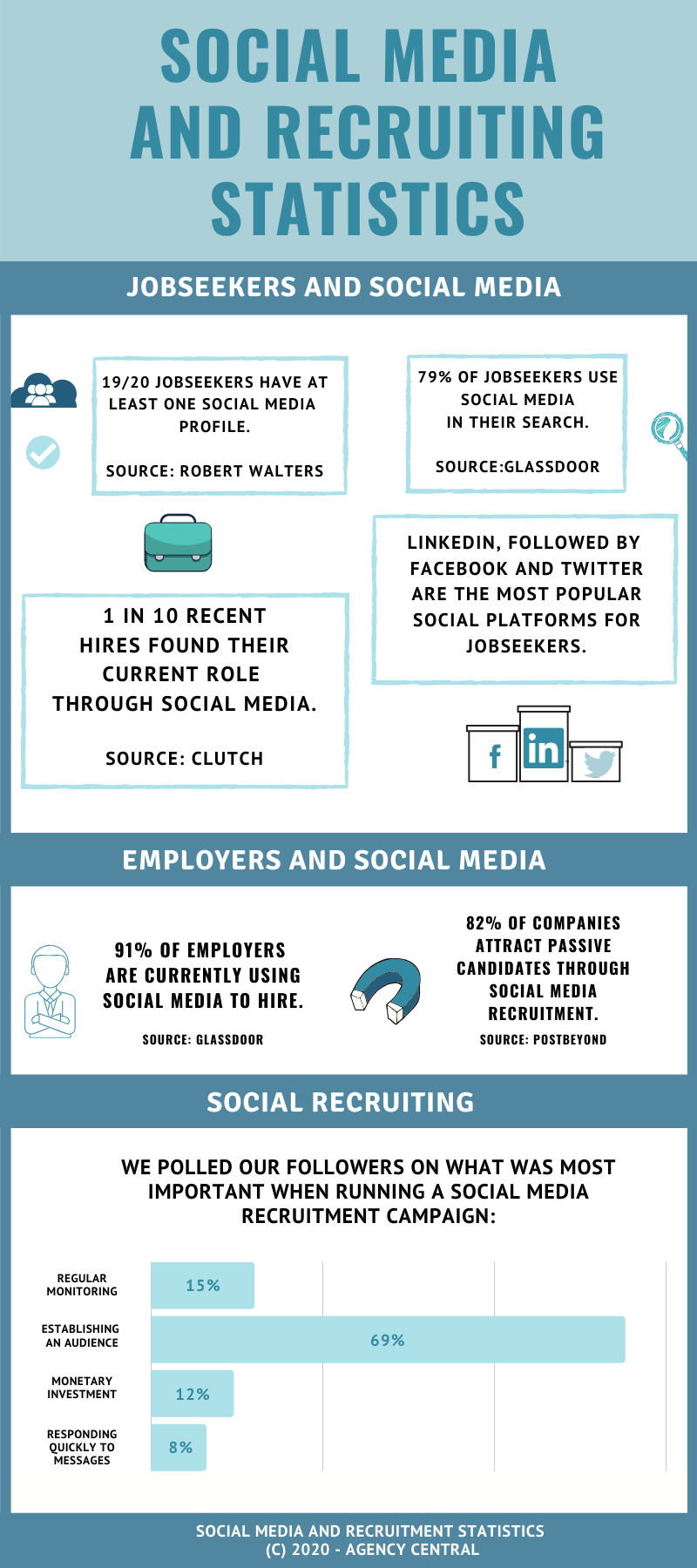 Social Media Recruiting Takeaways:
LinkedIn, Twitter and Facebook have the greatest number of active candidates.
However, many recruiters are also incorporating other platforms such as Instagram into their social recruiting strategies.
Instagram is ideal for engaging with young professionals, with its strong Gen Z user base. Around 75% of 18-24 year olds use the platform.
Our network rated 'establishing an audience' as the most important aspect of running a social media campaign. If you post on social media without an audience, you are essentially throwing your messages into a void.
Social Media Recruitment and Engagement Strategy
Graham English, Marketing Manager at Stafffinders explained how they utilise social media in their recruitment strategy:
"We use Facebook groups and pages to keep our candidates in the loop about the latest work opportunities and we use LinkedIn to talk to clients about all our great candidates. Twitter and Instagram are used to showcase what life is like inside a vibrant recruitment agency.
In short, we bring our 'relationships first' approach to social networking, which is often thinking of new ways to engage followers in purposeful discussions. It is important to get our story across and bring customers on the journey with us."
Infographic: LinkedIn Recruiting Statistics and Tips
With a global membership of 575 million (and around 260 million monthly active users), LinkedIn is the largest professional social networking site. It is the most popular social platform for recruiters, offering a wealth of opportunity to anyone who can successfully engage with employers and candidates.
Let's look at some of the key statistics on this popular platform: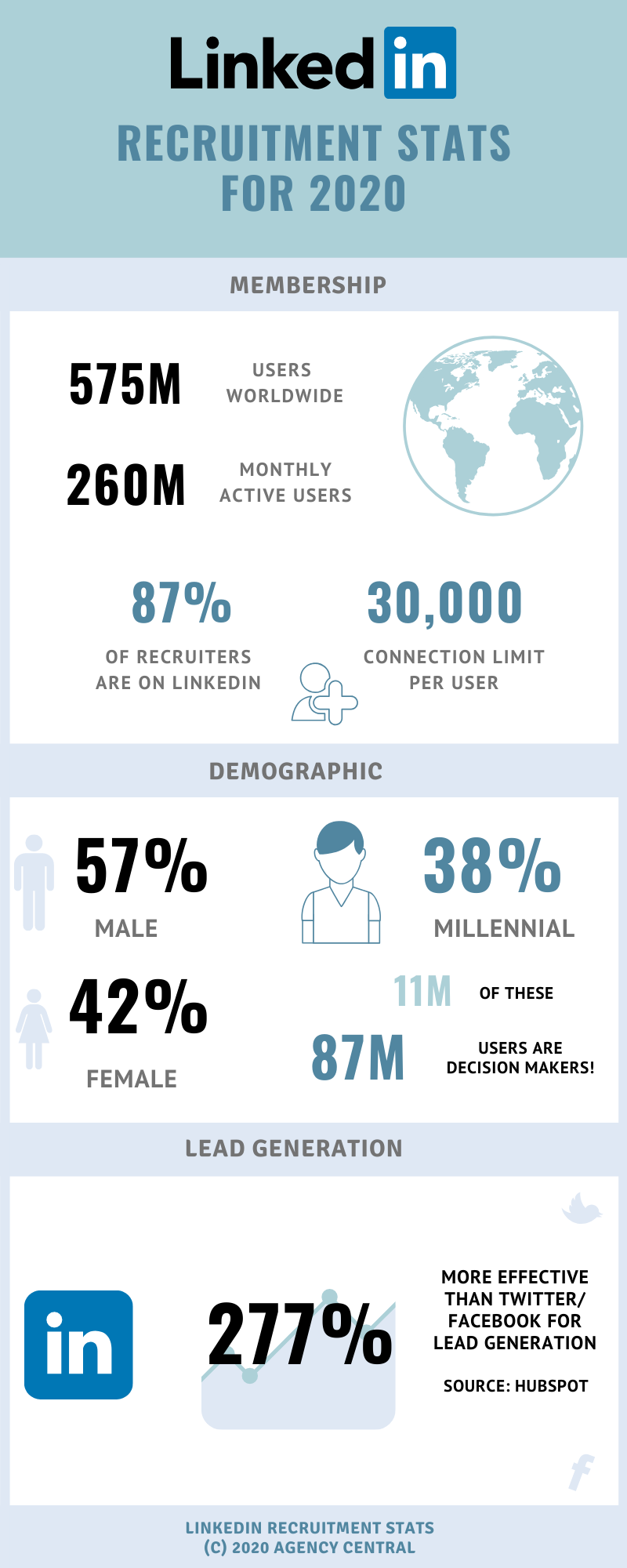 LinkedIn Premium Packages for Recruitment
LinkedIn is free to join and many recruiters, employers and candidates benefit from its free features. However, LinkedIn offers several tiers of 'Premium' membership, which are available through monthly subscriptions. Let's take a look at the most popular packages:
Career ($29.99 per month or $239 annually)
Aimed predominantly at jobseekers.
Send three InMail messages to any user, each month.
Salary insights.
Additional insights on users viewing your profile.
Access to educational and interview preparation materials.
Premium Business ($59.99 per month or $575 annually)
Send 15 InMail messages to any user each month.
Advanced search filters.
Unlimited extended network searches and profile views.
Additional career insights and video courses.
Sales Navigator ($79.99 per month or $779 annually)
Send 20 InMail messages to any user each month.
Advanced search filters.
Unlimited extended network searches and profile views.
Includes lead-building tools.
Real-time insights for accounts and leads.
Sales insights
Lead recommendations (and the option to save leads).
Hiring a.k.a 'Recruiter Lite' ($119.95 per month or $1,199 annually)
Send 30 InMail messages to any user each month.
Recruitment-oriented layout with advanced search features.
Smart recommendations to help you find the right candidates.
Candidate tracking.
'Integrated hiring feature' for an overall view of your talent pool.
If you would like to try out any of these packages, free one-month trials are available.
Tips for Video Recruiting with LinkedIn
When it comes to building a presence on LinkedIn, Kayleigh Ogley, Marketing Manager at Gradient Consulting advises recruiters to incorporate video into their strategy:
"A video, instead of a typical post will allow you to show off your office space and brand, while presenting yourself as a knowledgeable, approachable recruiter. Plus, for those out searching for jobs, it makes the experience much more interactive and enjoyable – better than scrolling through an endless list of adverts!"
Infographic: Content Marketing and Recruitment Strategy
In his famous 1996 essay entitled "Content is King", Microsoft co-founder Bill Gates wrote:
This statement proved to be very prescient, as building an online presence for a business in today is heavily reliant on content marketing. Social media and content creation go hand-in-hand; social platforms are the perfect vehicles for sharing your recruitment message.
Let's take a look at some of the most effective forms of social content and how they can benefit your recruitment marketing goals: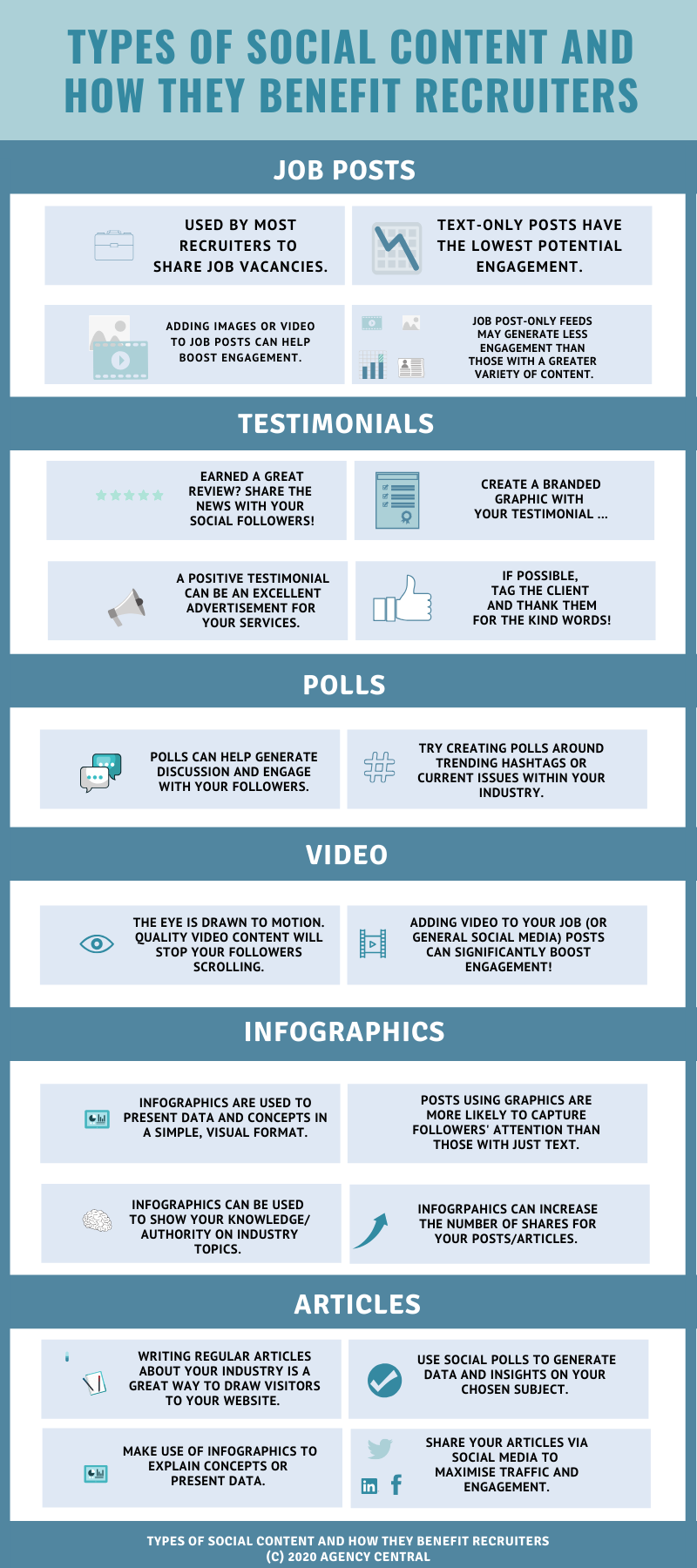 Tips for Engaging with Social Content
When it comes to engaging audiences with social content, Beamrecruit's Director Kerry Swift offers the following advice:
"The start is knowing your goal, what your business has to offer and how this fits with your brand and values. Engagement, encouraging conversation and welcoming people is key.
Consider who your audience is – and how social media looks for them. This will determine the best types of media to use in your posts. Having a clear message and being authentic is also crucial."
With that in mind, let's take a look at how professionals of different age groups utilise social media …
Infographic: Social Media Usage by Demographic:
Social media is now widely utilised by professionals across all demographics. However, the preferred social platforms are likely to vary according to age group. As such, the best way to engage with young graduates would differ from the method for reaching Gen X professionals.
To help you connect with your intended audience, we'll show you how social media membership varies by platform and age range. Then, we'll share some strategies for engaging with different generations …

Social Media Recruitment Tips: Engaging with Different Generations
When it comes to engaging with candidates from different generations on social media, Busy Bee Recruitment's Marketing Executive Emily Fuller offers our readers the following tips:
Generation X
"Generation X relies heavily on trust, which is why your services should always be segmented to their needs. To engage with this generation, make sure to maintain your CRM system (text, phone calls or emails) or book meetings for extra engagement. Unlike millennials you cannot catch Generation X at any time, as they are less active online."
Millennials
"To engage with millennials, I suggest promoting the companies' culture and benefits, increasing your social media presence and only promoting roles across certain channels. You can catch this generation at any time as they are very active on social media!"
Generation Z
"Gen Z candidates are the easiest to engage with, as they have grown up with the internet and social media. Make sure to advertise your services as a 'want' and a physical need. Try and make your marketing intriguing to the eye so they have to engage with you for advice and answers. For job adverts make sure they are detailed, exciting and not too long. "
Infographic: Timing is Key – When to Post on Social Media
If you want to get the maximum return on investment for your social media efforts, you need to pay attention to the times you are posting. The optimal days and times to post for engagement vary depending on the platform.
Here is a quick guide to the key times for each major platform: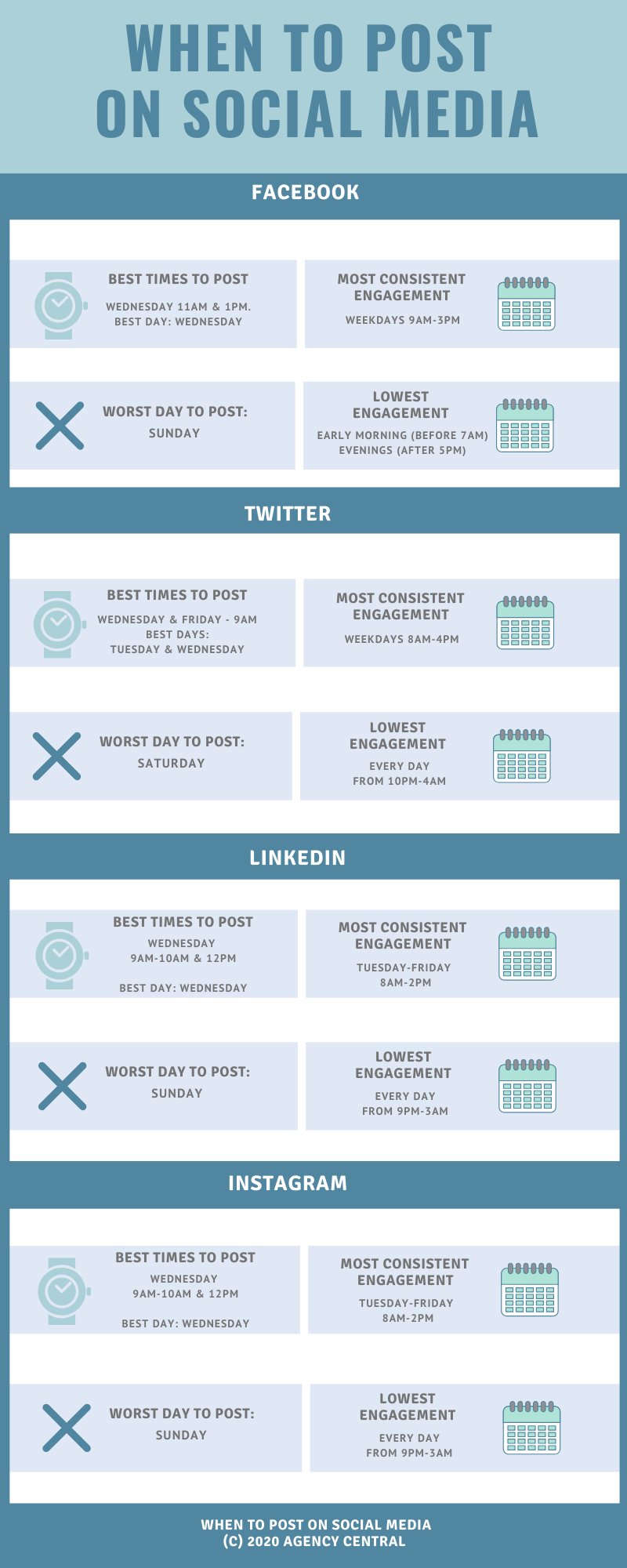 For more detailed insights on when to post on specific topics for each platform, refer to this in-depth guide by SproutSocial.
Predictions for the Future of Social Media
In 2020 and beyond, forward-thinking marketers will find ways to engage with audiences over newer platforms such as TikTok and Byte and refine their strategy for more established platforms.
According to research from Hubspot, 92% of marketers utilising video say it's an important part of their strategy. We expect this trend to continue and recruitment marketers to be challenged to find new, innovative ways to engage through video.
Technologies such as VR and AI will enable brands to deliver engaging, immersive experiences to followers. We're excited to see what applications they may have in social recruiting. Perhaps recruiters will be able to offer candidates virtual tours of potential workplaces?
The Future of Social Media Recruiting
So, how might the ever-changing social media landscape shape the future of recruitment? Here's what David Berwick, Director at Adria Solutions had to say:
"We have noticed a definite change in candidate behaviour in recent years. Due to the current skills shortage we're experiencing, candidates don't actually need to apply for jobs. In fact, the highest calibre candidates are often passive candidates who wait for recruiters to come to them. It is for this reason, we predict that in the next 5-10 years, more positions will be filled as a result of conversations happening on social media vs traditional job applications."
How do you think social media will change the way we recruit in the years to come? Leave your thoughts in the comments below. We look forward to reading your ideas!