Teachers. The very word evokes envy from some quarters. We've all heard opinions: 'school starts at 9am and finishes at 3.30pm – I'd work for that', 'you get 13 weeks' holiday each year', 'you're out of work more than you're in'.
Why, then, is the education profession facing a potentially catastrophic shortage? It's not unexpected that there are sectors facing a shortfall – there has been a UK skills shortage for some time. But, if all of the above are true, why is education suffering?
The obvious answer is that those statements are based on perception, rather than hard truths. Here, we discuss the factors that are contributing to the skills shortage and making it more difficult for schools to recruit.

Extent of the education skills shortage
Put simply, the Department for Education (DfE) faces one of its greatest challenges; figures released show that although the profession is still attracting teachers, there are almost as many leaving.

Plenty more are planning to leave, and significantly, recruitment targets are not being hit.

The National Audit Office (NAO) released its Training new teachers report in February, which revealed the concerted efforts being made to recruit, yet also laid bare the failings of the process.

Annually, the government is spending £700 million on recruiting and training teachers, without meeting recruitment targets.
One of the country's major teachers' unions, NASUWT, told us that a combination of reasons mean the spending is making no difference to the developing crisis.

"The fact is that not even that level of expenditure can compensate for government policies which have made the profession so uncompetitive and unattractive, generating a teacher supply crisis."

Teacher numbers in the UK

The number of full-time equivalent (FTE) qualified entrants to teaching actually increased from 38,300 in 2011 to 45,810 in 2015, while the entrant rate in that time went up by 1.5%.

However, those four years have also seen a rise in teachers leaving the profession – it was 43,070 last year, up from 2011's 37,890.

Despite more teachers entering the profession than leaving, it is still behind the number that is required, based on projections.

The NAO believe that "there are signs that teacher shortages are growing."
This seems to bear fruit when you consider that the number of people leaving the profession is increasing for primary and secondary teachers.

It should be said that this includes people who are retiring too, but the occurrence of leavers who aren't at retirement age is on the rise.

The number of vacancies is also increasing. Between 2011 and 2014, vacancy rates have gone up from 350 to 1,030. Temporarily-filled positions have also gone up by almost 2,000 and significantly, the DfE acknowledge that these numbers are "unlikely to reflect recruitment difficulties fully."

Recruiting is proving difficult for many subjects, with 14 of 17 left with unfilled places in 2015 / 16. Just five years earlier, this number was a meagre two.

The only subjects that saw training places filled were English, History and PE.

Problems in hiring were reflected in a National Association of Head Teachers survey, which showed that 58% of respondents had struggled to recruit newly qualified teachers. 10% failed to do so altogether.

Teachers planning to leave the education sector
As recently as October 2016, figures confirmed by Schools Minister Nick Gubb in a written parliamentary answer to a question posed by the Liberal Democrat MP Greg Mulholland, highlighted the retention rate of newly qualified teachers over the last five years.
Of the 24,100 who qualified in 2010 and started working in state schools, 30% had left the sector by 2015.

The pattern over the last five years suggests that on average, 13% of teachers leave their roles after one year in the job, and by three years, almost a quarter have given up.

It shows the almighty challenge that the government faces. If teachers have gone through the intense year of training and find that the profession isn't to their taste, clearly something is wrong.

The NASUWT spokesperson was clear that other jobs reward employees better than teaching currently does:

"Skilled and experienced teachers are leaving the profession, the market for graduates is intensifying and potential recruits are finding jobs in other graduate occupations which better reward their talents."

We'll look at some of these reasons later on, but if teachers are leaving the profession regularly, it puts bigger pressure on hitting targets to recruit trainees.

Unfortunately, the government has been found wanting.
Recruitment of teachers
The National Union of Teachers (NUT) believes there is "increasing evidence of a crisis in teacher recruitment and retention."
Therefore, it is concerning to see that recruitment of postgraduates into teacher training is failing to meet targets.

The number of avenues open to potential teachers are plentiful, with training opportunities provided through Higher Education Institutions (HEI) such as PGCE qualifications, School Centred Initial Teacher Training (SCITT), as well as Schools Direct and Teach First courses.

Even with these however, recruitment targets have been missed for the past four years. As you can see, since 2010 / 11, the percentage of places filled has decreased as a percentage with the targets set out in the Teacher Supply Model (TSM).

The TSM number estimates the number of teachers needed in relation to increasing pupil numbers and estimates of teacher flow.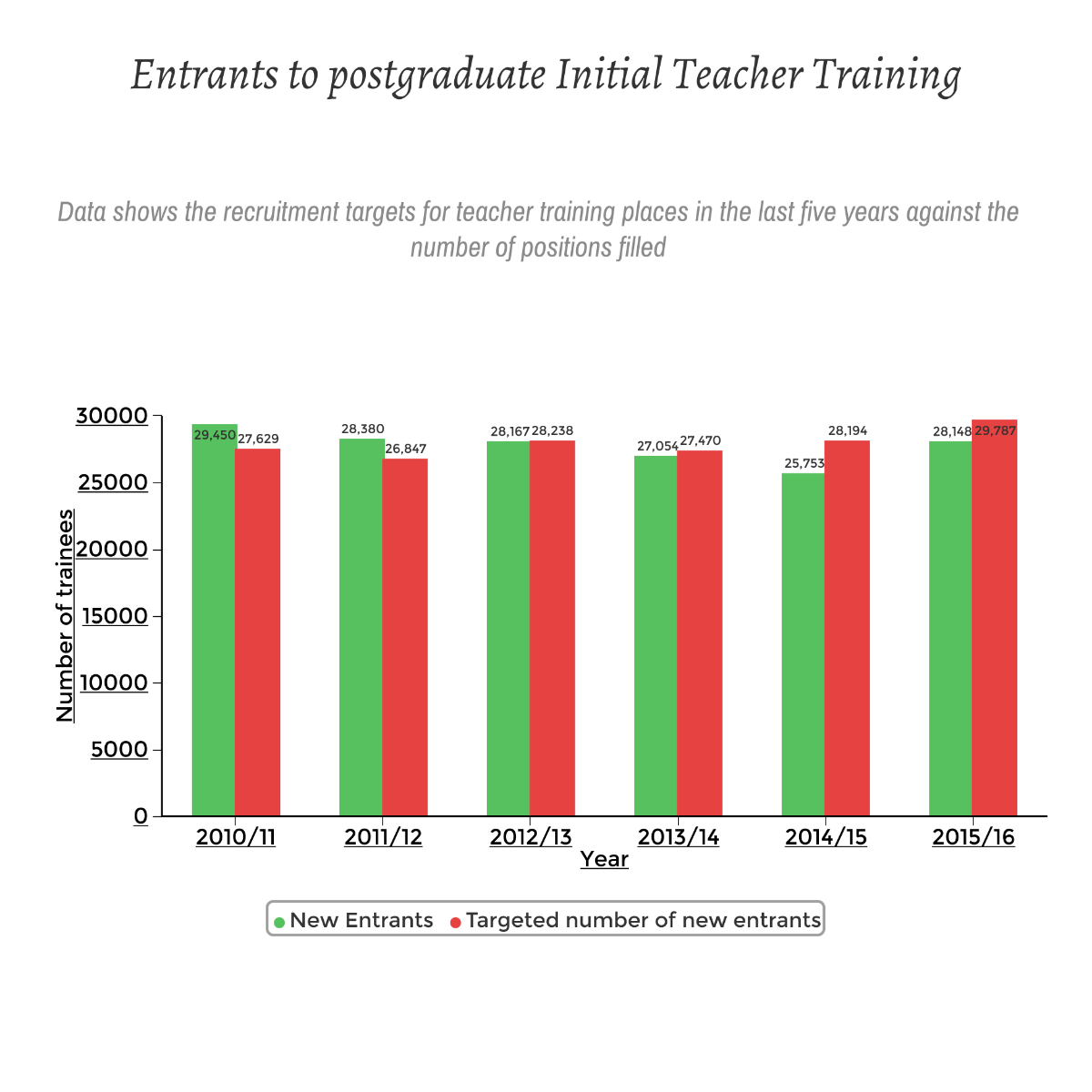 Although the number of new entrants onto postgraduate training went up in 2015/16, 6% of places were left unfilled.
In particular, the number of entrants onto secondary programmes is worrying. Since hitting its 2012 / 13 target, the percentage of places filled has decreased. It led to a larger target of entrants last year and although 12,114 training places were filled – 2,000 more than the year before – the overall percentage was markedly down to 82%.

The teacher shortage in education – especially at secondary level – is being keenly felt. An NUT leaders survey showed that 73% of respondents are experiencing difficulties in recruiting teachers – with maths, science and English causing the biggest problems.

It's leading to a rise in unqualified teachers and in those subjects mentioned above, more and more lessons are taught by teachers without the relevant post-A-level qualification.

The need for teachers for these subjects is underlined if you look at the government's Tier 2 Shortage Occupation List, which was approved in November 2015.

Within this, there are a number of jobs in a variety of sectors listed. The secondary education teaching professions of maths and science – specifically physics and chemistry – are listed as occupations suffering from the shortage.
In 2015 / 16, only only 746 of the 1,055 postgraduate training positions in physics were filled, while maths, and other science subjects missed targets.

Missing recruitment targets in secondary schools is bad news for the future of the industry because the population increase of young children means those in primary will move on to secondary in the next few years.

As it stands, secondary school pupil numbers are predicted to increase by 9% in the next five years, and even more so in the five after that.

It hammers home the pressing demand for teachers in secondary schools and these figures are a stark warning to the DfE.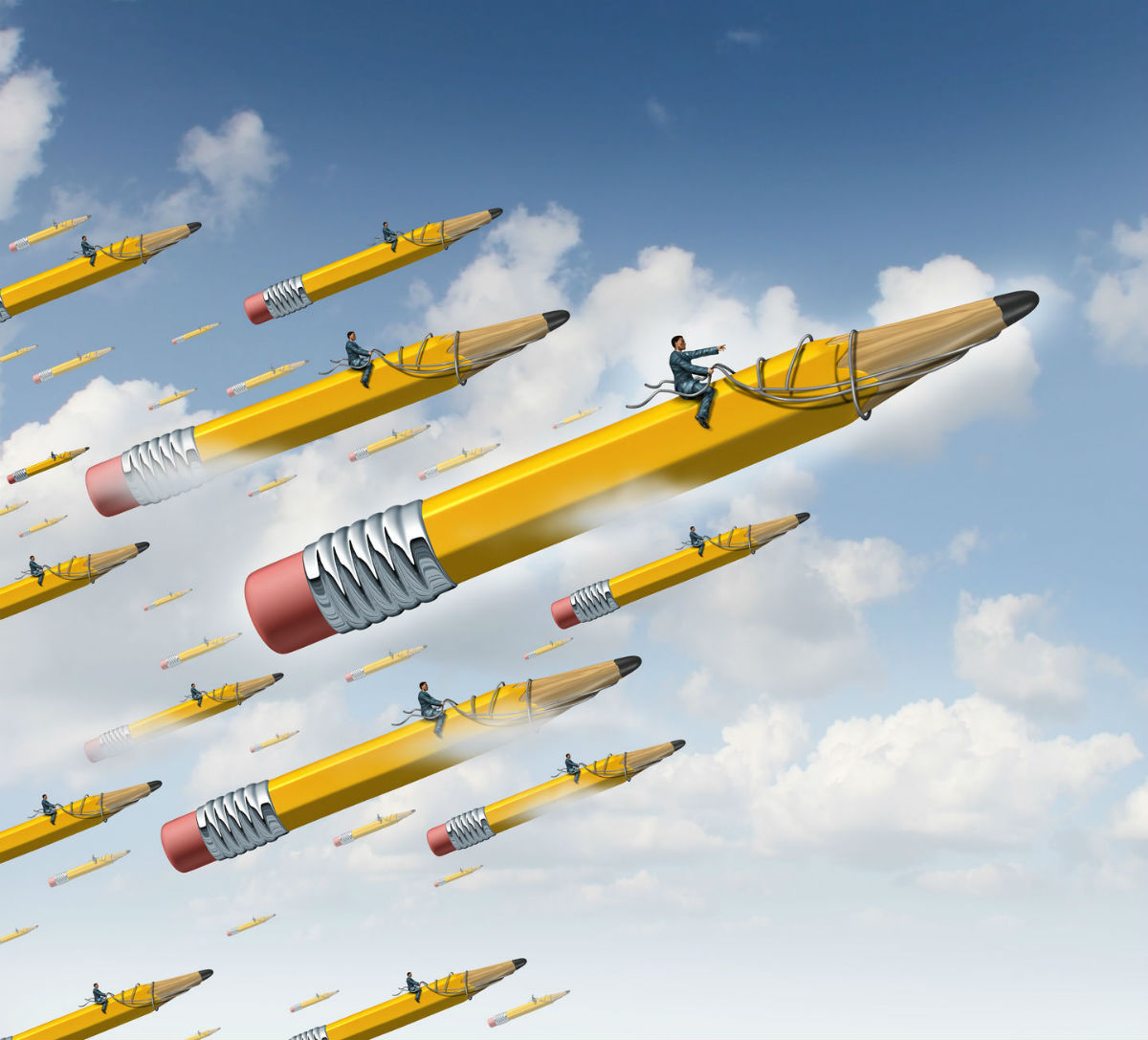 Why are people leaving the education sector?
Worryingly for the industry, missed recruitment targets are not the only contributing factor to the teacher shortage in the UK.

As we have seen, teachers are also leaving the profession with alarming regularity; the reasons for this are wide and varied.
Stress of working in education sector
One of the common answers for those in the industry looking for alternative employment was the impact of workplace stress.
According to the NASUWT's own survey that took into account the experiences of more than 12,000 teachers in England, 90% claimed workload was their major concern.

It is a similar story from NUT findings, as value of workload and better work/life balance are the major reasons why their members consider leaving teaching.

A higher workload is inevitably followed by more working hours because public sector funding restraints mean further hires are just not possible. As a result, a classroom teacher's average working hours range from anything between 48 – 59 hours per week.

More than 80% have experienced a rise in workplace stress in the last 12 months according to the NASUWT, many of whom are considering not just leaving their job but the whole profession.

The extra pressures all this brings has also negatively affected the mental health of teachers, which shows just how serious a problem the stress factor is.

An article in the Guardian earlier this year interviewed headteachers who spoke of "12 hour days, five days a week, and then bringing work home."
This leaves the teacher with no time for personal and family life, something not lost on the NASUWT who quoted a recent Warwick University Institute study:

"I think what will happen is there will just be a rolling programme of newly qualified teachers starting, lasting two years, getting burnt out, then another group coming in."

This quote came from a young female teacher who thinks this is the only available method because the workload and stress is unmanageable.

"Another young teacher teacher said that the general feeling among her friends was that teaching was only sustainable because none of them had children or families but if they did, this would change.

"The level of burnout is going to increase; it's getting to the point that you just can't maintain it, all the changes, the culture, everything, it's just exhausting."
Salaries in the education sector

Headteachers looking to recruit are finding that the salaries on offer are not enticing enough teachers in and are also a factor in making current employees reassess their positions.
As we have discussed, public sector funding has been frozen and with the number of pupils rising – thereby becoming the priority – it limits the sector's ability to pay teachers more.

It can be an extremely well paid profession; currently, new entrants earn £22,500, rising incrementally to £33,160. Those new starters working close to, or in London, start on more than this. Experienced teachers can earn even more than this.

However, salary increases are currently capped at 1%, which has led to previous strikes in protest. From our own study, we know how stressful a teacher's job is. When the extra hours are 'complemented' by such a level of pay rise, it makes teachers think twice about their career choice, bringing the skills shortage into acute focus.

The importance of this was highlighted in July by the School Teachers Review Body (STRB) who told the government that a "significantly higher" increase is required to retain and recruit teachers in the coming years.

Education recruitment agencies also see the problem with meagre pay rises. In a BBC article this year, a recruiter explained that since the upturn in the economy following the recession, teachers have been able to get better pay by teaching privately or abroad, or in some cases, by completely changing career.
It adds another layer of pressure for schools trying to fill teaching vacancies.
How can the education skills shortage be reversed?
The answer to this conundrum is undoubtedly a complicated one. There are a whole host of different routes into the profession. Bursaries are offered depending on level of degree.

For subject shortages such as maths and physics, trainees can earn tax free bursaries of £25,000. Even in areas such as primary, that hit recruitment targets in the last school year, up to £9,000 can be provided in the space of 10 months.

Student loans are also available for postgraduates, who will pay back in their monthly wage, much like the undergraduate system.

Indeed, there's a planned spend of £167 million next year on bursaries, so the commitment is there to alleviate UK teacher shortages. However, more needs to be done.
Regional recruitment targets
The DfE currently takes a national approach when recruiting trainees; although there is commitment to hitting targets, it inevitably means intricacies at the local level are missed.

The NAO concluded that "the Department has a weak understanding of the extent of local teacher supply shortages and whether they are being resolved locally."

Latest figures show that the number of trainees recruited per 100,000 pupils fluctuated wildly by region.
For instance, there were 547 trainees recruited in the north west in 2015 / 16 for every 100,000 pupils, compared to 294 in the East of England.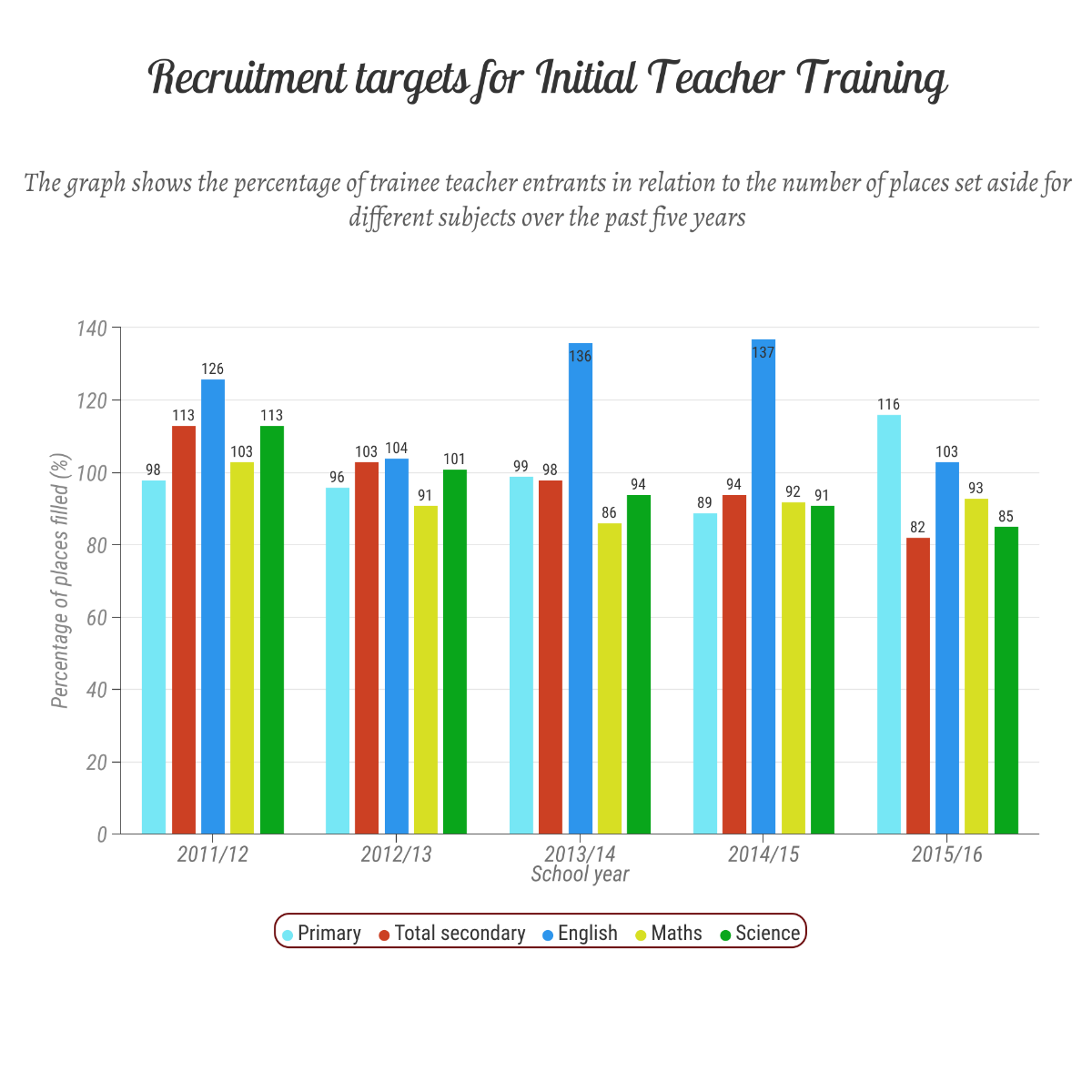 How does this take into account the areas that have the teaching shortages? Let's say for example that the East is struggling for teachers, wouldn't it make more sense to focus recruitment drives and locate providers for this area?
The Department may hit national targets but how do they know the regions are being serviced with the number of teachers required? It stands to reason that in teaching especially, employees tend to secure a job near where they have trained.
This could easily leave regions with huge shortfalls.
Courses providing teacher training should surely be focused in the regions that need them the most. According to Ofsted, "isolated schools struggle to attract and retain enough teachers of the right calibre."
A regional focus would go some way to preventing this.

How big a challenge faces the education sector?
More recruits needed, teachers leaving regularly, targets missed, and a stressful job. It's clear that the government and the DfE have a huge challenge on their hands.
The NUT added: "The government can ill-afford to lose valuable teachers at any time, but especially not in the present context of sharply rising pupil numbers."
It really is a shame because more than anything, people choose this career because of their love of helping children, yet when that passion is overridden by the stress and unfeasible working hours, you have a situation like the UK does.
Changes in the national curriculum haven't helped, with 55% in the NASUWT's survey declaring this as one of the major concerns; pupils are expected to know more at a younger age, and take exams at a younger age.
Implementation of the alterations is still taking place. While the majority were introduced in September 2014, the start of each year has seen other changes brought in, with the new science curriculum coming into force in September 2017 for year 11 students.
As has been discussed, regional changes need to be made to hit recruitment targets, but just as importantly, looking after staff already in employment and making them feel valued is vital if the education skills shortage is to be successfully addressed.
The final word should go to one of the country's foremost teacher's unions. The NASUWT explain exactly what needs to happen.
"If the Prime Minister is to deliver on her stated ambition to tackle inequality and to ensure that working people are treated fairly, she must address the consequences of government policy, unintended or otherwise, on the teaching profession.
"The Education Minister, Justine Greening, has the opportunity to build on the Prime Minister's words and make them a reality in the education service by starting to value, support and invest in the teaching workforce which enhances the life chances of children and young people and makes an essential contribution to the economic prosperity of the country."