Tell me, how many social platforms does your recruitment agency use?
Hopefully the answer's at least one, but maintaining an active profile (or multiple) can be challenging – especially if you're short on time or expertise.
Want a better way? Then read our guide to the best social media management tools for recruitment agencies.
TweetDeck
If your social media marketing is going to be centred around Twitter, then you can't ignore TweetDeck. With it, you can see your entire Twitter activity all on one screen (including direct messages, notifications and lists). You can also track hashtags or particular words and phrases.
Key features
Use with Twitter.
Schedule tweets to go out at optimum times.
View multiple Twitter feeds from one dashboard.
Manage more than one Twitter account.
Track keywords and hashtags.
Monitor other social accounts – such as competitors.
TweetDeck for recruitment agencies
When trying to develop a strong social media presence, it can be best to focus on one platform first – rather than spreading yourself thinly across two or three. This will make it easier to build a following on other networks.
For many, Twitter is the place to start, which means there's only really one platform to turn to.
TweetDeck allows recruiters to do a whole range of things – from social listening to seeing how much interaction a job advert is getting. It's ideal for interacting with candidates and basically just helps you get the most out of Twitter.
Plus, with less than half of UK recruiters utilising Twitter (an Agency Central survey told us that LinkedIn is the most popular network for recruiters), TweetDeck can establish your agency as an industry influencer in a larger, but less competitive space.
The best thing, though? It's absolutely free!
---
Buffer
Buffer is one of the most popular management platforms in the market – and it's not hard to see why. It's user-friendly, easy on the eye and arguably the best tool for scheduling. It isn't feature rich, but it's great at what it does. It also has a free (albeit limited) plan, so you can try before you buy.
Key features
Use with Facebook, Twitter, LinkedIn, Instagram. Pinterest.
Manage multiple social platforms from one place.
Create a posting schedule and queue posts.
Schedule content straight from your browser.
Add team members and set permissions.
Create analytic reports for managers.
Buffer for recruitment agencies
Building an online brand requires consistency and time. This is typically in short supply for recruiters, but Buffer can ensure that your agency's social media account doesn't fall dormant.
As a scheduling tool, Buffer may be the best there is. As well as setting individual times for posts to go out, you can create a posting schedule and queue posts straight from your browser (great for when you come across something interesting online). Oh, and it also has a dedicated app, which makes scheduling on the go even easier.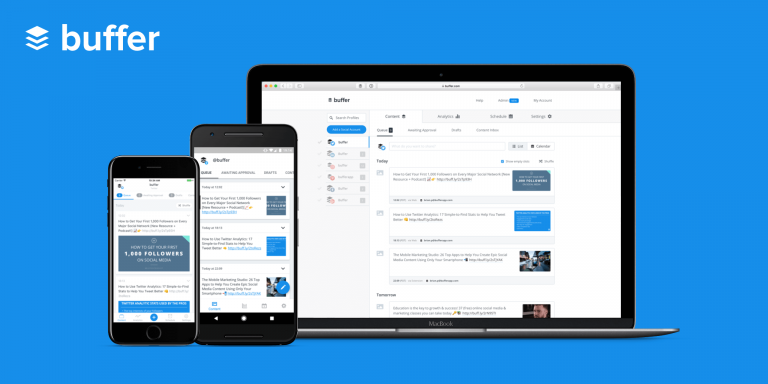 But why is this so important?
Before deciding to make contact, there's a fair chance employers will check your social media feeds to make sure you're active. Infrequent posting can be a turnoff, as can inconsistency over tone or content.
With many recruitment agencies being sporadic in their social media use, using something like Buffer can really set you apart from the crowd.
---
Agorapulse
Agorapulse is a feature-rich piece of software that will enable your agency to embrace social listening, engagement and branding. The price is probably its biggest selling point. The different plans on offer are a fraction of the cost of some of the better-known platforms.
Key features
Use with Facebook, Twitter, LinkedIn, Instagram, YouTube.
Upload content and posts en masse.
Manage Facebook ads comments.
Profile followers.
Respond easily to messages with Inbox Zero.
Automatically re-queue tweets.
Agorapulse for recruitment agencies
Ever wondered how your social media performance stacks up against other recruitment agencies?
Unlike something like Hootsuite, Agorapulse gives you access to your competitor's metrics on Facebook, Twitter and Instagram.
Want to know whether other agencies are getting tweet interactions? Or how many times a day they post? Agorapulse gives you all this information and more, allowing you to benchmark your social success against the rest of the recruitment market.
We know that recruitment agencies are becoming more influential on social media, but by using AgoraPulse, you can make sure that you don't fall behind the rest of the field.

---
Hootsuite
With more than 10 million users worldwide, Hootsuite is arguably the biggest social media management platform out there. It's feature packed and allows you to do everything from content curation to post scheduling.
Key features
Use with Facebook, Twitter, LinkedIn, Instagram, Pinterest, YouTube.
View all social platforms from one dashboard.
Simultaneously post to multiple social platforms.
Schedule hundreds of posts at a time.
Track key terms and accounts.
Assess social media performance performance with detailed analytics.
Hootsuite for recruitment agencies
Recruitment agencies can't really go wrong with Hootsuite. It's a comprehensive piece of software that's solid on all fronts.
James Lane, a Social Media Trainer and Hootsuite Brand Ambassador, explained to us exactly how he thinks Hootsuite can benefit recruiters. He said:
"Hootsuite works awesomely for recruitment agencies by delivering the powerful tools you need under the hood, while at the same time empowering your agency with features to help you manage your digital brand from one dashboard.
Industry-leading scheduling tools, AutoSchedule and social listening tools mean that you can communicate much more effectively with your community as well as hearing what they're saying too.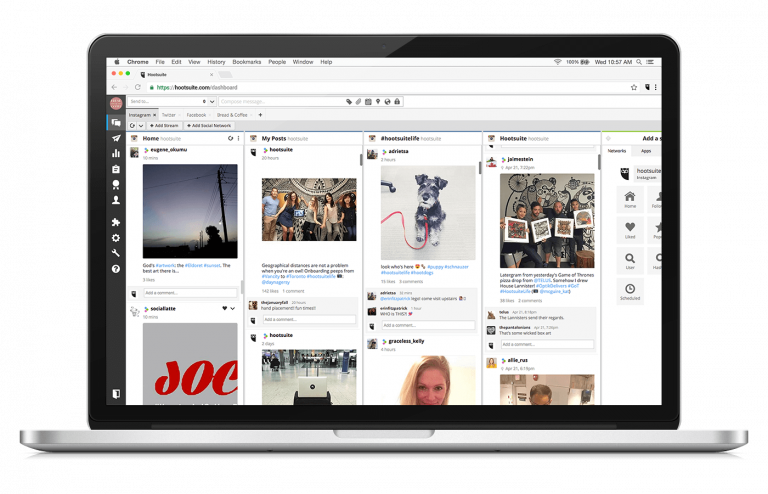 Imagine being able to see conversations happening, in key target areas, based on topics that are unique to you. So, someone Tweets that they need a new job, boom – you're there. Someone mentions 'Monday blues' – you're on it. An organisation talks about growth plans – you're first to respond."
As you can see, Hootsuite gives you a full arsenal of features, ensuring that you'll never miss an opportunity to engage with leads or manage your agency's brand.
---
CrowdControlHQ
If you're looking for an alternative to Hootsuite, then CrowdControlHQ might just be the answer. This complete tool is incredibly user-friendly and great if your social media is managed by a team.
Key features
Use with Facebook, Twitter, LinkedIn, YouTube, Pinterest
Get performance insights with reports and analytics.
Schedule posts to go out at optimum times.
Target posts at the right audience.
Protect your brand with post approval.
CrowdControlHQ for recruitment agencies
Crowd Control is a good all-rounder and recruitment agencies can use it to social listen, target particular audiences and develop a super social brand.
When we asked how a tool like this could specifically benefit recruitment agencies, Dan Aston, Marketing Manager at CrowdControlHQ, told us:
"Social media is a great enabler for agencies and recruiters to build real relationships with both clients and candidates, and reach people at a scale that's just not possible with other channels. It is the starting point for today's professionals when it comes to exploring for new career opportunities – just look at the huge popularity of LinkedIn for example, and the importance of having an active and up-to-date presence.
Social media tools like CrowdControlHQ allow you to share posts such as job roles that are targeted to users located in a specific geographic region, have a certain interest, or other relevant demographics.
Social listening is another powerful feature that allows agencies to monitor social conversations for any mention of a specific keyword or phrase, and then join in those conversations to share relevant information or answer questions."
---
Sprout Social
Sprout Social is similar to Hootsuite and offers most of the functions you'd expect of a comprehensive management tool. The analytics and reports features are what really separate it from everything else, allowing you to see how well your recruitment agency is performing on social media.
Key features
Use with Facebook, Twitter, LinkedIn, Instagram, Pinterest
See all incoming messages in your social inbox.
Produce eye-catching reports.
Add contact details and communication threads into a CRM.
Search for Twitter conversations with the Smart Search function.
Sprout Social for recruitment agencies
While social media offers a range of benefits to recruitment agencies, it can often be difficult to measure performance.
Sprout Social can really help here, with its rich analysis and reporting features. Molly Jones, Employee Experience Lead at Sprout Social, told us: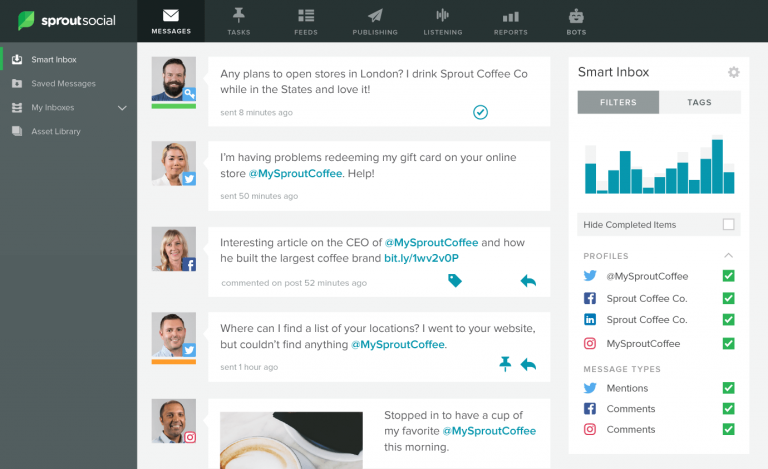 "Using a social media management tool to uncover the performance of your social media posts can illuminate how well your employer brand and recruitment marketing strategy is working to support your goals.
Sprout's robust reporting suite can help identify KPIs such as how many shares and engagements your social content receives, how many visits social drives to your site and how you stack up against your competitors."
So if you're worried that social media marketing can't provide measurable results, then Sprout Social might just deliver the numbers you're looking for.

---
SocialPilot
Another alternative to Buffer and Hootsuite, SocialPilot is relatively new to the market and great if you don't want to make a big investment. It comes at a fraction of the price of some of its counterparts, but still ticks most of the boxes.
Key features
Use with Facebook, Twitter, LinkedIn, Pinterest.
Connect 50+ social accounts.
Analyse social media performance with PDF reports.
Stay on top of all conversations with the Social Inbox.
Bulk schedule up to 500 posts at a time.
SocialPilot for recruitment agencies
Taking the social media leap can be daunting, especially if you're going to have to learn as you go.
While you may have read all about the benefits of using a social media management tool, you might still be unwilling to invest in one – after all, they can be pricey.
Fortunately, SocialPilot offers low cost plans to get you started.
For $25 per month, recruitment agencies can get everything for brand building, reputation management and lead generation.
This is an incredibly priced product that's perfect for small or medium-sized agencies. Users comment that the reporting features aren't as in-depth as others, but this a small sacrifice.
---
Have we missed anything?
This list is by no means exhaustive and there are plenty of other platforms on the market that might make managing social media that little bit easier.
If your recruitment agency uses a social media management tool that didn't make our list, then why not tweet us and let us know?