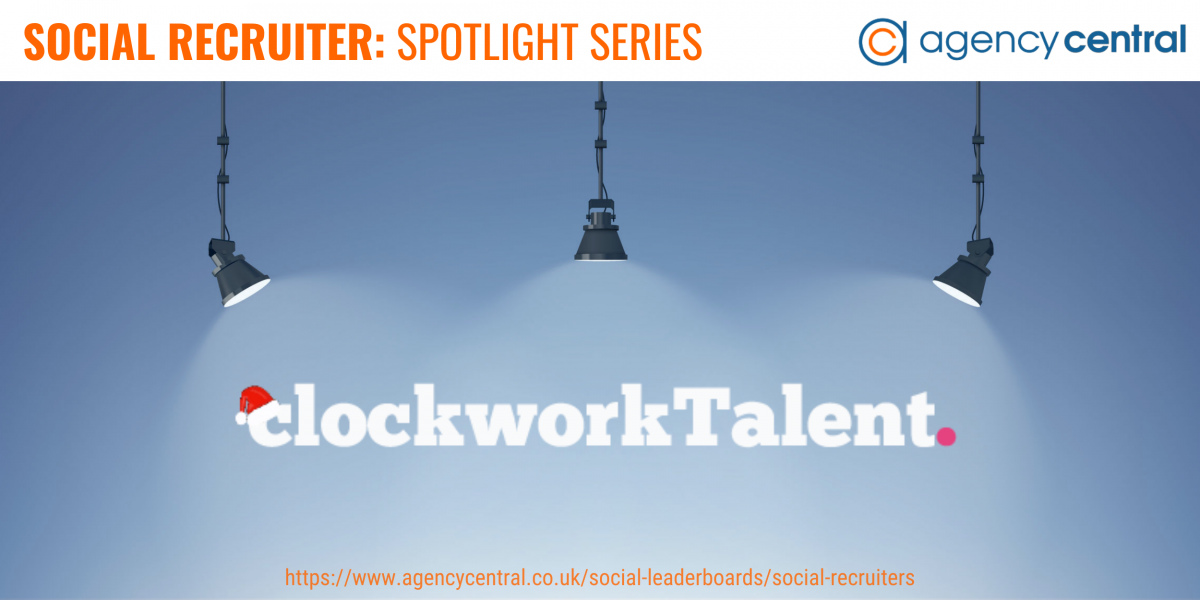 Social Recruiter Spotlight: who are clockworkTalent?
Our Social Recruiter Spotlight series is profiling the agencies that are really excelling on social media (and our Social Recruiter Leaderboard!).
Next up are clockworkTalent, a team of recruiters that specialise in sourcing top talent for the digital marketing sector - both at home and abroad.
We caught up with them to find out a little about their social media journey and what it is that makes clockworkTalent unique.

What inspired you to join the #SocialRecruiter Leaderboard?
We strive to be the best at everything we do and believe a bit of healthy competition can bring out the best in everyone! We like to look and learn from the other businesses at the top of the leaderboard and hope they might learn a little from us, too!
Tell us a little about your #SocialRecruiter journey
The humble beginnings of clockworkTalent grew from a mass outcry: "Why are recruitment agencies so rubbish?!". Woodford siblings Jason and Natasha, as well as the much respected digital marketer, Kelvin, decided enough was enough. The current service offered by recruiters was not providing a quality service to our sister agency, SiteVisibility, let alone the digital industry.
With two brothers working in digital and Natasha bringing over 20 years in headhunting, it was a no brainer for clockworkTalent to form as an offering of best practice recruitment services to global and British brands and agencies across the online industry.
Five years on, we're steadily maintaining a Top 10 position on the #SocialRecruiter Leaderboard, but more importantly, we've been hiring for jobs in digital marketing and eCommerce. It's with great pride that we work with a vast range of global corporate brands like Adidas and TUI, to British companies like NHS Professionals, Hotcourses, The French Bedroom Company, MindTools and Crunch. Not forgetting the industry leading agencies like our own SiteVisibility, SEO tool creator - Screaming Frog, Australian SEO agency- In Marketing We Trust, Builtvisible, Distinctly and many more.
What do you enjoy most about social media, and why?
With digital marketing at the backbone of what we do, we try to practice what we preach. We enjoy using social media as a communication platform, conversing with our audience who essentially are our talented job seekers and employers. But we also love sharing our office antics on Instagram, chatting online to people we meet at conferences, learning from other digital experts on LinkedIn and it also allows our #OfficeDog @VHeadOfDogital an outlet for his digital thoughts. (Don't forget to follow him on Twitter to find out what we're up to!)

How do you find time to concentrate on social media?
We like to optimise our social media use so we don't get lost in it for hours!
By setting goals for each time frame you can become very efficient on social media, knitting it into your daily work life. We do this by dividing our connections into Twitter lists relevant to their work, tweets, or how we know them. Setting some time aside to join in with Twitter chats also helps!
Both of these allow you to stay on task without getting lost deeper and deeper into the network!
Do you produce your own unique content? If so, have you noticed an improvement in your social influence?
We do! Our digital marketing Exec, Emma, creates all of our graphics, images & social posts and we encourage our recruiters to chip in with blog writing!  
We learn on the job and have seen improvements in our social influence running alongside improvements to our social media strategy.
Which campaign has been the biggest hit with your followers? Why do you think this connected so well with them?
Last Christmas we created a digital advent calendar! Behind most of the doors were new digital marketing jobs with festive job descriptions, and the others had a surprise Christmas team photo or gift from our resident office dog!
This resonated with our audience well because they didn't necessarily have to be a job seeker to enjoy it. This opened us up to an even wider audience, and anyway, who doesn't like a good Christmas pun?! Wait until you see what @clockworkTalent's got up our sleeve for this Christmas!
What's the one main business benefit you get out of social media?
Because we specialise in digital marketing recruitment, social media allows us to delve deeper into our already social media savvy audience. We get to engage with people working deep in the digital industry. This has also supported our specialist reputation for knowing the industry inside out as we can share our market knowledge with our audience.

How would you describe the personality of your business?
Devoted to our digital industry professionals, whether they're employers or job seekers. We're known for being personable, keen to learn and sharing our knowledge.
If your recruitment agency was an emoji, what would it be?
We would be the smart phone emoji as good communication is at the centre of everything we do!
What makes your recruitment agency distinct?
Our digital marketing specialism… and our digital pink branding (RGB colour: 255:0:128)!
Are there any exciting projects in the pipeline that you'd like to tell us about?
We are working on a number of exciting recruitment projects with household name brands and award-winning agencies. Come 2018, we've got an exciting release of news which many of our clients already realise, but we'll be proud to speak about in the new year!
What advice would you give to new leaderboard sign-ups who are looking to climb?
The best thing you can do is post regularly and be active with your audience on social media. Understand the needs of your audience, take the time to reply and engage with everyone that shares / comments on your posts.

Have you been inspired by clockworkTalent? Why not check out the Social Recruiter Leaderboard and see if you can climb to the top of the table!
Search UK Agencies to help you find the perfect job or hire the right staff
Agency Search
You have changed your query
Press "Search 8000+ Agencies" when your new query is ready.