Internet of Things job opportunities are set to soar in coming years. How will recruitment cope?
You've heard about the Internet of Things, right? That concept that's bringing all of our appliances to life?
Okay, so it's not quite that dystopian, but the Internet of Things has certainly started to infiltrate our homes and offices.
As the technological takeover continues, the demands on the recruitment industry are changing - especially for IT agencies.
But just what exactly is the Internet of Things and how is it going to impact recruitment?

The Internet of Things (IoT) is the process of giving everyday appliances the ability to receive and send information via the internet.
In other words, it brings devices 'online' and allows them to 'talk' to one another. So you could turn your living room lights on and off from the other side of the world, or check the contents of your fridge from your commuter train.
Examples of the Internet of Things
Examples of the Internet of Things in action are everywhere nowadays. From smart lighting like Philips Hue, to smart door locks, or the Amazon Echo, our homes are becoming increasingly connected. In the future, we can expect to see the growth of this trend.
What does the Internet of Things look like?
When discussing the IoT, it can be pretty difficult to visualise (and explain!). I mean, if you really think about it, the internet is an internet of things.
What we're talking about though, goes beyond Google's rabbit hole and is already making its way into our every day.
How does the IoT work?
For a second, I want you to try and picture a 'connected home,' where your offline appliances now have online capabilities.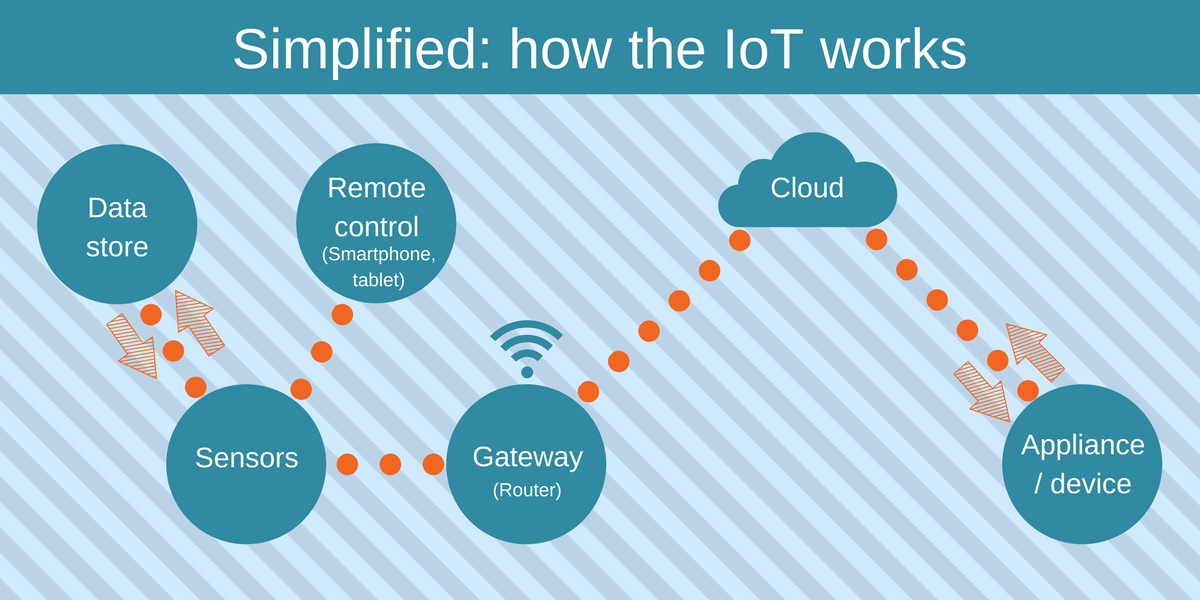 Basically, a sensor will collect stored data and / or a signal from a smartphone. It then uses this to give a connected appliance information or an instruction via the internet.
So if we think about smart heating as an example, such as the Nest Learning Thermostat or Hive Active Heating, the sensors (likely a Thermometre of some description) will use pre-existing data to determine that the temperature is too cold. It will then send this information to your heating to let it know that it needs to turn on.
Alternatively, you can use a smartphone or tablet to turn your heating on remotely.
Now I admit, this is a very simplistic (if not well explained) way to explain the process, but hopefully you get the point.
This idea extends to other products: a fridge that tells you when you're low on milk, a kettle that boils before you enter the kitchen, light bulbs controlled by your phone - this is all the Internet of Things.
So what does the Internet of Things have to do with recruitment?
The Internet of Things will have a growing impact on all areas of life - recruitment included.
By 2020, it's estimated that around 30 billion devices will be connected to the internet worldwide. To put that into perspective, that's more than four times the global population!
Coinciding with this trend, Intel believes that more than half of all businesses will incorporate the IoT into their products or services.
This means that digital jobs will rise at an even faster rate than they already are, as will the need for IT recruitment agencies to fill them.
Recruiters are therefore being forced to adapt to the IoT, but this could be a good thing for the staffing sector.
Elliot Wald, Director at HW Search & Selection, said: "Those who embrace the IoT will change recruitment forever. The recruitment industry is already benefitting from the IoT, as the digital skills shortage has meant that recruiters have had to be more creative in their sourcing methods."
IoT and the digital skills shortage
The Internet of Things is growing. In fact, by 2020, Intel believes that more than half of businesses will use the IoT in their products or processes.
This boom is expected to create more than 182,000 jobs and add £322 billion to the economy.
So we all know what this means…
Businesses. Need. Skills.
This is great news for digital job seekers, but not so much for employers. More jobs means more staff, but unfortunately, there simply aren't enough skilled candidates coming through.
So is there really a skills crisis?
The UK is suffering a skills shortage in a number of disciplines, but the digital sector arguably has the greatest need for staff.
To begin with, there are thought to be more than 12 million adults in the UK that don't have basic computer skills.
According to the British Chamber of Commerce (BCC), three out of four employers are experiencing a lack of digital skills within their business. Nearly a quarter of these employers also describe the skills shortage as 'significant' or 'critical.'

A further study from Capita Technology Solutions, Trends vs. Technologies, also showed that businesses are under prepared for the IoT.
According to their survey, 70% of businesses said that the IoT was relevant to them, but more than three quarters of these don't have the right skills within their workforce to capitalise.
Where are the shortages?
So it appears that there are some skill gaps to be addressed, but what areas are crying out for candidates the most?
IT security
As the number of devices connected to the internet rises, so does the threat of cyberattacks. This means that IT security consultants, ethical hackers and network troubleshooters are going to be in high demand.
By 2022, there is expected to be a global shortfall of 1.8 million IT security professionals. One of the reasons for this is the lack of young talent in the field. Only 12% of cyber security staff are under 35 years of age, meaning that business may need to train younger staff from within.
Programming
It's estimated that a lack of basic programming knowledge will leave Europe with a shortage of 900,000 people by 2020. In response to this, coding has made its way onto the UK school curriculum, as the government attempts to tackle a growing skills gap.
But is the IoT really going to have a big impact on recruitment? You could argue that it already has…
With the IoT still being a fairly new concept, there's no real platform standard for the industry. As more devices connect online though, the need for coders is great.
Recruiting for Java, C and C++ languages will be most common for the IoT, however there are more specific languages like Weave or Brillo (although these are yet to really get off the ground).
Usability
The Internet of Things includes devices of all types - and not all will have a handy touchscreen. This means that there will be  many different user interfaces and UX, UI and interaction designers will be needed to help create tech that's easy to use.
These job roles are on the rise in the UK, but they're difficult to recruit for. While the UX freelance market is strong, permanent vacancies are harder to fill.
Another challenge is overcoming the need for experienced UX designers, something that's blocking junior candidates from entering the industry.
How the skill shortage affects salaries
When demand outweighs supply, price inevitably goes up. This applies to the housing market, food, and skills.
As a result of the skills shortage (and the expertise required for IoT jobs), average digital salaries are around a third more than the average salaries for non-digital roles.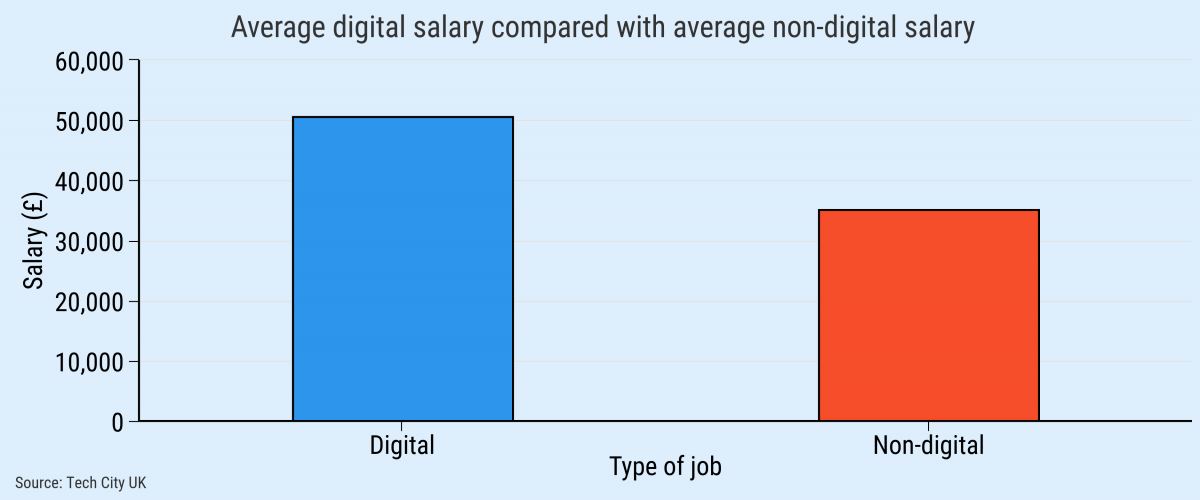 According to Tech Nation 2017, the average advertised vacancy for a digital job is £50,663. This is compared with a £35,155 average for non-digital positions.
Not only are digital salaries typically higher than other professions, they're also rising.
Since 2012, digital technology salaries have increased by 13%, while non-digital salaries have increased only by 4%.
Conclusion
The Internet of Things is an interesting area and something that's caused much discussion among the tech community - and increasingly the recruitment community.
But is the IoT really going to have a big impact on recruitment?
You could argue that it already has…
For recruiters who want to establish themselves in this new niche, it's important to adapt now. Like with social media or VR, early adopters are able to shape themselves into leaders and authorities, making it difficult for latecomers to catch up when it's really needed.
Written by Dan Whitelegg
Search UK Agencies to help you find the perfect job or hire the right staff
Agency Search
You have changed your query
Press "Search 8000+ Agencies" when your new query is ready.